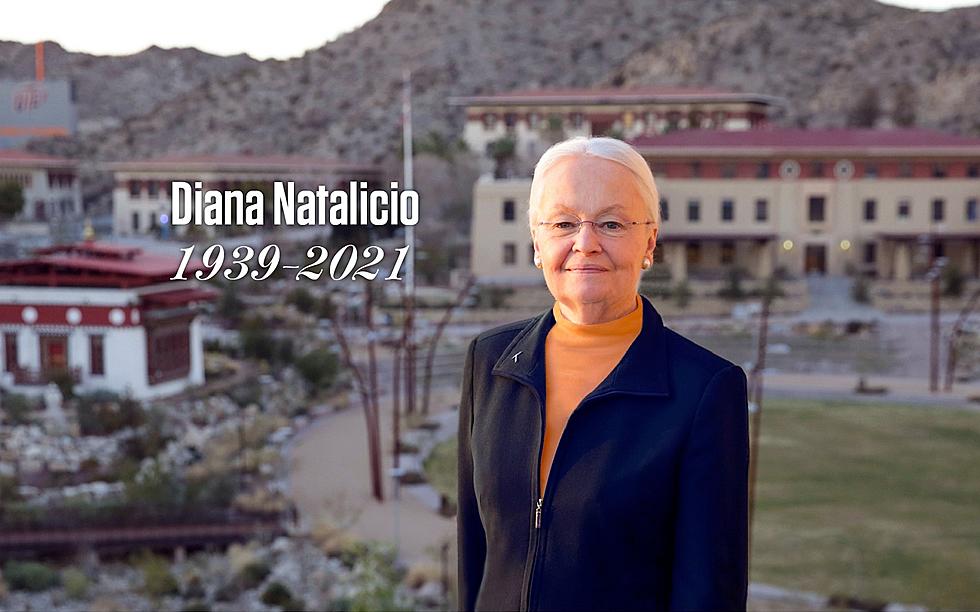 Celebrate The Life Of UTEP's Dr. Natalicio At Public Memorial
UTEP
Celebrate the life of Dr. Diana Natalicio during a public memorial featuring speakers and the release of 200 lanterns at UTEP's Centennial Plaza.
Dr. Diana Natalicio was a leader, visionary, and trailblazer, and here in El Paso, she was not only respected but loved by all, especially by her former students.
The upcoming memorial is an opportunity for the El Paso-Ciudad Juárez community to honor Dr. Natalicio and reflect on her life and commitment to excellence in public higher education.
Speakers at the memorial will include Ambassador and Permanent Representative of the Kingdom of Bhutan to the United Nations; Mauricio Ibarra Ponce de Leon, Consul General of Mexico in El Paso; Dr. Gary Edens, Natalicio's brother Bill Siedhoff and longtime friend Sharon Croissant along with a special musical performance by Grammy Award-winning cellist Zuill Bailey.
After hearing news of Natalicio's death on September 24, 3 thousand butter lamps were lit by Bhutanese UTEP Grads in Bhutan, honoring the former UTEP president. Inspired by the Bhutanese, UTEP will release 200 sky lanterns to commemorate her life as well.
For 31 years, Natalicio led the University of Texas at El Paso and, at her retirement, had the longest-serving tenure among presidents at any major public research university.
Natalicio, who grew up in St. Louis, studied Spanish as an undergraduate, completed a master's degree in Portuguese, and earned a doctorate in linguistics. In 1971 she made a short-term move to El Paso that inadvertently led to a distinguished career four decades later.
Throughout her illustrious career, Emerita, Dr. Diana Natalicio accrued many accolades along the way, including being presented the Orden Mexicana del Aguila Azteca, the highest recognition bestowed on foreign nationals by the President of Mexico in 2011.
Dr. Natalicio also made Time magazine's 100 List of most influential people in the world in 2016, followed by being listed as one of the Top 50 World Leaders by Fortune magazine in 2017.
Join the life celebration in person or tune in via the live stream at utep.edu/natalicio.
Celebration of Life: Dr. Diana Natalicio
Sunday – October 24, 2021
UTEP's Centennial Plaza at 6 p.m.
Free and open to the public
Loteria Del Chuco Preview
All 10 Of El Paso's Nicknames
More From 600 ESPN El Paso