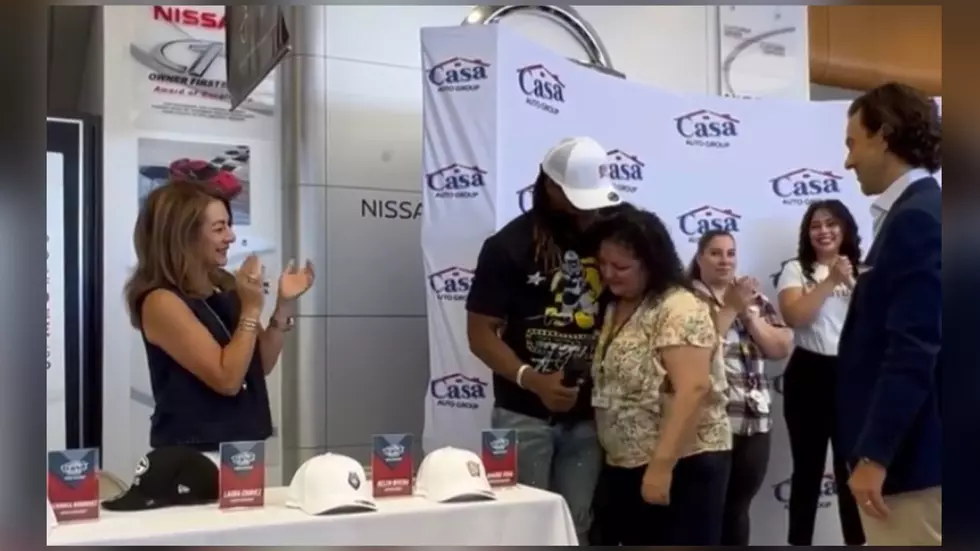 Aaron Jones Helps Presents Clardy Elementary Teacher With Brand New Car
Courtesy: EPISD
Drum roll please……. The winner of the Casa Nissan car giveaway has been announced!
Earlier this month, Casa Nissan of El Paso partnered with EPISD to give a deserving teacher a brand-new Nissan Kicks and the people of El Paso had the chance to vote on which deserving teacher would win that new car.
The five finalists came down to Amaris Vega from Cielo Vista Elementary, Laura Chavez from Clardy Elementary, Helen Rivera from Magoffin Middle, Gabriela Almeida from Sunrise Mountain Elementary, and Veronica Rodriguez from Zavala Elementary.
The car giveaway announcement was shared on El Paso Independent School Districts social media pages early Friday morning.
El Paso's favorite Green Bay Packer, Aaron Jones, had the honor of announcing the winner in a "draft-like" event. He was joined by EPISD Superintendent Diana Sayavedra along with Luke Lowenfield, vice president and co-owner of Casa Auto Group
Name plates along with hats that had each teacher's school's logo on it were placed on a table inside the Casa Nissan showroom. Aaron grabbed the winning "hat" and announced that Clardy Elementary School teacher, Laura Chavez, was the winner of the brand new car!
Laura became overwhelmed as she heard her name announced as the winner. She walked up to Aaron in tears and hugged him while guests clapped and cheered in celebration.
"Congratulations 🎉 to our amazing and dedicated teacher, Mrs. Chavez! She will drive away in a brand new Casa Nissan 🚙 KICKS," read the school's Instagram post.
According to the school district's contest page, Laura Chavez is the sole provider for her family. Her husband is a stay-at-home dad, taking care of and homeschooling their ill son who needs constant medical supervision.
Laura and her husband share their 20-year-old vehicle. That is the only vehicle that both parents have to run errands, head to work with and do any other things they need to do throughout the week.
"She is a kind, loving, and caring educator that works hard for her students daily, regardless of the hardships she is going through," read the district's contest page.
Congratulations to Laura and to all of the five finalists as well! You all have made such an impact on our community and because of that your students, fellow co-workers, friends and even strangers went out of their way to vote for each and every one of you. That is a celebration all on its own!
Teachers are rock stars and deserve to be celebrated with great surprises like this one regularly!
Anthony ISD Claw Mall
More From 600 ESPN El Paso