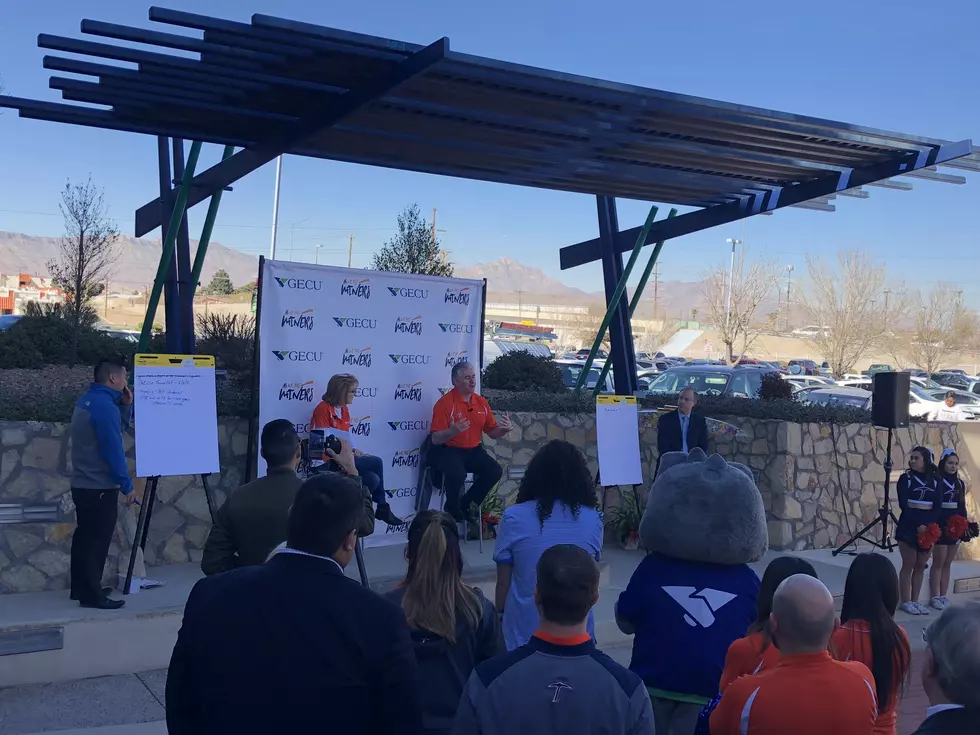 Your Guide to Tomorrow's UTEP Town Hall Meeting
UTEP Marketing.
600 ESPN El Paso will broadcast a special three-hour UTEP Town Hall Meeting beginning at 4pm tomorrow from Tortuga Sports Lounge, 126 Shadow Mountain Drive. I will be moderating the special event and it will feature UTEP's new Director of Intercollegiate Athletics Jim Senter. Friday's Town Hall will be the third in a serious of meetings held around El Paso, and it will be the first open to the public. Tortuga is encouraging all Miner fans to attend the Town Hall and kids are welcome during the event.
The program will begin with opening comments from Senter and then we will start taking comments from people at Tortuga. UTEP Athletics has asked fans to participate in the Town Hall by telling them what they are doing well and what needs improvement. The UTEP Marketing team will be recording every comment and Senter will address many of the fans' comments and concerns.
If you are not able to attend but would still like to participate, you can call into the show at (915) 880-5763. We will do our best to accommodate all of our callers during the three hour program, but the only way to guarantee a spot on the show is to be at Tortuga tomorrow. Some of our listeners are worried that we will allow fans to have so much time to interact with Senter that it will limit other comments. Although fans in attendance will get an opportunity to address their concerns and give their props to UTEP, I will make sure that we give everybody a chance to take part in this special Town Hall Meeting.
Over the years, I've heard from hundreds of Miner fans about so many different topics relating to UTEP athletics, this is the perfect opportunity to get your point across to the man in charge. We look forward to seeing everyone tomorrow at Tortuga Sports Lounge and make this UTEP Town Hall the best yet.
More From 600 ESPN El Paso