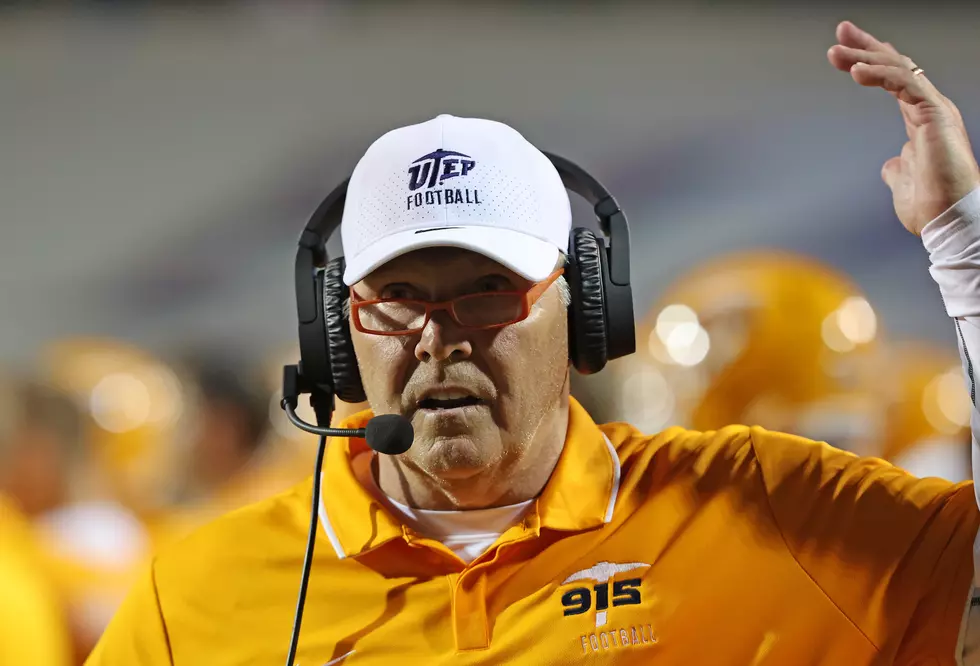 UTEP Football and the Dana Dimel Dilemma
Ruben R Ramirez
Saturday night, UTEP was officially eliminated from any chance of playing in the postseason. Most Miners fans knew long ago that a bowl game was out of the question for 2023, but a home loss to Western Kentucky ensured that this team would finish below .500. For head coach Dana Dimel, year six at UTEP will be the most disappointing season of his tenure. Now, the biggest question left is not if, but when is the university ready to move on?
From a strictly on-field performance standpoint, it is easy to see why Miners fans have had enough of Coach Dimel running the football program. UTEP has disappointed since the opening kickoff in August and things grew worse as the losses piled up and injuries started to mount. However, this team was going nowhere even when they were healthy because of a few key plays each game that always seemed to swing the momentum away from the Miners and produce another loss. Add in poor clock management and conservative and predictable offensive play calling that drove fans insane and you have the recipe for a doomed season.
What makes this 2023 campaign even harder to accept is that Coach Dimel had the perfect ingredients for a big season. He lost very few players from last year's five-win team and many of his starters had been with the program since their bowl game against Fresno State. UTEP also had a winnable schedule, deep offensive line, running game, and defense. It is no wonder why year six looked on paper to be the best yet for Dana Dimel. I even predicted nine wins for this group, but I could not have been more wrong about what was going to happen. By the time starting quarterback Gavin Hardison hurt his throwing arm, UTEP was 1-4 and the season already had spiraled out of control. Cade McConnell has done the best he could to salvage what was left, but the redshirt sophomore who was fourth on the quarterback depth chart in the fall has not been able to save the Miners season.
With two weeks left, UTEP is 3-7 and well on their way to finishing near the bottom half of the standings in Conference USA. To make things worse, their I-10 rivals New Mexico State just won their seventh game of the season Saturday night and the Aggies are bowl bound for the second straight year. The last time this happened was 1959 and 1960. NM State head coach Jerry Kill has resurrected that football program in a remarkably short period of time, and he has his team positioned to possibly play for a conference crown in their first season competing in CUSA. His team also dominated UTEP 28-7 in the Sun Bowl a few weeks back.
UTEP Director of Athletics Jim Senter has had plenty of time to consider the future of his football program. When the Miners won seven games in 2021, he awarded Coach Dimel a two-year contract extension. Based on that agreement, UTEP's head coach is under contract through 2024 and he will earn $850,000 next season. However, his contract does contain a clause that allows UTEP to buy out his final season at a discount if the Miners failed to qualify for a bowl game in 2022 and 2023.
Based on the language of his contract, it would cost UTEP $552,000 to buy out the last year of Dana Dimel's contract. There are a few different ways that this could happen.
UTEP announces in the next week or two that Coach Dimel will retire after the 2023 season.
UTEP announces after the season that Coach Dimel will not return in 2024.
There is still the slight chance that UTEP will allow Dana Dimel to coach the Miners until the end of his contract next December. Some people believe that UTEP cannot afford the buyout and they will be forced to keep their head coach once the football season ends. Although the athletic department has not been flourishing financially during his tenure, I do not believe that Senter will be in a position to keep the leader of his football program for a seventh season. Either UTEP boosters will help with a potential buyout or the university can dip into their auxiliary fund to make the move. If you have been wondering what UTEP is doing with all the money that they have generated from the many concerts inside the Don Haskins Center, it is all going into the school's auxiliary fund, which can be used for anything that UTEP President Heather Wilson deems necessary.
The last question that fans will want to know is the timeline for everything. I do not know how UTEP will proceed with all of the scenarios I mentioned earlier. However, I do believe that Senter will not waste time if he decides that the program needs a new leader. Even if they allow Dimel to finish the regular season, I would expect an announcement shortly after the Liberty game on November 25th if the university elects to end their relationship with their head coach. Until then, Miners fans can hope that Joe Golding and Keitha Adams can have successful basketball seasons to help erase the bad taste of the 2023 football campaign.
UTEP Squeezes Past NM State 20-13 in the Battle of I-10
In a game of two halves, the Miners won their first game of the 2022 season against NMSU, 20-13.
Gallery Credit: Jorge Salgado
More From 600 ESPN El Paso