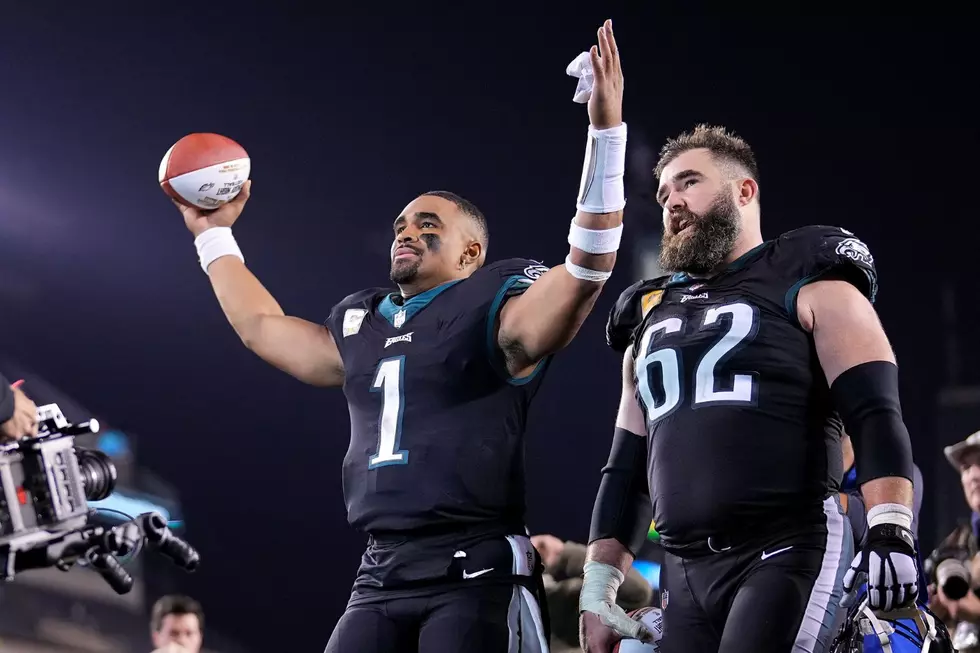 Why Don't the Eagles Get More Respect?
(Photo by Mitchell Leff/Getty Images)
The Philadelphia Eagles own the best record in the NFL this season and they rank in the top five in the league in Points Per Game (27.5), Rushing Touchdowns (21), and Offensive First Downs (253).  The accolades for Jalen Hurts continue to pile up as he keeps setting the pace as the leader of this top-notch offense.  One of the top betting favorites to win NFL MVP, Hurts has thrown 17 Touchdowns this year while only being picked off for Three Interceptions plus don't devalue Hurts' feet rushing for over 596 yards and scoring eight touchdowns.
Despite some fans and national media concerns about the Eagles' Defense, their defense has allowed the second-fewest Total Yards in the NFL and are number one in the league in Turnovers Forced.  So why don't the Eagles get more respect?  On many national power rankings and talk shows, they don't have the Eagles ranked as the best or even second best in the league!  So much love is shown for the Kansas City Chiefs and Buffalo Bills along with the rival Dallas Cowboys, the Eagles are like Rodney Dangerfield: They get no respect!
This Sunday Afternoon, the Eagles will match up with a tough Tennessee Titans who are in first place in the AFC South division and they are 4-2 since their Bye Week.  To silence the doubters and critics, the Birds need to make a statement by beating the Titans at home and put some fear into their divisional rivals they have on the schedule in the upcoming weeks!  Don't forget to join us at Yesterday's Creekside Tavern on Roosevelt Boulevard in Marmora for our Eagles Pregame Show!
College Football has a big weekend in store for us with Conference Championships Friday and Saturday with the outcomes of a couple of games determining who will play in the College Football Playoff's four-team field with the winner becoming this season's National Champion!  The Locker Room with Billy Schweim will cover all the hot sports topics this weekend and get your ready for a busy Football Weekend!
On Saturday's show, Three-time All-Big Ten and NFL LB Brad Quast joins me in the studio as we will talk plenty of College Football and the Philadelphia Eagles.  The Sports Book Consigliere Dave Sharapan checks in from Las Vegas with his expertise on betting the big games this weekend brought to you by Dino's Subs of Margate,  In Hour Two, we will get a report from Atlanta, Georgia which is the home of the SEC championship game as we talk with former Quarterback at Lees-McRae College Earl Clinton.  I was Earl's understudy at Lees-McRae College and he is a season ticket holder for the Georgia Bulldogs!  Plus we will review the week for the  Sixers and Flyers.
On Sunday, The Locker Room with Billy Schweim will be broadcasting Live from Yesterday's Creekside Tavern in Marmora for our Eagles pregame show. Yesterday's is your Eagles Headquarters all season long!  Come out from 10am to Noon and join me, former Kansas City Chiefs Wide Receiver and Mainland Regional Standout Dave Klemic, plus Josh Hennig as we preview the Birds big matchup with the Titans.  Plus my Fantasy Football Guru Brian Hartley will be joining us at Yesterday's this Sunday too!  Every Sunday we hear from Fox 29 News Sports Anchor Scott Grayson and get his "Keys to the Game" brought to you by Van Brill Pools.  Also every week we talk Fantasy Football with The Guru Brian Hartley, who will give you his advice on which players to watch in NFL Week 13 brought to you by Padula Masonry.
All that and more this weekend in The Locker Room with Billy Schweim every Saturday  and Sunday from 10am to Noon on 97.3 ESPN Radio.  
10 Favorite Things about Cape May County
More From 600 ESPN El Paso