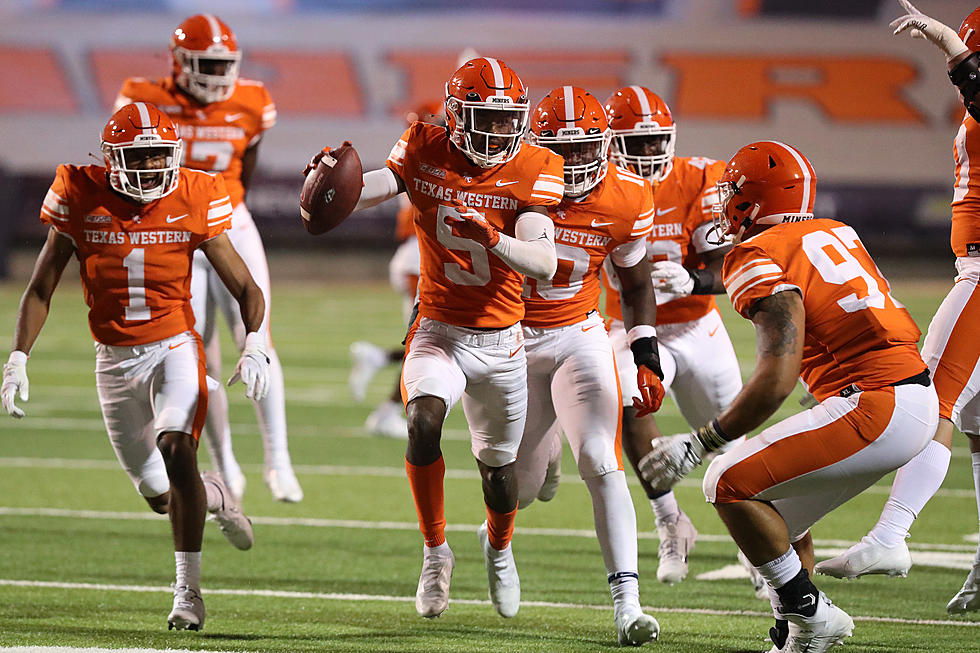 UTEP vs. Old Dominion: Miners Seek 1st C-USA Win Since 2018
Ruben Ramirez/UTEP Athletics
UTEP football will quietly enter Saturday's contest against Old Dominion looking to snap a 15-game losing streak in Conference USA.
The last time they beat a team in C-USA, Kai Locksley led the Miners past Rice to snap a 20-game losing streak within the program.
Granted, the present-day Miners (3-1) look much better than the Dana Dimel teams of years past. They've flexed their potential and experience. Overcoming adversity is a bit simpler now compared to the past for this group. With a win over the Monarchs (1-3), UTEP has a chance to have their best start at 4-1 since 2010.
Listen to the full game live on KLAQ (95.5 FM) with Voice of the Miners Jon Teicher, Mike Perez and Mando Medina starting at 6 p.m. MinerTalk will immediately follow the broadcast on 600 ESPN El Paso.
Subscribe to the NEW MinerTalk podcast to listen On Demand. 
Quick hits for Old Dominion
The Monarchs enter Saturday's game with a 1-3 record, but they are far better than their record indicates. ODU, who didn't play in 2020, dropped two games to Wake Forest and Liberty in non-conference play. They were down 35-7 last week to Buffalo and marched back to fall 35-34 in a close finish.
Expect ODU to flex their run game on Saturday between Elijah Davis and Jon-Luke Peaker. Both runners average over six yards per carry. Quarterback D.J Mack threw for 224 yards and rushed for 84 against Buffalo. He will be a dual-threat attacker like UNM's Terry Wilson was last week against the Miners.
The Monarchs hope to capitalize on takeaways and third downs against the Miners. UTEP has 10 turnovers offensively through their first four games.
The Miner rundown 
Through their first three wins, the Miners have really capitalized on their ground attack and passing game. Their stable of backs in Ronald Awatt, Deion Hankins, Quardraiz Wadley and Rey Flores averages 162 yards per game. Quarterback Gavin Hardison is completing nearly 60% of his passes and has thrown 948 passing yards, five touchdowns and five interceptions.
UTEP is coming off a second half shutout defensively, thanks to their stout defense. Linebackers Tyrice Knight and Breon Hayward co-lead the team in total tackles (26 each), while the defense has other playmakers across the field. Pass rusher Praise Amaewhule is coming off his most productive game, where he totaled seven quarterback hurries, a strip sack and 1.5 tackles for loss. They've allowed 350 yards or less against opponents in three of their first four games. Also, opponents are only converting 19% of third down conversions against this Miner defense.
Prediction: UTEP gets its first win over a C-USA team in almost three years, but this one will be really close. ODU will have to travel a ways to the Sun Bowl, which could definitely play a factor in this one. ODU's Mack will have a game, but so will Hardison. The Miners improve to 4-1 for the first time since 2010 and they enter next week's road game against Southern Miss with more confidence.
Final score: UTEP 27 - ODU 24
UTEP Football Sweeps New Mexico With 20-13 Win Over UNM
The UTEP football team defeated NMSU and UNM for the first time since 2014 after a big second half comeback gave the Miners a 20-13 win over the Lobos Saturday night in front of 15,069 fans at the Sun Bowl.
More From 600 ESPN El Paso