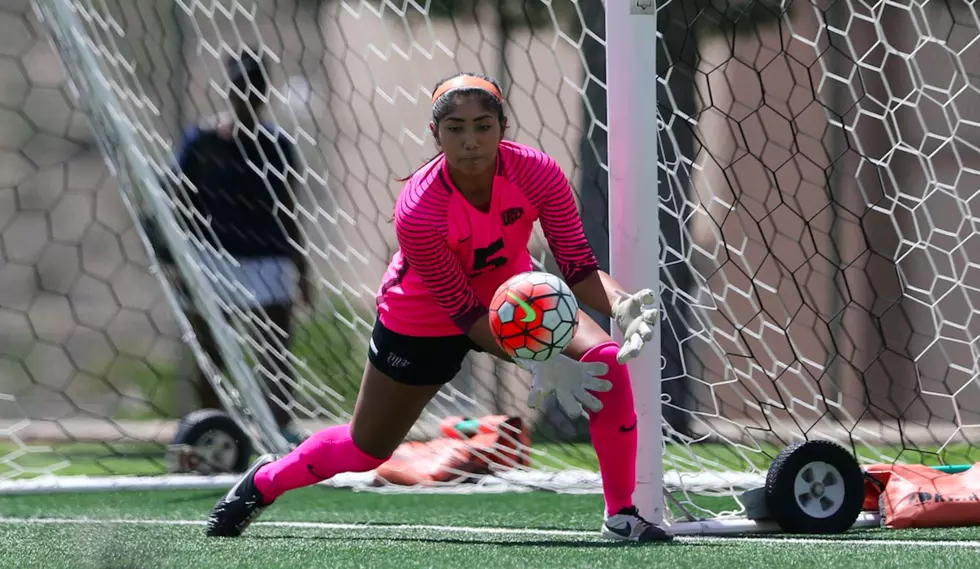 UTEP Soccer Goalie Alyssa Palacios Seeks Historical Senior Year
Photo Courtesy UTEP Athletics
As the UTEP women's soccer squad prepares for their season opener Friday against Lubbock Christian, senior goalkeeper Alyssa Palacios will start to count her last days playing on University Field.
And this Friday marks her last home opener for the Orange and Blue.
Palacios is on pace to become one of, if not the best, goalkeepers in the Miners' 23 years of existence. Ever since her breakthrough year in her freshman season (2015), she's been soaring atop the program's best. She's currently second for the program's all-time saves (342), saves per game (5.80) and save percentage (.838).
She only needs three shutouts to break Sarah Dilling's (2011-14) school record of 20. Palacios also is on pace to break UTEP's all-time save record, which is held by Amanda Smith (438 saves, 1996-99). She needs 97 saves—currently with 342—to top the school record, which may sound like a lot, but she's had 99 saves or better in her three seasons with UTEP.

"She's big-time for us. Hopefully once she gets those good stats it will cement her to that position. You can make an argument that she's the best we've ever had and the best in the conference. She's been phenomenal, stats don't lie. We've had some good ones through the years and it's hard to say she's not one of the best."
Her mark on the field caught the attention of league officials that voted her on the 2015 All-Freshman C-USA Team for her 111 saves, and was tabbed on the 2016 All C-USA Third Team after her career-best 132 saves for her sophomore year.
Some of her work, however, was overlooked. Palacios was snubbed all four years of her career for preseason honors by the conference. She was also left out of last year's postseason All C-USA team. Maybe it was due to her missing two games due to an injury, but Palacios still had 99 saves during her junior year.
Nonetheless, the two-time C-USA honoree didn't let the preseason recognition get to her.
"Last year wasn't that great, but we feel good this year and we'll show them that," Palacios said. "You can't let things like that get to you, but it does add some fuel because it's my last year, so I'm going to leave everything out on the field for that."
The Carrollton, Texas, native has been paramount to the Miners' preparation for the season thus far. UTEP opens up home play against Lubbock Christian, whom they've never played in program history, and travel on Sunday to face Abilene Christian.
"Preseason awards don't really matter; it's the end of the season awards that do," Cross said. "It's based on nothing."
The highlights of her career started as soon as she stepped foot on University Field for her freshman season. As a true freshman, Palacios stepped in as the starting goalie for the Miners after Keighton Allen was sidelined with an injury. Her 111 saves were enough to be the 24th best in the nation by the season's finish.
Her 24th best in the nation for saves jumped to second-best during her sophomore season after she posted 137 saves. Palacios started and ended her sophomore season on fire. Through the first 11 games, she only allowed five goals. She also helped the team with seven saves to help UTEP upset second-seed Rice in the quarterfinals of the 2016 C-USA Championships.
Although her junior season was partially spent dealing with an injury, Palacios still shined for the Miners. She had nine saves in a 2-1 double-overtime win at Idaho State and totaled eight stops to help the Miners shutout the defending league champion Charlotte, 1-0.
"She's had a solid couple seasons coming into her senior year, but that just gives us another reason to come out and show everyone what this team's about," Payton said.
Now what's left for her senior year will be for the program's history books. First kick against Lubbock Christian is slated for 7 p.m. on Friday night, while their game on Sunday will start at 6 p.m. in Abilene, Texas.
More From 600 ESPN El Paso