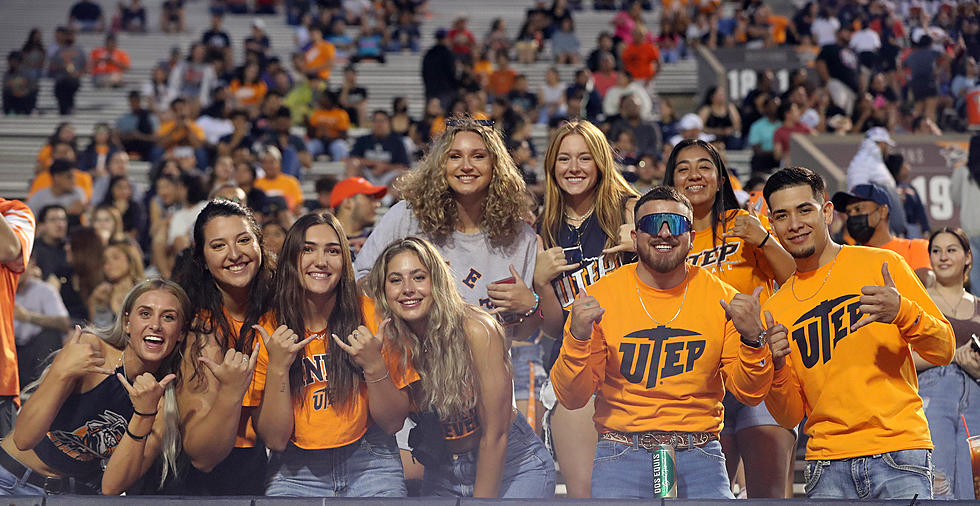 UTEP Athletics Attendance: Student Perspectives on Motivation, Hurdles, and Potential Solutions
Ruben R Ramirez
By Adrian Broaddus & Alicia Barron
Editor's note: Five years ago, I wrote a column about the UTEP football attendance problem from the student's perspective. Granted, I accomplished this assignment in a day, surveyed just 32 students and compiled their answers into my op-ed. While some of the students at the time went to the games, others felt unmotivated to attend Miner football games. Now, five years later, our intern Alicia Barron championed a near 80-person survey to see how students feel in 2023. Let's dive into some of the answers! - AB
---
When it comes to the topic of attendance at UTEP athletic events, one might point at the student section, or lack thereof, and ask, why isn't the student involvement as motivated as it once used to be? Those who attended UTEP games in the 80s and 90s – heck even early 2000s – remember rowdy student sections for events like men's basketball and football. 
There are many variables and hurdles that UTEP athletics face when it comes to drawing student attendance. UTEP is thought of as a commuter school, with the majority of its students commuting to campus and promptly departing once their classes end. Some simply work weekends or evenings during sporting events. Others felt like there is no school pride on campus to warrant their attendance at the games. Students in the survey acknowledged the COVID-19 pandemic as a factor in derailing their overall interest in sports like football. However, there are those students that enjoy going to the games, both socially and because they enjoy UTEP sports.
Here are the questions all the students were asked: 
 What is your classification?

 What is your major?

 

Did you attend more than one UTEP Football game in the 2022 season?

 Why do/don't you go?

Check the UTEP sports that you attended in the 2022-23 academic season

What would make you attend a sporting event for UTEP Athletics?

Would you rather attend a Wednesday night game or a Saturday game?

UTSA charges all students $20 per semester credit hour with a max of $240 per semester to provide funding for UTSA athletic programs. If UTEP implemented this and

significantly

improved the athletic programs, would you be in favor for this? Why or why not?
Here's the breakdown of classifications: 
Answers for attending more than one UTEP football game in the 2022 season: 
UTEP sports that student-athletes attended in the 2022-23 academic season: 
Here are some reasons that students go to UTEP football games: 
"I love college football. I did not have a football team where I went to undergrad or grad school. UTEP football is trending up and I love supporting the team where I go to school for"

"I go once in a while and drag my friends to go. We go because there's not much sports in town and this is a good way to see live sports. I've been a football fan for my whole life."

"Free tickets, fun time with friends."

"I go because I love sports, the atmosphere that UTEP provides at its games is always great. Being on the cheer squad I have developed lots of pride for UTEP and being able to express that pride at games is what keeps me going back to them."

"I go because it's something to do for the college. I wish more students went. I am not from here so I try to go to be social and be active as a student. But it's always disappointing to see the lack of how much people care."

"To enjoy the sport and hang with the boys"

"Family has season tickets for years"

"I like going to watch and hang out with my friends!"

"I enjoy watching football and I like the environment when I go"

"I went to get out of the house and to meet people"
Here are some reasons that students don't go to UTEP football games: 
"I don't want to pay."

"Work usually on Saturdays."

"The atmosphere isn't winning mentality."

"I go because the students are fun. I don't go because of lack of attendance at games as well as high ticket prices for the rest of my family trying to attend."

"Poor competition."

"Typically I work Saturday evenings. When I used to go as a freshman and sophomore, no one else went to the games among my friend group so I felt weird trying to plan tailgates for games."

"I'm not a UTEP fan. I go to UTEP because it's affordable and the degree is the same as most undergrad universities. I grew up in Dallas and moved to El Paso in high school. UTEP was always known as being a 'loser' school among my peers."

"It was my first year at school and I had no time."

"Lack of parking lots."

"I only went to one game simply because my friends who don't go to utep wanted to experience the university spirit, but I don't go to most of them because it isn't my type of environment most of the time."
Analysis: 
Adrian: Unlike the first run, there were positives here. Students are encouraged by incentives like free tickets, the intrigue of the sport itself and the social/communal side of football games at the Sun Bowl. Though, there are still students that aren't aware of some of the perks. One student said "I don't want to pay" even though all students can take advantage of free tickets for sporting events as long as they are enrolled in classes. There were some harsh answers like the person that referred to UTEP as being known as a "loser school." From an athletics standpoint, the Miners have lacked sustained success out of most men's and women's programs. For money-making programs like football and men's basketball, UTEP is fighting for mere relevance among Group of 5/mid-major universities. 
Alicia:  After looking over all the answers, students either really enjoy going to a game or absolutely do not go at all. Many students go to the games to hang out with friends, which also means some students might only make it to the tailgate. The answer that stood out to me is: "I am not from here so I try to be social and be active as a student." Just like this student said, many are simply looking to meet others and can not find a place to do this. As a student at UTEP, I see firsthand that UTEP does not promote football games throughout campus. 
Question: What will help students attend games?  
"

I loved the promotions they had for students by joining the Blue and Orange Spirit Squad and the giveaways that came with them. I think more giveaways/promotions could be beneficial for more students to attend."

"A better product." 

"Free stuff, more on-campus ideas to have fun and be involved" 

"Better athletes playing, better season, better record." 

"Better opponents. No one's ever heard of FIU." 

"For women's sports to be prioritized better. You always hear about the football team (AND THEY SUCK!!!). Why can't we be a women's soccer school? Or why can't we be known for our volleyball? In reality, those programs are much better than the football team." 

"Extra credit." 

"I went to almost one game in every sporting event and compared to my high school in San Antonio, UTEP has no school pride. If they had more school pride here, I think more students would go." 

 "Student leadership to set an example of how to get involved. Right now it's the same people that always go and try to make as much noise as possible. There's hardly any clubs or greeks that are ever out there."

"If my friends went [I would go] because no sport is fun going by yourself."

"I think if they started winning more, I would go. I like to be positive about UTEP and get excited about football."

"More school pride across campus. I see people wearing shirts and hoodies from other colleges all the time."

"Knowing it'll be worth it!"

"I think if they played better teams, my friends and I would go more often. I like the football aspect and I want to support them."

"More free stuff. I know UTEP buys a lot of merch and they prefer to store it than give it to the students. Also as a band student, I would like to see the marching/pep band with more Utep merch from athletics. Dance, cheer, and the band are the best "student sections." But still, athletics prefer to give/support the 5 boring students in the "student section."

"Having the games be on Friday/Saturday/Sunday evenings."
 Analysis: 
Adrian: There are some great answers here. I loved the response about women's sports being prioritized better. Think of Keitha Adams and the recent excitement she's brought to the women's basketball team since being hired in the spring. Or, the new era of Ben Wallis with volleyball. Those who ask for UTEP to play better opponents will be disappointed when they see the new-look C-USA that includes NM State, Sam Houston State and Jacksonville State.
Alicia:  My favorite answer is "extra credit". As a college student, that is all you look for in order to pass your classes. UTEP itself does not have much school pride. One of the reasons this is true is that most students at UTEP come to campus and leave immediately after class. Having a better team and opponents is a common answer as well. I believe that even if we had the best team in the conference, many students would not show up. It is hard to convince a student to attend games especially since many students work during football games. 
Question: UTSA charges all students $20 per semester credit hour with a max of $240 per semester to provide funding for UTSA athletic programs. If UTEP implemented this and significantly improved the athletic programs, would you be in favor for this? Why or why not?
"I don't know. Will it be distributed evenly? Female and male? Most popular vs non-popular?? I'd have to see numbers to be okay with that."

"No, because some people maybe don't have the money to provide that kind of help. Maybe some do but it would not be fair for those who don't."

"I think the funding we have already for UTEP is fine I don't think I would want to be charged more if I'm not even going to be attending all the athletic events" 

"Sure. Already paying a lot. What's $240 more haha" 

"No, I'm not tryna pay more to a school that has a lot of money already and already has me pay for things I don't use with my tuition." 

"Absolutely! I believe that UTEP has lots of potential and is building off of increasingly successful years athletically, if UTEP were to implement this I do see athletic programs improving." 

"Yes. Most of my peers at other colleges spend thousands more than us at UTEP. We can afford to take this small hit. 

"If it would lead to more winning, yes!" 

"No. I don't care about UTEP sports enough to make it impact my wallet." 

"I would be in favor of this as it would be going toward something beneficial."

"I wouldn't be in favor of this unless they show that all the money is equally going to men's and women's sports." 

"No, UTEP is already a D1 school. Attending this university is NOT cheap especially because of our demographic. There's not a lot of wealthy people that attend UTEP and $240 is a lot. I get at least 5 of the same charges on my account every semester (i.g. Library fee) and asking for more seems outrageous. With this many students giving that much money can really add up and for it to disappoint like always would not be a good investment for me."

"Yes depending on how the students would also benefit from it"

"

I really don't know I feel like I am in between this one. As a student paying for college is very expensive and any additional costs that don't directly help me is not that appealing although I understand as a journalist that wants to cover sports, having better sport environments will increase attendance and more revenue for the school that should be put back to the students not only the athletic students. I believe that's a big problem is that the money earned by the athletics is only put to the athletic students and not to everyone else. Although most of everyone else's tuition. Tuition is given to athletics, which is not a fair game in my opinion. If something like this will be implemented, then let's make everyone benefit from this not just the athletic students."

"I think so, I think our athletes and student engagement needs improvement"
Analysis: 
Adrian:  The topic of increasing tuition with this charge seems unpopular. First off, I wonder how many students actually look at their tuition breakdown by year or semester to notice these little charges each semester. Secondly, I don't agree that the charge should be seen as simply "affordable." Perhaps, they could allow students to choose either way. For those students that choose the fee, maybe they receive cheaper tickets than those who didn't accept the fee. 
Alicia:  It seems like students who do enjoy going to games and support athletics are for it. Those who are not interested are not willing to take money out of their wallets. There are other ways that UTEP can make this work, one of them by making this optional to students. Those who pay the athletic fee, get to go to games for free, cheaper meals, and some merchandise. Students who do not pay these fees will just have to pay a student-discounted ticket every time they want to go. The truth is that UTEP athletics need money to have better programs for students to enjoy. 
UTEP Squeezes Past NM State 20-13 in the Battle of I-10
In a game of two halves, the Miners won their first game of the 2022 season against NMSU, 20-13.
More From 600 ESPN El Paso