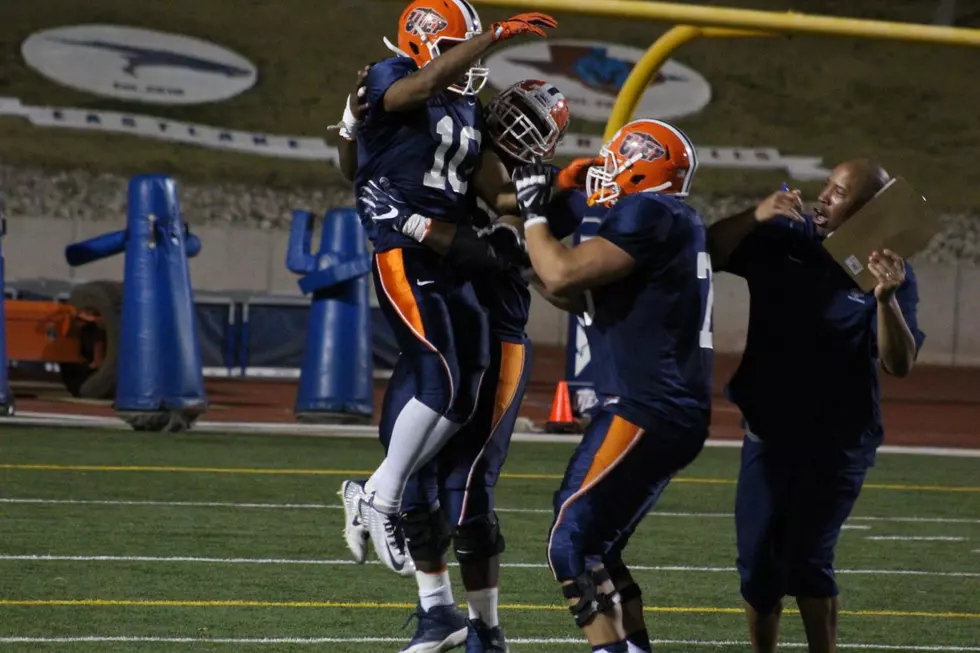 UTEP Football Roster Outlook: Offensive Line
Adrian Broaddus
What better way to wrap up the UTEP offense roster outlook than with the guys up front that make everything either work for the offense or make the offense crumble to the ground. I'm talking about the offensive lineman, or better known as the valuable players who often get overlooked on the roster as being "unimportant."
While they might not score touchdowns or directly create yards for the offense, they're  the foundation for the team offensively. This year, there's a unique mix of veteran linemen and new up-and-comers for the Miners.
Here is the UTEP offensive line roster outlook:
Ruben Guerra - Junior - Liberty HS; Bakersfield, Calif.
Coming onto the scene last season as a sophomore, junior Ruben Guerra can add some experience to the offensive line this season. The 6-foot-4, 310-pound lineman played in 11 games last year, starting eight of them at the right tackle spot.
During his playing time, Guerra and the line didn't allow a sack against Western Kentucky and UTSA, with just one sack against Oklahoma and North Texas. Guerra is expected to be a starter this season for UTEP, either at the right or left tackle position.
Bobby Deharo - RS Freshman - Montwood HS; El Paso, Texas
Replacing a once in a generational talent like Will Hernandez won't be easy, but redshirt freshman Bobby Deharo was close to the former standout guard and could contend for his spot at the left guard position. Deharo, a 6-foot-4, 290-pound homegrown talent out of Montwood, was redshirted last season, but might take a leap forward this year and get his share of playing time.
During his time with Montwood, Deharo played on both sides of the ball and helped Montwood quarterbacks have a demanding 388.8 yards of offense per game. He's a quick talent with potential to grow and improve on the field.
Derron Gatewood - Senior - Permian HS; Odessa, Texas
Going into spring season, there wasn't a more disciplined and ready center than Derron Gatewood, who will lead the Miners' offensive line this season. He's a 6-foot-2, sub-300 pound product out of Odessa Permian that has good experience under his belt.
Gatewood brings a senior mentor role to the team, having started and played in more games than any other lineman on the team. He started in 10 of 11 games last season, 12 games during his sophomore season and played in five games as a true freshman. Due to his speed and high football IQ, Gatewood could be seeing a possible future in the NFL by next fall.
Greg Long - RS Sophomore - Eastwood HS; El Paso, Texas
Another El Paso product in Greg Long will bring some much-needed veteran experience at the right guard position this season. Last year, Long saw his season cut short just two games into the season after suffering a season-ending injury. The NCAA granted him a medical redshirt, so he would not lose a year of eligibility.
Long, who is 6-foot-4, 295 pounds, has a high ceiling to improve in his next two seasons. His first season, Long immediately saw the field as a true freshman, where he started four games and played in nine. Expect him to have a big year this fall.
Jerrod Brooks - Senior - Seagoville HS; Dallas, Texas
Towering at 6-foot-6, senior Jerrod Brooks has waited his time patiently and now can contend for some serious playing time as an upperclassman.  As a sophomore and junior, Brooks played in every game for the Miners, serving as the team's main reserve on the line whenever he didn't start the game. He's started eight times for the Miners and could fill the role as their primary right tackle well this season.
His gigantic frame makes Brooks such a desired guy on the line for the Miners and his athleticism also makes him interchangeable for wherever he's asked to play on the offensive front.
Bijan Hosseini - Senior - Chaffey C.C.; Upland, Calif.
UTEP fans haven't seen much of Bijan Hosseini, but for his last season with the team, the California native could earn some time on the field this year. Hosseini, a 6-foot-3, 300-pound lineman, bounced around two JUCO schools (Chaffey College and Fullerton College) before landing at UTEP last season. He played in one game against Oklahoma and can serve as a backup for Gatewood, Guerra or Long this season.
Markos Lujan - Senior - Americas HS; El Paso, Texas
Markos Lujan is another El Paso product in the system that will contend for a starting job this fall. He is pretty interchangeable at the guard position, leaving an option for him to play either on the right or left side of the ball.
Lujan played in five games last season (Oklahoma, Western Kentucky, North Texas, LA Tech and UAB). Prior to UTEP, Lujan was a stud for Americas' football team, playing three years of varsity action and named onto the 2014 All-District first team, 2014 All-City first team and Preseason All-City first team.
Josiah Gray - Sophomore - Rancho Cucamonga; Rancho, Calif.
Coming from a football-bred family, Josiah Gray will suit out this year in orange and blue after spending the fall of 2017 on the scout team. Gray played three seasons of varsity football with Rancho Cucamonga, helping his high school average 468.4 all-purpose yards a game. He will add some depth at the tackle position, preferably on the left side of the ball.
Robert Lazarin - RS Freshman - Eastlake HS; El Paso, Texas
At 6-foot-3, weighing 310-pounds, Robert Lazarin hopes to make the most of his first year on the field with the Miners after being redshirted in 2017. At Eastlake, Lazarin played all four years on the varsity squad, helping the Falcons to a 35-14 record during his high school career.  
Tres Barboza - Sophomore - Tyler JUCO; Castroville, Texas
Head coach Dana Dimel praised his recruit Tres Barboza during this offseason, so a lot points to the 6-foot-4 sophomore having some playing time this season. Barboza, the Castroville, Texas native, was a highly sought out recruit out of Tyler Junior College, and can play just about anywhere on the line. At the JUCO level, he helped his team score 30.3 points a game, along with averaging 375.4 yards of offense a game. His athleticism alone makes him a desirable lineman, and I wouldn't be surprised to see him starting every game for the Miners by the end of the year.
Tristin Tuialuuluu - Freshman - Del Valle HS; El Paso, Texas
Might not be another player on the line with a higher ceiling than Del Valle's Tristin Tuialuuluu. He's a whopping 6-foot-3, 300-pound lineman that's completely versatile on the line. Because of his speed, I would like to see Tuialuuluu at the guard position, possibly succeeding the likes of Will Hernandez, but if the Miners choose to play him as a true freshman, he could see time at the tackle position.
Cameron Cooper - Grandview HS; Aurora, Colo.
Another nice freshman product out of the class of 2018 is Cameron Cooper, who comes in with an impressive resume. Cooper and Grandview journeyed far into the CHSAA 5A playoffs, making it to the semifinal round. He's a 6-foot-5, 260-pound lineman that can progress well under the new offensive scheme at UTEP.
More From 600 ESPN El Paso