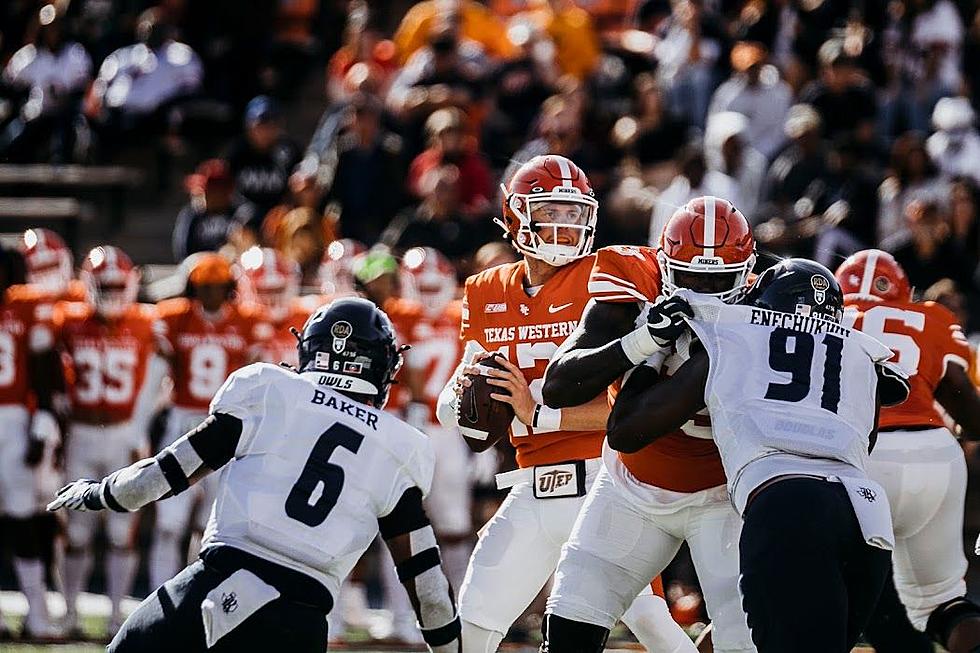 UTEP Football Releases Revised 2022 Schedule Amid C-USA Shakeup
Jorge Salgado
One day after Marshall, Old Dominion and Southern Miss officially departed for the Sun Belt, Conference USA sent out a revised 2022 fall football schedule for its new 11-team league.
In regards to the Miners, it means a few changes to their 2022 schedule, which might be for the better in the long run.
For starters, UTEP will play a "Week 0" game on August 27th, as they kick off the season against North Texas at the Sun Bowl. This will mark back-to-back seasons playing in week zero, as the Miners faced NMSU in the opening week of college football last year. The Aug. 27 kickoff is the earliest start to a season in program history.
They will swap teams like Southern Miss, Old Dominion and UAB—who were all on UTEP's original schedule—and replace them with Charlotte (Oct. 1), Middle Tennessee (Oct. 29) and Florida Internional (Nov. 19). The three new C-USA teams combined for a 13-24 overall record in 2021, with only MTSU (7-6) having reached a bowl game last year.
With this schedule change, the Miners will avoid playing Western Kentucky and UAB, both of which were in contention for C-USA titles last year.  
We previously wrote about UTEP's non-conference slate, which features home games against NM State (Sept. 10) and Boise State (Sept. 24), and road games versus Oklahoma (Sept. 3) and New Mexico (Sept. 17). If the Miners can go 3-1 in this stretch, it could propel them for the remainder of the C-USA schedule.
Only three of UTEP's C-USA matchups earned bowl bids last season, including North Texas (Frisco Football Classic), Middle Tennessee (Bahamas Bowl) and UTSA (Frisco Bowl). The previous schedule had four conference teams that went to a bowl game in 2021: Old Dominion, UAB, UTSA and North Texas.
The schedule change by C-USA came after a legal battle between the league and Old Dominion, Marshall and Southern Miss. The three schools were granted their wish in departing immediately for the Sun Belt for the 2022-23 athletic year. The terms of the legal battle were not disclosed.
"We are excited about Conference USA moving forward with 11 members for the 2022-23 athletic year, and to be finalizing our 2022 football schedule," UTEP Director of Athletics Jim Senter said in a statement. "This year's schedule is unique with our earliest start date ever on August 27th. It is also a thrill to open the season with a conference game for the first time since 1994. Our football program made tremendous strides in 2021, and with 14 starters returning we are expecting to take another big leap forward this fall."
"We are very much looking forward to our 2022 schedule starting off in week zero with a conference home game, followed by a matchup at perennial national power Oklahoma, which should be a great challenge," fifth-year UTEP head coach Dana Dimel said in a statement. "It will be an exciting start for our fans and team. We've got a tremendous home schedule that our fans should appreciate, hosting NM State and old WAC rival Boise State plus four C-USA opponents."
2022 UTEP Football Schedule
Aug. 27           North Texas*
Sept. 3             at Oklahoma
Sept. 10           NM State
Sept. 17           at New Mexico
Sept. 24           Boise State
Oct. 1              at Charlotte*
Oct. 8              at LA Tech*
Oct. 15            Bye
Oct. 22            Florida Atlantic*
Oct. 29            Middle Tennessee*
Nov. 5              at Rice*
Nov. 12            Bye
Nov. 19           FIU*
Nov. 26            at UTSA*
Home games in bold
*Indicates Conference USA game
30 famous people you might not know were college athletes
Stacker
dug deep to find 30 celebrities who were previously college athletes. There are musicians, politicians, actors, writers, and reality TV stars. For some, an athletic career was a real, promising possibility that ultimately faded away due to injury or an alternate calling. Others scrapped their way onto a team and simply played for fun and the love of the sport. Read on to find out if your favorite actor, singer, or politician once sported a university jersey.
More From 600 ESPN El Paso