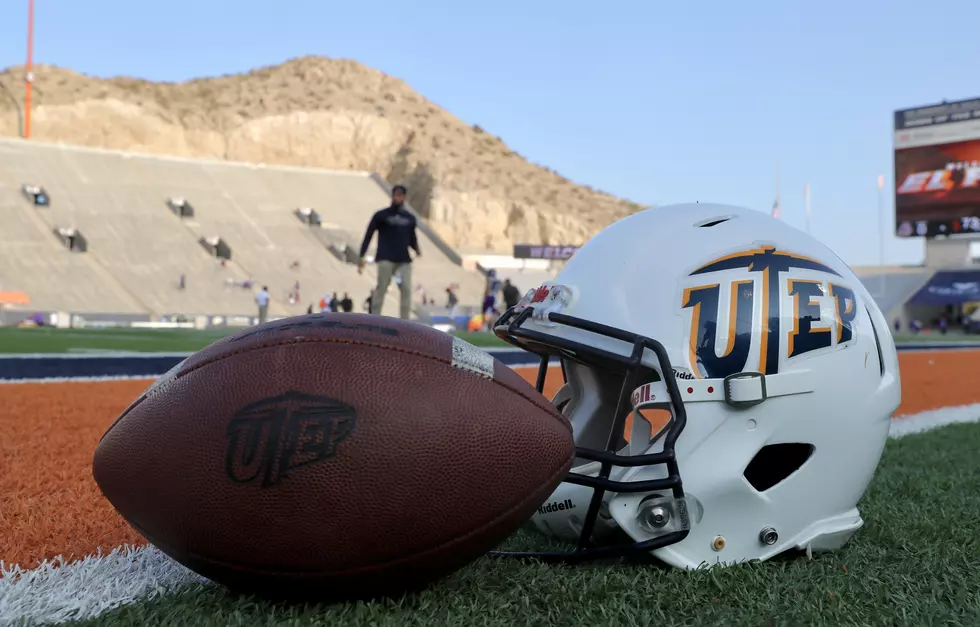 UTEP Football Preparing For Lonely Senior Day at the Sun Bowl
UTEP Athletics.
Sometimes, you only get one chance to make a great first impression. For the UTEP team, that was on August 27th, when the Miners sold out the Sun Bowl stadium for their season opener against North Texas. Unfortunately for them, the Mean Green dominated the game and sent 45,971 unhappy fans home.
Since that game, UTEP has drawn a total of 58,075 for next four home games.
NMSU: 23,325
Boise State: 11,227
Florida Atlantic: 12,796
Middle Tennessee: 10,727
Thanks to their sell out, the Miners are currently averaging 20,810 fans per home game. That number is sure to drop after tomorrow afternoon's Senior Day against Florida International. Although the announced crowd will be in the ballpark of 10,000 fans, the more likely scenario is that seven or eight thousand fans will be in attendance at the Sun Bowl.
Over the years, I have made fan attendance for football a major point of discussion on SportsTalk. This year, the UTEP Athletic Department did everything in their power to make sure their home opener was filled. They sold a ton of group tickets and heavily promoted the North Texas game on social media for their 915 Game. Sadly, the rain prior to kickoff kept thousands of fans away despite the game being a sell out. The Miners football team knew that all eyes would be on them as they kicked off their season with North Texas, but they did not capitalize on early chances and instead were dominated in the second half.
For many fans in attendance that night, UTEP's performance was enough to keep them out of the stadium for the rest of the season. The Miners fan base is a fickle group when it comes to football. Even after a seven win season that culminated in a hard-fought loss to Fresno State in the New Mexico Bowl, people were not sold that head coach Dana Dimel had turned the corner with his program. They still were there on August 27th to watch the 2022 audition, which did not go to plan.
The most unfortunate thing about tomorrow afternoon is that 23 players will suit up in a UTEP uniform for the last time in their career. Here is the complete list of Miners who will honored prior to kickoff:
RB Ron Awatt
K Gavin Baechle
DB Darius Baptist
DB Dennis Barnes
QB Calvin Brownholtz
WR Walter Dawn Jr.
WR Josh Farr
WR/RB Reynaldo Flores
DB Joe Hagopian
DB Ty'RekeJames
RB Jalen Joseph
WR Mike Malewitz
OL Robert Mervin
DL Kelton Moss
DE Jadrian Taylor
LB Gary Theard
DT Blake Thompson
TE Trent Thompson
DB Deshaun Trotter
FB James Tupou
LB Cal Wallerstedt
DE Deylon Williams
DB Tyson Wilson
Many of these players are starters and they have been huge contributors on both sides of the ball, as well as special teams. They deserve better than an empty Sun Bowl to finish their career as a member of the Miners football program. On the flip side, the fans deserve better. They gave UTEP one chance to make a big impression and the Miners dropped the ball. Barring a win tomorrow and upset next Saturday against heavily-favored UTSA, we will have to wait until September 2nd, 2023 to see the Miners take the field again when they host Incarnate Word at the Sun Bowl.
WWE Returns to El Paso for SuperShow
World Wrestling Entertainment was back at the Don Haskins Center in El Paso with a loaded house card as part of their WWE SuperShow tour.
More From 600 ESPN El Paso