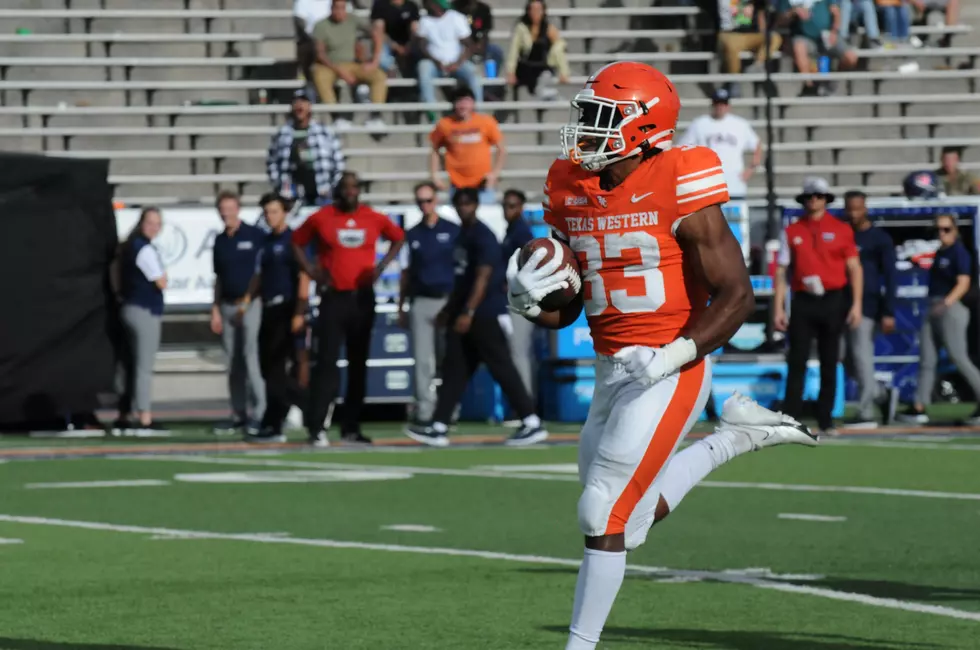 UTEP Football Needs Win Over Rice to Keep Bowl Hopes Alive
Photo by Steve Kaplowitz
Back in August, UTEP fans believed that their football team was destined for a big season. In fact, when we polled listeners on July 25th, 76.3% of the 160 people who voted believed that the Miners would finish better than 6th in Conference USA. Fast forward now to November 3rd and UTEP is 8th in the C-USA standings with only three games left to play. More important than that, the Miners need a win tonight in order to keep their postseason hopes alive.
At 4-5 (2-3 C-USA), UTEP faces an uphill battle against a Rice team that continues to improve. Much like the Miners, the Owls have been up and down this season. They have four wins and four losses, but they played Houston tough on the road and knocked off UAB at home earlier this season. Last week, Charlotte surprised everyone with a 56-23 road win at Rice. The Owls will either be reeling from the upset loss on their home field or anxious to rebound and take out their frustrations on the Miners.
Speaking of UTEP, they are also looking to rebound from a 24-13 loss to Middle Tennessee that has now put them in a must-win position. Head coach Dana Dimel knows that his team has to win two of their final three games to go back to a bowl. The Miners play Rice, FIU, and UTSA to end their regular season. Based on the quality of all three opponents, the Owls and Panthers appear to be the most likely scenario for UTEP to win their remaining two games. It will not be an easy task for them.
Rice quarterback TJ McMahon has played extremely well in his last two games, throwing for 426 yards with six touchdowns and just one interception. The Miners will have to generate a pass rush in order to slow McMahon down. Sophomore receiver Luke McCaffrey leads the way for Rice with 47 receptions for 613 yards and 6 touchdowns. He had huge games against Houston (7-121-1) and Louisiana Tech (10-171-2). Slowing down McCaffrey will be a major focal point for the Miner defensive backs. Between Cameron Montgomery and Ari Broussard, Rice has a good 1-2 punch at running back.
When you look at the C-USA stats, both Rice and UTEP are among the best defensive teams in the league. The Owls have given up a ton of points this season, but they are third overall in defense (the Miners are second). Rice is seventh against the rush and third against the pass. I would expect Coach Dimel to stick with the run as long as he can, since Rice gives up an average of 163 yards on the ground per game, for an average of 4.7 yards per carry.
The Miners have started out slow all season and they have scored just 16 first quarter points in nine games. Part of the reason they have thrown the ball so much is their inability to score early. If the Miners can flip the script on their scoring and get out to an early lead, it will give them a much better chance to leave Houston with their fifth win of the season.
The good news is that despite their offensive struggles, UTEP's defense has kept them in about every game. The Miners have been consistent each week despite being outscored 71-16 in the first quarter. They have nearly doubled the opposition in the second quarter with a scoring margin of 39 points (87-48). Third quarters have also not been good for Coach Dimel, with his team being outscored 69-31. The final 15 minutes has been about even with the opposition holding a slight edge (59-58).
Both teams are playing tonight on just four days rest. For Rice, a win over the Miners is especially important since their remaining schedule includes Western Kentucky, UTSA, and North Texas. Meanwhile the Miners know that a win tonight would make Senior Day against FIU a potential bowl clinching game for them. With so much on he line for both teams, expect them to pull out all the stops when they kick off at 5 p.m. on 600 ESPN El Paso.
All The Big Moments From UTEP Football's Win Over Bethune-Cookman
The UTEP Football team defeated Bethune-Cookman 38-28 last Saturday night to start the 2021 college football season with a 2-0 record for the first time in 16 years.
More From 600 ESPN El Paso