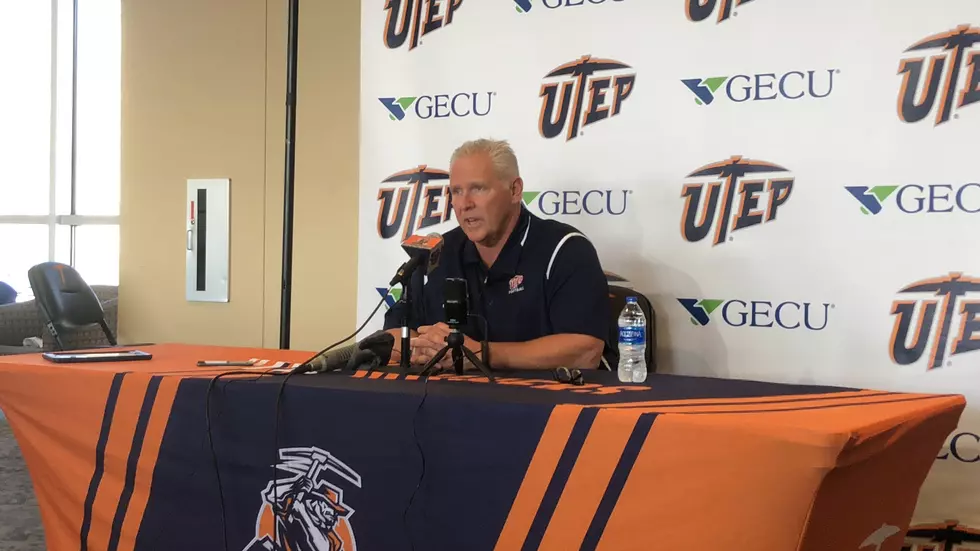 UTEP Football Hopes to Snap Four-Game Losing Streak Versus FIU
Adrian Broaddus
From falling big on the road to underperforming at home, it's been a tough four-game stretch for the Miners (1-4) as they are coming off their second bye week of the season.
Head coach Dana Dimel and his squad are coming off a bye week and are remaining positive as the season progresses.
"We just have to execute at a higher level with what we are doing and prepare at a higher level," Dimel said. "Eliminate mistakes. Eliminate penalties. That is going to be very important for us moving forward as well. I have been very, very pleased with the way the guys are playing and the type of effort they are putting in, how much they care, and I like the mentality of our football team."
UTEP enters this game with a dreadful record of 0-23-1 in eastern time zone games. The Miners will face an FIU squad (3-3, 1-2 C-USA) that has won back-to-back games by a combined score of 92-23.
"It's not an easy trip for us," Dimel said. "But it's a fun one for us to take a trip to Florida. It starts with preparation—that's one thing I took from coach Bill Snyder [Kansas State]."
The Panthers feature three lethal running backs in Anthony Jones (410 rushing yards, six touchdowns), Napoleon Maxwell (341 rushing yards, four touchdowns) and D'Vonte Price (207 rushing yards), who each help make up for FIU's 213.3 rushing yards per game. Their quarterback James Morgan and their passing game average 207.2 yards per game as well.
"I think they have caught a little bit of momentum and rhythm to what they are doing," Dimel said. "Their quarterback has a lot of experience and a very strong arm. They have very good talent in three running back positions. All three of those guys are very good players for them. I think they do a nice job of using their talent-set on offense. They are very, very sound defensive football team that lines up and plays fast, aggressive and does some good things on defense. It will be a definite challenge for us."
The Miners are coming off their most recent loss to UTSA in their C-USA home opener (26-16), where the offense couldn't click under Kai Locksley, saw some success with Brandon Jones, but allowed 320 rushing yards and ultimately fell to their in-state foe.
"We came back and had our opportunity against UTSA and felt like we just didn't play as well as we could have played in that game," Dimel said. "That is kind of my viewpoint of where we are after our first two conference games."
The Miners are trending downward in various FBS categories. They are the seventh-worst (No. 123) in total offense (298.2 yards per game) and on third downs, UTEP is a disaster. The Miners are second-worst on converting third downs (25.4 percent) and third-worst in third down defense (51.6 percent). Penalties are also hurting the Miners, as they average 73.6 penalty yards per game, ranked No. 116 in the country.
The good: UTEP is No. 17 in red zone scoring, converting 15-of-16 this season. UTEP is also seventh in the country in fourth down conversions, having made it on seven of eight attempts. Kicker Gavin Baechle is ranked 19th for field goal percentage (7 of 8).
"We have to finish drives better and get touchdowns when we are in the red zone," Dimel said. "We broke our red zone streak of scoring each and every time we are in the red zone by the penalties that hurt us in last week's ball game when we had a chance to get down there close. We had those two big penalties in the game against UTSA, which broke our streak of red zone efficiency."
As far as the quarterback, the Miners will take the week to evaluate the position because Locksley was ill last week. Whether it is him or Jones, Dimel is focused on elevating the quarterbacks' overall play.
"Right now, I wouldn't be able to answer who is going to start the game," Dimel said. "I like those two guys competing against each other to see who is going to start. We need to improve our play at that position and the only way to improve is competition."
UTEP and Florida International will kick off at 5 p.m. in Miami.
More From 600 ESPN El Paso