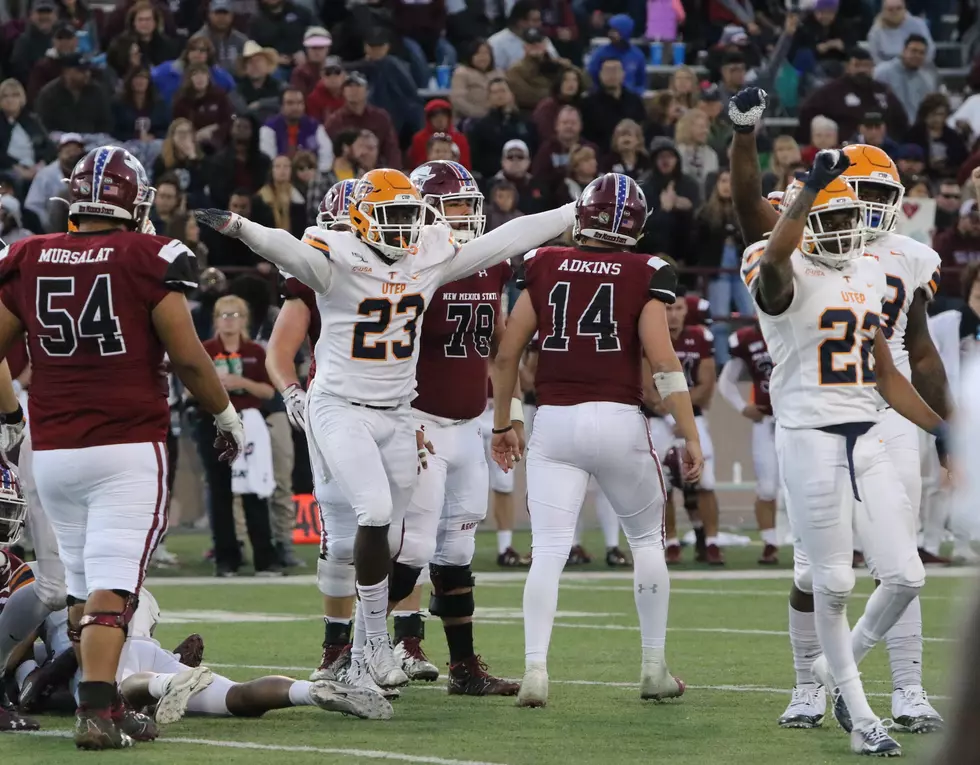 UTEP Football 2020 Outlook: Amaewhule Anchors Defensive Line
Photo by Matthew Metz
Editor's note: Sports are constantly evolving on a daily basis due to the COVID-19 pandemic, making a lot of the 2020 season still uncertain. This story is part nine of an offseason series preview for the Miners' upcoming season with the idea that the season takes place as scheduled. 
---
As important as the quarterback position is to the offense, the defensive line might be the most significant part of the defense this year for the UTEP football team. The Miners are undergoing extensive changes to their defense and head coach Dana Dimel is looking to put a similar defensive output as we saw in 2018.
The defensive line is particularly important due to the lack of production from 2019. The Miners were in the bottom-five in FBS for total sacks (12) and had trouble forcing any sort of turnovers. This year, though, they plan on flashing more of a four-man front instead of the normal three-man setup they had last year.
"We just didn't create any turnovers or sacks, not very disruptive in what we were doing," Dimel said. "I think playing in some of the even stuff can give guys looks off the edge with their speed and athleticism to get heavy pass rush on people."
Let's break down the line by defensive ends and the defensive tackles.
As a freshman last year, Praise Amaewhule led the team in tackles for loss (5.5) and sacks (3.0) en route to a C-USA All-Freshman team recognition. The coaching staff continues to sing his praise—no pun intended—and believes he can be among the top defensive ends in the conference. He will be looked at as the top returner for the defensive line.
"Praise Amaewhule is the guy I'm super excited about on our defensive line," Dimel said. "He's up to 245-pounds. I think he runs extremely hard for his size. He started as a redshirt freshman and did a great job last year for us. He's the bell cow of the defensive line. I think he can be an all-conference player for us."
On the opposite side of Amaewhule comes Josh Ortega, who made five starts last year at defensive end. The El Paso native finished last year with 27 tackles, three tackles for losses, two sacks, a pass breakup and three quarterback hurries. Despite a late-season shoulder injury, Ortega will be ready for his senior season this year.
"Josh Ortega has really improved each year to be an absolutely outstanding player for us at the other (defensive end) spot for us," Dimel said. "I really feel good about what Josh can bring to the table as he's gotten so much more mobile and athletic in his time here."
Deylon Williams is another defensive end that the coaching staff speaks highly of. The redshirt junior comes as a JUCO transfer from Independence Community College, which was the football team previously featured on Netflix's series "Last Chance U." He racked up 48 total tackles in 2019 and averaged almost five tackles per game.
"We've developed a ton of depth at that position with Deylon Williams, a JUCO transfer. He's up to 260-something pounds and looks really good at the defensive end position," Dimel added.
Jadrian Taylor is another JUCO product that came in as a mid-year transfer and joined the Miners during spring ball. At Kilgore College, he earned all-conference honorable mention accolades last year after recording 35 tackles (24 solo), 6.5 sacks (60 yards), 2 TFL and one forced fumble.
"Jadrian Taylor is a defensive end from Kilgore that looks really, really good at the other defensive end spot," Dimel said.
Coming from Refugio High School, Armonie Brown put together quite the impressive senior campaign. He finished with 151 tackles, 55 tackles for loss, 12 sacks, three forced fumbles, two fumble recoveries and two pass breakups. He served as a redshirt freshman last year for the team.
Armonie Brown is a guy that we redshirted last year out of Refugio that we feel really good about. I think he has a chance to help us at the position," Dimel said.
True freshman Michale Ike comes in boasting some notable high school accolades too. He was named District 13-6A Defensive Lineman of the Year as a senior for Hendrickson High School.
"Mike Ike is a true freshman who we brought in from Pflugerville and he plays into that the same mold. He looks like a Power-5 defensive lineman," Dimel said.
Coming in as a redshirt junior, the coaching staff feels good about the growth of Blake Thompson throughout the past two years with the team. His versatility is what makes him stand out him among the group.
"Blake Thompson is another player coming up in our program doing some really good things. He's going to play mostly defensive end but possibly defensive tackle in our even (package)," Dimel said.
Keenan Stewart joins the interior defensive line as a JUCO transfer from Iowa Western Community College, where he played in all 12 games, totaled 43 tackles, 10.5 tackles for loss, five sacks and three forced fumbles. He is fighting for a starting role on the defensive front.
"Keenan Stewart is one of our new three-for-three junior college transfers that can power clean 375 pounds and runs really well," Dimel said. "He's about 310-315 and runs really well for his size. I really like what he brings to the table."
Another JUCO transfer that continues to compete for playing time is Kelton Moss of Kilgore College. He was a Second Team All-America selection by the NJCAA last year. Moss finished the 2019 season with 59 tackles (36 solo), nine tackles for losses (23 yards), five sacks and three forced fumbles.
"Kelton Moss is a guy that we beat some guys in the conference at recruiting," Dimel said. "He actually committed to another school in the conference and we got him to de-commit. He's a defensive tackle from Kilgore that I like a lot. He can be a tremendous player for us."
Coming in at the nose tackle position, Dedrick Simpson often played as a starter for the Miners and ended with 15 tackles in 12 appearances. Simpson chipped in with a huge sack to cap off the Miners' 36-34 victory over Houston Baptist in the 2019 season opener. He is another player that is vying for starter time at the nose tackle spot.
"Dedrick Simpson is a guy that started as a true freshman for us that's battling at that spot in the inside position," Dimel said.
The San Antonio Veterans Memorial High School defensive tackle Dresden McIver has high expectations coming into the program. He was rated a 3-star defensive tackle by 247sports.com and was a two-time all-district selection.
"We brought in Dresden McIver, a defensive tackle from San Antonio," Dimel said. "He was super twitchy on film, made a lot of plays. He got his body looking good. He's a true freshman and looks really exciting."
Another young product on the defensive front is Jalen Rudolph, who redshirted in 2019. At Junipero Serra High School (Baton Rouge, La.), he registered a total of 83 tackles (29 solo), 1.5 sacks and two fumble recoveries over his junior and senior seasons. He is also going to fight for a starting role this year.
"Jalen Rudolph is a defensive tackle that we redshirted last year," Dimel said. "He could've played a bunch for us last year but since we had those two seniors, we decided to redshirt him. He probably could've challenged for a starting spot last year. He's heavy in the rotation at the defensive tackle spot."
Coming out of the Arizona prep ranks, Sione Tonga'uiha is a multi-sport athlete that lettered in football and track and field in high school. During his time on the gridiron, he finished his senior year with 47 total tackles, three sacks and an interception.
"He's a guy that was a 260-pound linebacker at Tempe High School, now he's up to 280. He runs really well. He's in camp looking really good," Dimel said.
"Fernando Reyes is a local product (Anthony) that we ended up redshirting last year. He is back this year after being injured last year," Dimel said.
More From 600 ESPN El Paso