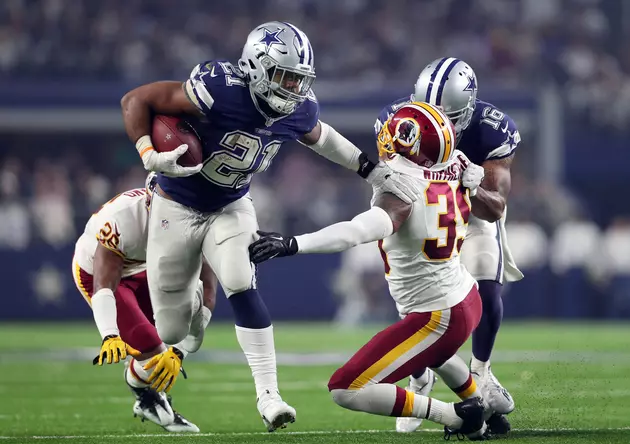 The Ezekiel Elliot Situation is a Bunch of Malarkey
Tom Pennington / Getty Images
In a ruling that may have surprised many yesterday, NFL arbitrator Harold Henderson denied Cowboys running back Ezekiel Elliot's appeal to have his six game suspension reduced or thrown out.  Despite the fact that Elliot supposedly presented new evidence to plead his case and that he was never convicted for domestic violence in an Ohio court, the suspension was upheld, and now the real fun begins.
This whole process could last quite a while for various reasons.  Last week, the NFLPA filled for a temporary restraining order which could freeze the suspension if approved on Friday, and enable Elliot to continue playing while he pursues a lawsuit against the NFL to get the suspension overturned.  As is, Elliot will play week 1 against the Giants due to the fact that Henderson issued his ruling so late on Tuesday.
This is great news for Elliot and fantasy football owners of the star RB, including myself, as he will at the very least play week 1, what happens after that is anyone's guess.  As far as I'm concerned, this whole situation is a bunch of mishegoss, (Yiddish for craziness.)  Roger Goodell and the NFL have clearly tried to rear end Zeke and make an example of him with this unfair suspension.  It is understandable that the NFL has cracked down on domestic violence, as it should not be tolerated, period.
However, the league is clearly contradiction itself here by not throwing out the Zeke suspension or at the very least reducing it.  Take the Greg Hardy suspension that occurred a few seasons ago as an example.  Originally Hardy was suspended for 10 games for a domestic violence incident, however, NFL arbitrator Harold Henderson reduced the suspension to just 4 games.  The irony here is that the evidence was overwhelming in the Hardy case as he was even convicted in a bench trial, but the case was later dropped in a North Carolina court when his ex-girlfriend failed to cooperate.
Point being that Elliot was never convicted of domestic violence in any court of law, and new evidence continues to suggest that his ex-girlfriend Tiffany Thompson is simply trying to ruin Zeke's career and is quite possibly, full of crap.  NFL investigator Kia Wright Roberts, who testified at Elliot's appeal even noted that she would not have recommended suspending him due to a "lack of corroborating evidence."
The next step is to see if Judge Amos Mazzant III will accept the NFLPA's temporary restraining order this Friday, which is the best case scenario for Elliot at this point.  If the judge denies the restraining order, then Zeke's suspension will begin week 2 and he won't be eligible to play again until week 9 against Kansas City.
Overall this whole situation bothers me to say the least.  Elliot should have never been suspended to begin with, but since he was, then his bogus punishment should have been upheld or reduced.  Don't get me wrong, by no means is Zeke an angel, and he must get his act together or else there will be many negative consequences that will surely impact what could be a Hall of Fame career; but an unjust punishment is just wrong.
Let's hope this gets resolved sooner rather than later, but don't count on it.  It seems as though the Ezekiel Elliot roller coaster has just begun, can't wait to see what happens next!
More From 600 ESPN El Paso