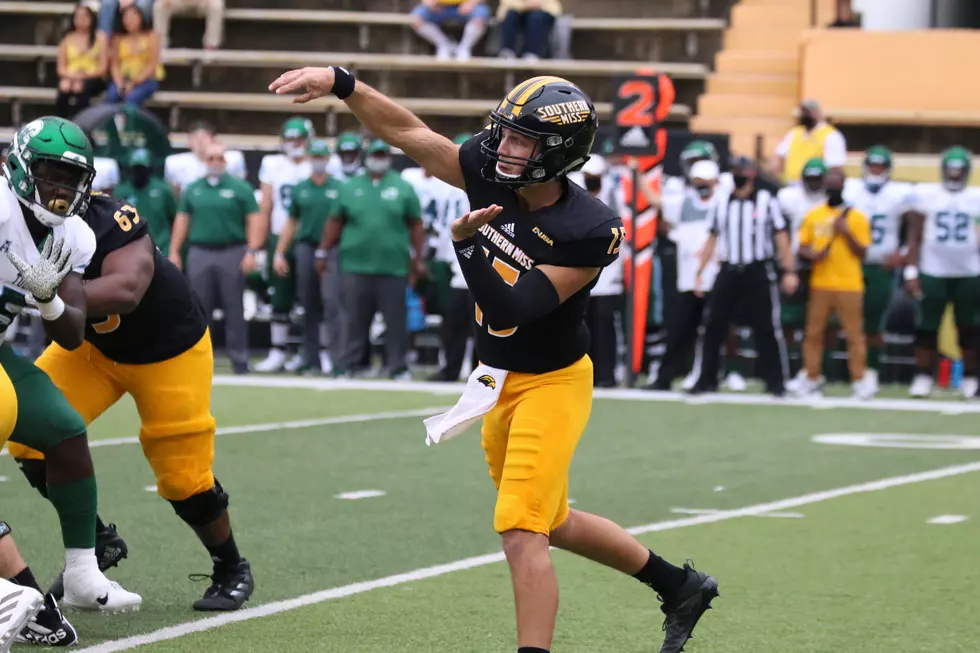 Southern Miss Brings High Powered Offense to Sun Bowl
S. Miss Athletics.
Saturday night will mark the first time in a month that the UTEP has been home to host a football game. The Miners will welcome Southern Miss to the Sun Bowl, but don't let their 1-3 record fool you. Jay Hopson resigned as head coach after just one game and Scotty Walden took over as interim head coach. Walden is just 30 years old and he is the youngest head coach in Division 1 college football. The Golden Eagles can move the football both in the air and on the ground, and they will pose a good challenge to Mike Cox and his Miners defense.
Senior quarterback Jack Abraham is in his third season as starting quarterback, and the veteran signal caller has done a good job of spreading throws out to three primary receivers while limiting his mistakes. After four games, he has thrown for 1,112 yards with seven touchdowns and three interceptions. He has been sacked 11 times, more than half of the total from last season.
Juniors Jason Brownlee and Demarcus Jones along with senior Tim Jones lead the three-head monster receiving corps for Southern Miss. They have combined for 50 receptions, 783 yards, and 6 touchdowns after four games this season. UTEP's secondary will have their hands full containing them, so the key will be for the Miners defensive line to break through and put as much pressure on Abraham as they can.
As for the ground game, true freshman Frank Gore Jr. is off to a fast start. After getting limited work against Tulane, Louisiana Tech, and South Alabama, Gore tallied 130 yards on 23 carries and a touchdown against North Texas in their last game on October 3rd. Senior Kevin Perkins and junior Don Ragsdale might also see some carries, but Gore Jr. should get first crack after his big game against the Mean Green. Here is a look at what the Miami native was able to do in his breakout performance.
Defensively, Southern Miss has registered five sacks, three interceptions, and four fumble recoveries, but they are giving up plenty of points. They rank 12 out of 13 C-USA teams in scoring defense and rushing defense, while they are 8th in pass defense. It will be interesting to see if UTEP can establish the run early against the Golden Eagles, since Deion Hankins and Josh Fields never broke any big gains against Louisiana Tech last weekend. If not, Gavin Hardison will put the ball back into the air and hope to have better success than he did in the second half versus the Bulldogs. Sophomores Hayes Maples and Malik Shorts along with senior Swayze Bozeman are among the leading tacklers in C-USA.
If the Miners defense can pick up where they left off in Ruston, they should be in position to win their fourth game of the season and first in conference. However, The Golden Eagles will be a good challenge for UTEP and we could see a lot of points scored in the Sun Bowl on Saturday night.
Enter your number to get our free mobile app
More From 600 ESPN El Paso