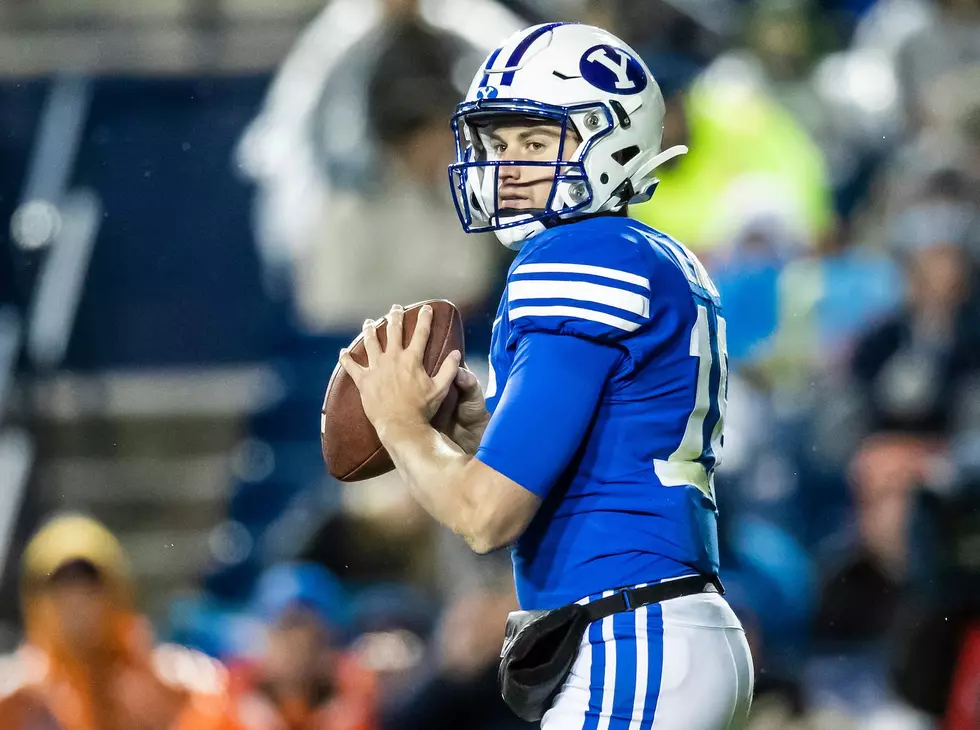 Romney Brothers Take 'Backyard Football' to the BYU Football Team
Madeline Mortensen/BYU
Growing up, Baylor and Gunner Romney were the perfect embodiment of a football brotherhood—both on the field and at home.
Baylor was the stout quarterback, the older brother and the first-born of the Romney brothers, while Gunner played the speedy, athletic receiver and was three years younger.
"It was the perfect situation," Gunner chuckled. "I'm a receiver and Baylor is a quarterback. Growing up, we always had someone to practice with. I always had someone that could throw me the ball and he always had someone to throw to. So it couldn't have been any better."
The two never played competitive football together because of their age difference, but now the brothers get to translate what was once backyard football to Provo, Utah, on the BYU football team.
Both Baylor and Gunner attended Franklin High School almost a handful of years ago now. Baylor was an El Paso standout in the class of 2015, amassing to nearly 3,000 passing yards along with 29 touchdown passes. Gunner broke out at Franklin during his freshman and sophomore seasons, however, his family moved to Chandler, Arizona, where he finished his high school career.
Upon graduation, Baylor had signed and committed with the Nevada Wolfpack but ventured to California on his Mormon Mission. After a few years removed from the sport, and in between enrolling at BYU and marrying his high school sweetheart, Elise Romney—who was also a standout pole vaulter for Franklin and now competes for BYU's track and field team—Baylor found his way onto the football team as a preferred walk-on.
"One thing that's motivated me to keep playing is how that season ended at Franklin, losing in the first round of the playoffs after I was injured in the first quarter," Baylor explained. "That's just motivated me to work hard and not let that be how my football career ended."
Gunner, on the other hand, came off winning back-to-back state championships with Chandler and was rated a four-star prospect coming out of the prep ranks. He could have played at some big-name programs as a highly regarded prospect but instead, he chose to play for BYU.
Of course, his older brother being at BYU helped sway his decision.
"Just growing up and seeing him play—me always trying to play with him because he was my older brother, trying to fit in—it really pushed us both to being more competitive and ultimately to bring us to the next level," Gunner said. "It's really nice having him up here. We can always hit each other up and get some extra work on the field or in the weight room. It's helped both of us in our careers."
Baylor had just recently seen action in the Cougars' loss to Hawaii last week, coming in as relief for an injured quarterback on BYU.
Gunner had started a good majority of his freshmen season last year before he was out with injuries. This year, he is one of BYU's captains and has over 200 yards of receiving.
"It was super cool experience last year getting to start as a freshman," Gunner said. "I was held back by a couple injuries which was frustrating but I think it helped me learn the speed of the game at the collegiate level, knowing how I can better and what I can work at. I love the sport of football and it's awesome to play at this level. I want to keep going and working to get better."
BYU entered their game against No. 14 Boise State with a 2-4 record and lacked a true identity. Baylor was given the starting nod Wednesday before the game due to injuries with the two quarterbacks ahead of him.
It was Baylor's first start of his collegiate career.
But he wasn't alone. The team had been hit with the injury bug and had gone with third and fourth stringers at multiple positions.
"Our starting right tackle was out so it was his first start as a true freshman," Baylor said. "Our other left guard had his second start that night as a redshirt freshman. There was a lot of young guys out there but they were ready."
When it rained, it poured—literally. The weather conditions in Provo on Saturday were horrendous, seeing rain throughout the game, sleet and even some snow.
"Not the ideal weather for the first start," he said with a chuckle. "I just had to control what I could control during the game and just do my best with every opportunity I had."
Excellent poise in the pocket and breaking through with big plays on third down led to a stellar performance by Baylor in his opener. He even slung a pass to his brother along the way.
"I'm so happy for Baylor," Gunner said. "He's been preparing for this ever since he left Franklin. Just seeing the preparation he's done over the last five years, it's finally coming to fruition and he's getting his opportunity. We've been talking about it, everyone around him knows that when he gets his opportunity, he will shine and that's what he did. It's no surprise to anyone because of the effort he puts every single day. He prepares and has been preparing like he was going to start every single game so I think when his opportunity came, he was ready for it."
BYU held on to beat the Broncos 28-15 and Baylor finished a truly special night with an impressive stat line—15-of-26 for 221 passing yards and a pair of touchdowns. What was maybe more impressive was Baylor's ability to make nice plays on third down and his turnover-free ballgame.
"I went up to Baylor and I was hugging him telling him I was so proud and that he deserved it. This was his moment and he showed everyone what he could do. It was a really cool moment that I got to share with my brother."
"If you would have asked me five years ago if I would have been playing quarterback for BYU and we would have been talking on the phone after we beat Boise State, I probably would have thought you were crazy," Baylor laughed.
After the upset victory, Baylor received an outpouring of praises, especially from El Paso.
"It's incredible the support that comes from El Paso," Baylor said. "I think it's the same for any other player that comes from El Paso. It's truly is a family back there, whether you play at the same school or rival school, wish them the best and I really represent the 9-1-5."
Maybe more importantly for BYU as a team, they played a complete game on three phases of the ball and may have been closer to finding an identity as a team.
"The coaches haven't made a decision or told any of the quarterbacks yet," Baylor said regarding the quarterback job during the Cougars' bye week. "I'm going to just keep working my hardest."
We might be hearing about the Romney brothers for some time at BYU. Gunner and Baylor have five years of eligibility combined and with some luck, they could be seeing their other younger brother, Tate Romney (linebacker), join them next year out of high school.
"My little brother is a baller right now," Gunner said. "He's a senior and has offers from pretty much everywhere in the country right now. He can play anywhere if he wants. He's a freak. We've been working really hard to get him to BYU. To have all three brothers up here, that would be such a cool experience. He's next in line for sure."
El Paso, who has seen storied UTEP rivalry matchups against BYU, has a reason to cheer for the Cougars. The Romney brothers' success will be fun to watch.
More From 600 ESPN El Paso