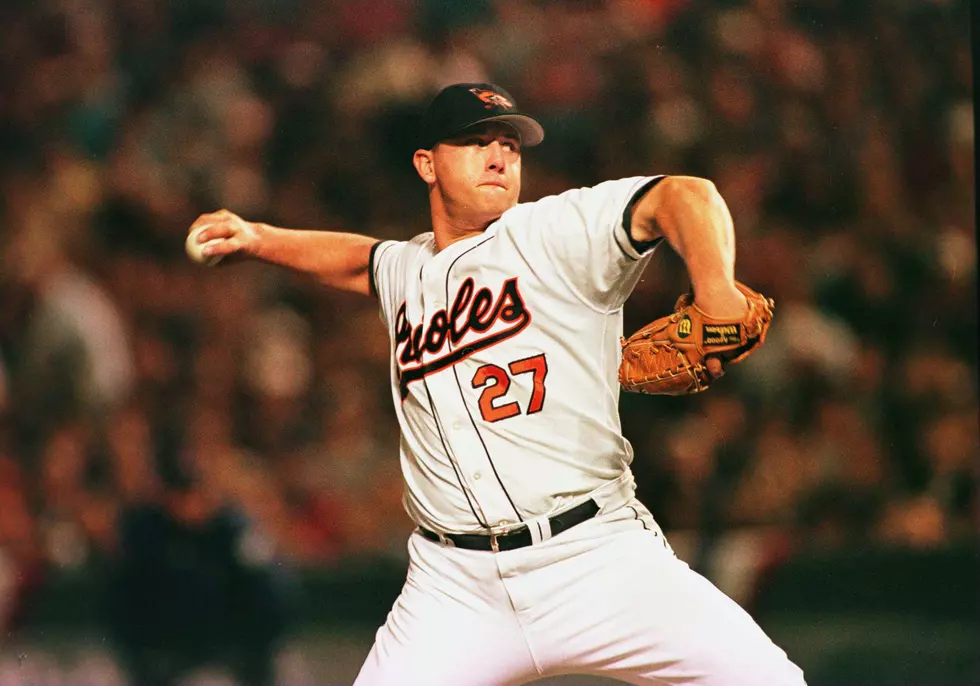 Rocky Coppinger Headlines 2020 El Paso Athletic Hall of Fame
Getty Images
The El Paso Athletic Hall of Fame announced its class of 2020 last night. Among the eight new inductees are a former MLB pitcher, two legendary Franklin High School football coaches, and a professional wrestling legend. Ed Stansbury, president of the EPAHOF made it official in a video highlighting all of the new inductees.
Here is a look at each of the new Hall of Famers for 2020.
Rocky Coppinger - starred at Coronado High School in the early 1990s before getting picked by the Baltimore Orioles in the 19th round of the 1993 Amateur Draft. Rocky made his debut in 1996 for Baltimore and he won 10 games as a rookie and pitched against the Yankees in the American League Divisional Series that year. Injuries slowed him down and he was traded to the Milwaukee Brewers in July of 1999. Coppinger had his best season as a pro following the trade, where he spent the rest of the season pitching out of the bullpen.
Ernie Bautista - over the last 50 years, he has competed in running events all over the world and is still active. Bautista has racked up numerous national and international awards during his career as a runner.
Monica Campos Townsend - she won three straight El Paso Women's City Golf championships from 1986 through 1988 and then she came back to win again in 2018. Townsend is also a five-time junior world golf qualifier and she was the city's Player of the Year in 1983.
Tony Grijalva - he had one of the best runs as a head coach, winning five district titles in seven seasons at Franklin High School, including a pair of undefeated regular seasons with the Cougars. In 2005, his Franklin team defeated San Angelo Central in bi-district and Mansfield Summit in the area round, and advanced to the third round of the state playoffs in Texas Stadium against Euless Trinity.
Milton Henry - preceded Coach Grijalva at Franklin and also had a terrific record as head coach of the Cougars. In 1999, Franklin captured District 1-5A and they did give up a single point in district play. Prior to his time on the westside, Coach Henry won a district title at Burges.
Media/Supporter of Athletics
Oscar Leeser - for 10 years, he arranged the title sponsorship with the Sun Bowl through Hyundai. The Hyundai Sun Bowl was the longest running title sponsorship in the game's history and he is currently sponsoring the Sun Bowl Thanksgiving Day parade. Oscar has also coached youth sports over the years and he often was seen playing pickup basketball throughout the 1980s and 1990s at the JCC. Leeser served as mayor of El Paso from 2013 through 2017 and he is running again this year.
Robert Hemphill Jr. - a 36-year veteran high school football official who has playoff experience at the bi-district, area, regional, and state levels. He started working high school football games with Bernie Del Hierro in 1982 and his assignments included the Westside Bowl and city All Star games as well as college games in Mexico. He served as an umpire and he also refereed at the lower levels. Dr. Hemphill also has a doctorate in education from New Mexico State and he spent 18 years lecturing at UTEP.
Salvador Gory Guerrero - the patriarch of the famous Guerrero professional wrestling family. Gory moved to El Paso in 1962 and soon he began promoting wrestling matches at the Coliseum. All four of his sons, Salvador (Chavo Sr.), Hector, Mando, and Eddy followed in his footsteps while Gory went into insurance following his wrestling days. Gurrero was very active in the community with local youth and the Optimist Club in hosting the "Little Boy Blue and Sister Too" event each year.
There are plans for an induction banquet for the El Paso Athletic Hall of Fame's Class of 2020, but no date or venue has been announced. The banquet usually is held the first Wednesday in May, but this year had been delayed due to COVID-19.
More From 600 ESPN El Paso