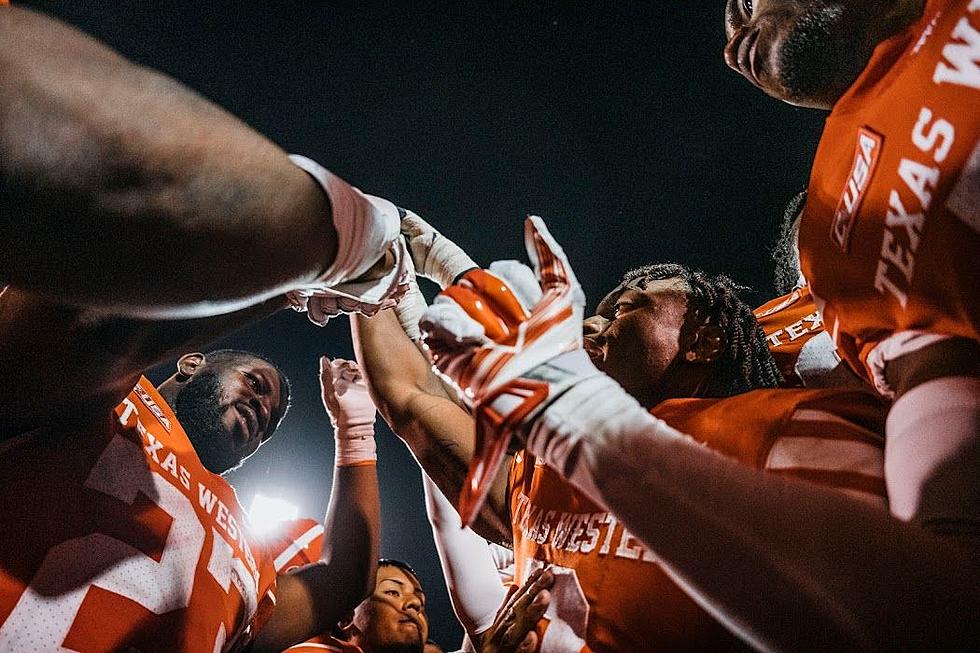 Predicting the UTEP Football Season with Important Dates and Times to Know
Jorge Salgado
Welcome to UTEP football kickoff week!
600 ESPN El Paso, the official flagship station for all UTEP football broadcasts, is excited for another season of Miner football. Legendary Voice of the Miners Jon Teicher is back calling all the action this season, and he will be joined by a new member in the booth. Cole Freytag, who spent four seasons with the Miners from 2012-16 at the wide receiver position, is joining the broadcast in 2022. Mando the Monster Medina returns for another season as the sideline reporter for Miner broadcasts.
And, of course, MinerTalk is back for another season.
MinerTalk will air on 600 ESPN El Paso following each UTEP football and men's basketball radio broadcast. Along with Sal Montes and Jason Craig, MinerTalk will give our listeners an opportunity to voice their opinion from the game live on the radio. Fans can interact with MinerTalk by phone—915-505-6009—or on Twitter (@600ESPNElPaso). Thanks to the Oscar Arrieta Agency for bringing MinerTalk to 600 ESPN El Paso, as the title sponsor of the show.
Check out the season preview podcast featuring guests Jon Teicher, Cole Freytag, Oscar Arrieta, quarterback Gavin Hardison, Sal Montes and Steve Kaplowitz:
Adrian Broaddus - (7-5): Miners win a bowl game for the first time since '67
Year five under Dana Dimel is a boom or bust season. The ceiling is exciting for Miner fans to look at—contend for a C-USA title, maneuver through an easier schedule and try to get back to a bowl game. The floor, though, is disastrous. With nine guys returning on offense and eight back defensively, I think that this UTEP squad will be a tough team to beat. I think this is a year where quarterback Gavin Hardison takes a massive step forward. As long as the defense can bring 85% of what they delivered in 2021, the Miners should be able to find success this fall.
Steve Kaplowitz - (8-4): UTEP continues to grow
Last year I predicted a hot a start, seven wins, and .500 play in conference. That is good enough for seven wins and a trip back to the postseason. That is exactly what happened. No, I do not have a copy of the Gray's Sports Almanac, since those game results ended in 2000. As for 2022, my prediction is eight regular season wins and a trip back to a bowl game for the first time since Mike Price enjoyed his UTEP honeymoon in El Paso. The Miners will also do the unthinkable and break their 55 year bowl win drought.
2022 UTEP FOOTBALL WITH DANA DIMEL RADIO SHOW SCHEDULE
Tuesday, August 23 (5:00-6:00 p.m.)

Hudson's Grill, 1770 Lee Trevino   

 

Tuesday, August 30 (5:30-6:30 p.m.)

Moon Tower Sports Bar, 3233 North Mesa

 

Tuesday, September 6 (5:30-6:30 p.m.)

Hudson's Grill  

 

Tuesday, September 13 (5:30-6:30 p.m.)

Hudson's Grill  

 

Tuesday, September 20 (5:30-6:30 p.m.)

Moon Tower Sports Bar  

 

Tuesday, September 27 (5:30-6:30 p.m.)

Moon Tower Sports Bar  

 

Tuesday, October 4 (6:00-7:00 p.m.)

Hudson's Grill  

 

Tuesday, October 18 (6:00-7:00 p.m.)

Moon Tower Sports Bar  

 

Tuesday, October 25 (6:00-7:00 p.m.)

Hudson's Grill  

 

Tuesday, November 1 (6:00-7:00 p.m.)

Moon Tower Sports Bar  

 

Wednesday, November 16 (6:00-7:00 p.m.)

Moon Tower Sports Bar 

 

Monday, November 21 (5:00-6:00 p.m.)

Hudson's Grill  

 
All shows can be heard on 600 ESPN El Paso 
2022 Football Schedule
Date
Time
At
Opponent
Location
TV
Radio
Result
August 27, 2022 (Saturday)
7:00 PM

Home

North Texas
El Paso, Texas / Sun Bowl
95.5 KLAQ
September 3, 2022 (Saturday)
1:30 PM MT

Away

Oklahoma
Norman, Okla.
95.5 KLAQ
September 10, 2022 (Saturday)
7:00 PM MT

Home

NM State
El Paso, Texas / Sun Bowl
95.5 KLAQ
September 17, 2022 (Saturday)
6:00 PM MT

Away

New Mexico
Albuquerque, N.M.
95.5 KLAQ
September 23, 2022 (Friday)
7:00 PM MT

Home

Boise State
El Paso, Texas / Sun Bowl
95.5 KLAQ
October 1, 2022 (Saturday)
4:00 PM MT

Away

Charlotte
Charlotte, N.C.
600 ESPN EL PASO
October 8, 2022 (Saturday)
5:00 PM MT

Away

LA Tech
Ruston, La.
600 ESPN EL PASO
October 22, 2022 (Saturday)
2:00 PM MT

Home

Florida Atlantic
El Paso, Texas / Sun Bowl
600 ESPN EL PASO
October 29, 2022 (Saturday)
7:00 PM MT

Home

Middle Tennessee
El Paso, Texas / Sun Bowl
600 ESPN EL PASO
November 3, 2022 (Thursday)
5:00 PM MT

Away

Rice
Houston, Texas
600 ESPN EL PASO
November 19, 2022 (Saturday)
2:00 PM MT

Home

FIU
El Paso, Texas / Sun Bowl
600 ESPN EL PASO
November 26, 2022 (Saturday)
1:30 PM MT

Away

UTSA
San Antonio, Texas
600 ESPN EL PASO
Hear from UTEP Director of Athletics Jim Senter
All 10 Of El Paso's Nicknames
More From 600 ESPN El Paso