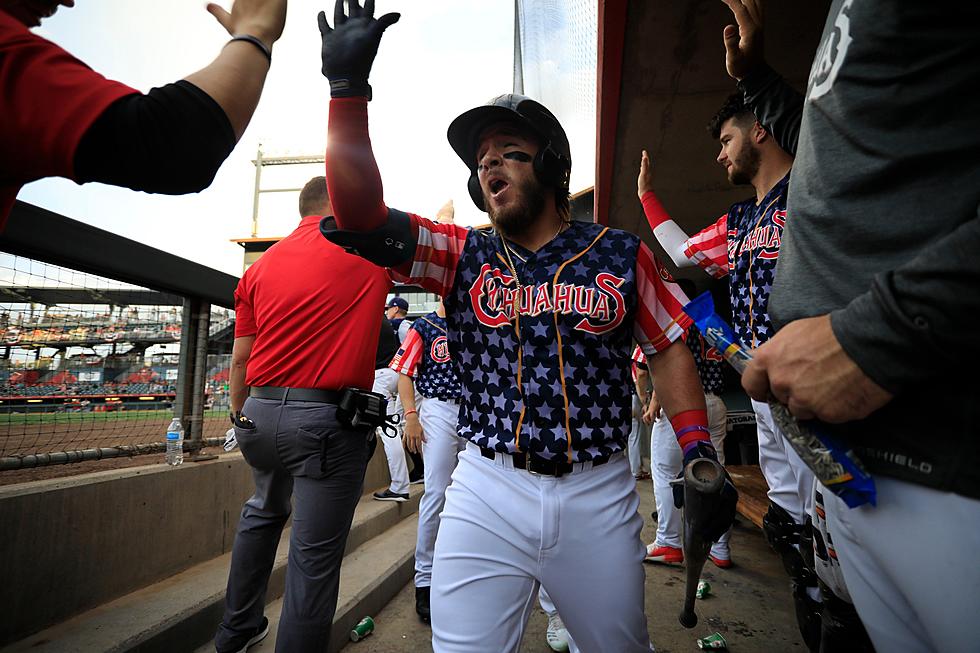 'Pony' Quiroz Stamps El Paso's Area Code In Team History Home Runs
Esteban Quiroz / Jorge Salgado
After a huge 11-1 El Paso Chihuahuas win over the Fresno Grizzlies on Monday night the home-team looked to make it two in a row on Tuesday evening. El Paso entered game-four of the five-game series with 914 home runs in team history, needing only one more to reach the area code that Green Bay Packers stud Aaron Jones and pop sensation Khalid have represented well numerous times on the national and worldwide stages.
Let's take you for a walk with the dogs and tell you all about it.
Fresno's offense was clicking from the beginning and got off to a great start when Yadiel Hernandez sent Andrew Stevenson and Carter Kieboom home on a two-run single to right. Things remained stagnant until the bottom of the second when Aderlin Rodriguez walked and Luis Urias singled to center where former Chihuahua Collin Cowgill fielded to hold both runners on second and first. Up next to bat for El Paso was Esteban 'Pony' Quiroz and here is what happened on an 0-2 count.
B2 Esteban Quiroz 3RBI HR
Home Run #915 is not only a representation of El Paso as a city but also a metaphor to their place in the Sun City's culture. You can't think about El Paso anymore without mentioning the Chihuahuas. Even if somebody hasn't been to a game yet you can assume with confidence that that very same person has seen Chico around at one of his many hundreds of appearances every year.
All of that before the ball landed to mark a 3-2 lead and the Chihuahuas a very special place in El Paso history. Keep in mind that the first ever season began in 2014 when guys such as Cody Decker and Brooks Conrad led the way. Fast forward through the years to find guys like Hunter Renfroe, Jabari Blash, Franmil Reyes and many more who have contributed to the power that is the El Paso Chihuahuas.
As the game rolled along many more runs were scored in the hitter-friendly Southwest University Park. Kieboom emphasized the last four letters of his last name in the following half inning with his solo shot to make it a 3-3 tie. Jose Pirela answered back with 2019 Triple A All-Star and Home Run Derby participant Ty France and fellow All-Star teammate Austin Allen on base for a three-bagger to reclaim the lead at 6-3.
El Paso didn't notch another homer until two innings later in the fifth (long drought huh?, tell us about it) but Fresno had already scored five unanswered runs since then for an 8-6 deficit. Allen stepped up to the plate in the bottom of the fifth looking to close the gap.
Kieboom and Hernandez added three insurance runs in the 6th while Boog Powell brought in a run with a bases loaded walk to try and scratch the Chihuahuas back in the game at 11-8 before heading into the 9th. The two-out rally featured a Rodriguez RBI single, Urias based on error and a Seth Mejias-Brean pop out to third to end the comeback bid.
El Paso went into this game looking for home run 915 and the win but wound up with 917 and a ferocious comeback effort that drops their record to 51-33. Kyle McGrath sits on a 3-3 record while Erick Fedde improved to a 1-1 record and Dakota Bacus tossed in his sixth save after Tuesday night. The 11-9 final solidified a series win for the Grizzlies after winning their third game in four nights.
The final game of the series starts at 7 p.m. MT on Wednesday night at Southwest University Park with the gates opening at 6. Catch it all on the 600 ESPN El Paso App and on your AM radio dial set to 600!
More From 600 ESPN El Paso