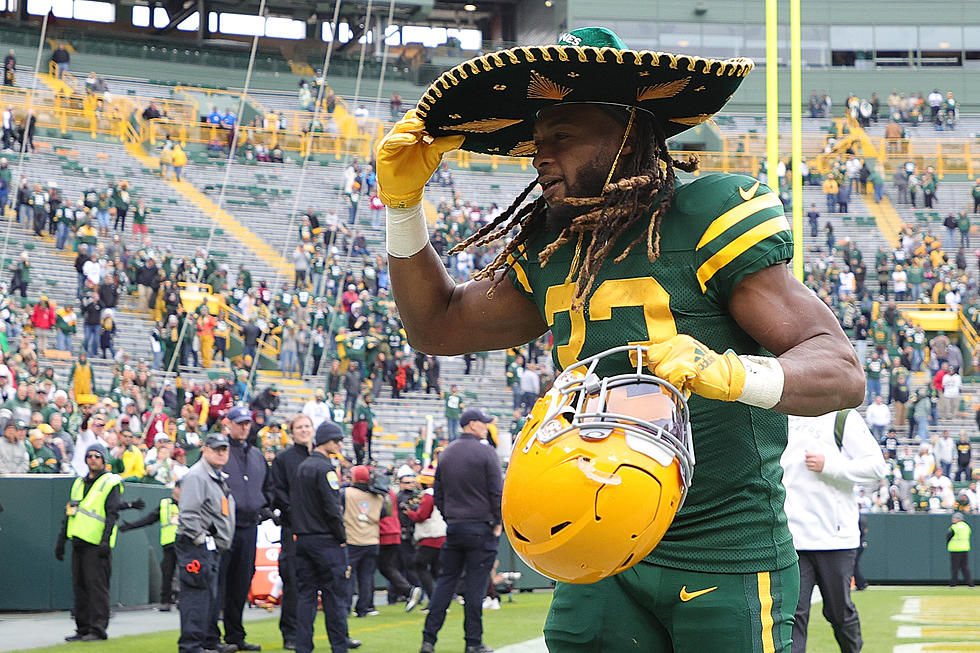 Packers Star Aaron Jones Hopes to Win NFL Man of the Year
Getty Images
As Aaron Jones is preparing for his NFC Divisional Playoff game against San Francisco this weekend, he is hopeful to add another prestigious award to his trophy collection. The Walter Payton NFL Man of the Year will be announced on February 10th during the NFL Honors, which airs at 7 p.m. on ABC will be simulcast on NFL Network.
Ever since he was named as a nominee on December 7th, Jones, his A&A All The Way Foundation, and the Packers took to social media with their $25,000 charity challenge voting campaign, which officially ended last night. As of December 14th, Jones was fifth overall in the voting for the Nationwide Charity Challenge. The nominee who receives the most hashtag mentions will receive a $25,000 donation from Nationwide to his charity of choice. The 2nd and 3rd place finishers will receive $10,000 and $5,000 donations from Nationwide respectively. Last week, the Packers dropped a terrific video of the Jones brothers and the work they have done with their foundation.
The former UTEP star has been giving back the the El Paso and Green Bay communities ever since he entered the league nearly five years ago. The A&A All The Way Foundation was created by both Aaron and his twin brother Alvin Jr. The foundation's goal is to make an impact in the lives of our nation's youth through charitable giving and action. They have given thousands of shoes to children in need in both Green Bay and El Paso. They also have conducted turkey drives for Thanksgiving and a charity softball game that was originally scheduled for this summer but pushed back due to Covid. Their annual free youth football camps have also been a big hit for El Paso youngsters.
All 32 nominees will receive a $40,000 donation in their name to their charity of choice. The winner of the Walter Payton NFL Man of the Year award will receive a $250,000 donation to the charity of his choice.
UTEP Football Sweeps New Mexico With 20-13 Win Over UNM
The UTEP football team defeated NMSU and UNM for the first time since 2014 after a big second half comeback gave the Miners a 20-13 win over the Lobos Saturday night in front of 15,069 fans at the Sun Bowl.
More From 600 ESPN El Paso