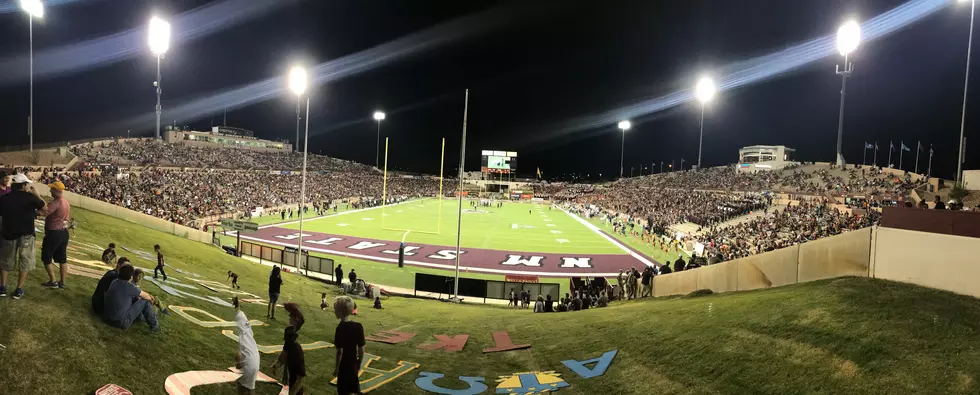 NMSU Football Determined to Break 57-Year Bowl Drought
Steve Kaplowitz.
December 31st, 1960. John F. Kennedy was three weeks away from his inauguration as the 35th President of the United States. Elvis Presley's Are you Lonesome To-Night was #1 on the Billboard Hot 100 Chart and Flaming Star, a western movie starring Elvis was the top Box Office hit that week. A little more than two months earlier, Pittsburgh Pirates second baseman Bill Mazeroski became the first player to hit a walk-off home run in Game 7 of the World Series and beat the New York Yankees 10-9. On December 18th, Vince Lombardi suffered his only postseason defeat as Green Bay Packers head coach to the Philadelphia Eagles 17-13.
The big four Bowl games were just exhibitions, since the final polls came out in November. Minnesota was the AP champ while Ole Miss was voted #1 by the Football Writers Association of America. That year, an undefeated NMSU football team won their second bowl game when they defeated Utah State 20-13 in the Sun Bowl. Little did people know that would be the last time the Aggies would play in a postseason game. That team coached by Warren Woodson was led by quarterback Charley Johnson, running back Bob Gaiters, and receiver Pervis Atkins. Now 57 years later, it appears that NMSU could have their best shot to break the longest bowl drought in Division 1 history.
Head Coach Doug Martin is in his fifth season as head coach of the Aggies, and he has veteran players at his key offensive positions. Quarterback Tyler Rogers, running back Larry Rose III, and receiver Jaleel Scott make up the core of the NMSU offense. Last Saturday, sophomore cornerback Shamad Lomax had more interceptions (three) against the Miners than any UTEP player had receptions.
The Aggies' next game is in Fayetteville against a 1-2 Arkansas team that just lost in overtime last week to Texas A&M 50-43. Assuming NMSU can keep things close against their SEC opponent, they will have two more winnable road games against Appalachian State and Georgia Southern before returning home on October 28th to battle Arkansas State. NMSU will get to play three of their final five games at home, but the next month should give Aggie fans a great indication if 2017 will be a year to remember.
More From 600 ESPN El Paso