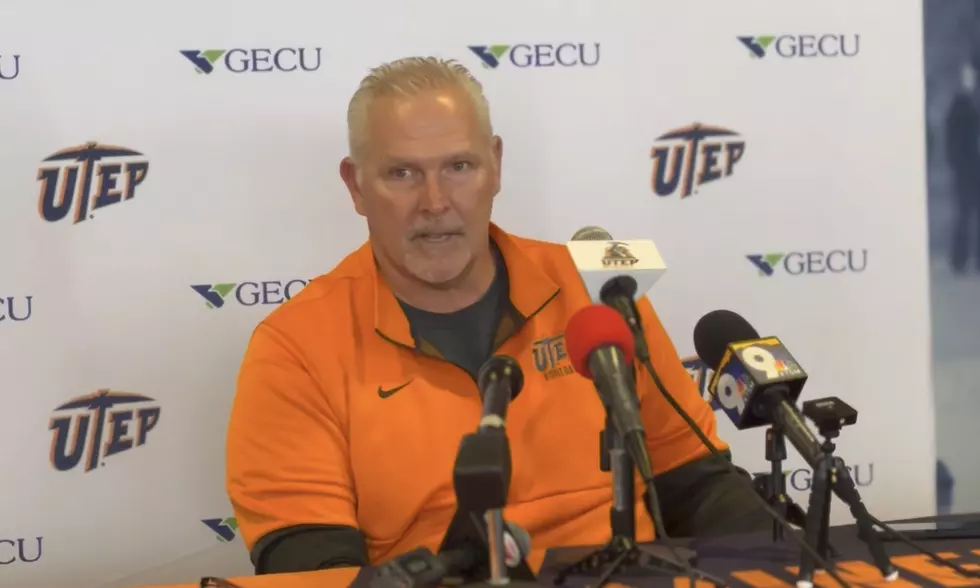 Miners Must Rectify Mistakes and Refocus During Bye Week
Adrian Broaddus
It's come down to five games for UTEP football.
Five games remain on their schedule.
Three wins are needed in order to earn bowl eligibility for the second consecutive season.
And, the clock is ticking as the Miners (3-4, 1-2 C-USA) enter the much-needed bye week.
Following their disappointing 41-31 loss at LA Tech this past Saturday, UTEP head coach Dana Dimel praised the team's second half comeback, but appeared perturbed when it came to the repeat mistakes that he witnessed.
"When we were down 20 at the half, (I liked how we) came back and fought and did some really good things there in the second half and got the game within one score," Dimel said. "But we have to get better scoring more in the red zone, which is really obvious. We have to finish drives, eliminate turnovers and not give up the big plays. That was a big part of the game. [LA Tech] did a better job making less mistakes and making more plays."
Red zone efficiency, turnovers, giving up big plays. The same mistakes could be felt in some of their other losses earlier this year, such as the scoring struggles and big plays allowed against North Texas (31-13) or their seven turnovers versus New Mexico (27-10). The recurring mistakes continue to haunt UTEP, despite a pair of wins against Boise State (27-10) and Charlotte (41-35) before their loss to LA Tech.
Against LA Tech, they totaled four turnovers and turned the ball over on downs twice inside the red zone. They were 3-for-6 in red zone scoring opportunities. Meanwhile, the defense allowed 380 yards of total offense and nine big plays (pass plays over 15 yards, rush plays over 10).
As soon as UTEP took two steps forward, they took one step back in the loss to the Bulldogs.
The Miners are currently the second-worst team (No. 13) in C-USA for scoring offense and touchdowns scored, averaging just 22 points per game and totaling 17 touchdowns this year. They are also tied for the worst turnover margin in the league (-5), having lost 16 turnovers and capitalizing on 11 forced turnovers. They have a top-3 ranked defense in C-USA, yet the Miners are currently 13th in total offense.
I digress.
Was the loss to LA Tech as a result of fatigue? The Miners were the only team in C-USA to play seven games up to this point. Dimel talked about the team needing this bye week to refocus and readjust. The team will need to utilize this bye week to rest, heal up and prepare for the most important stretch of the season. The coaching staff also needs to use this time to leave town and recruit for the coming years.
Or, is the loss to LA Tech a reflection of the parity in the league? Currently in C-USA, each team has two losses or more. UTSA (2-0), North Texas (2-0), Rice (1-0) and LA Tech (1-0) are unbeaten at the start of conference play, but those four, with the exception of the Roadrunners, are all pretty evenly matched. During the postgame interview, Dimel talked about the parity across the league and he said each game might be decided by whichever team has more mistakes.
Nonetheless, the Miners have Florida Atlantic (2-4), Middle Tennessee (3-3) and Florida International (2-3) at home, along with Rice (3-2) and UTSA (4-2) on the road to close out the year. Beating both Florida schools at home and topping Rice on the road seems like the most probable outcome if UTEP were to win three games. Though, as we've seen, this team can be beaten by any team on the wrong night.
So for the bye week, the Miners have to work on the recurring mistakes: red zone efficiency, turnovers, giving up big plays. UTEP must look inward if they want to become bowl eligible for consecutive seasons, something that hasn't been accomplished since 2004-05. We'll see if this veteran team has what it takes to accomplish that tall task.
TACKLE THESE: Check Out the Best Uniforms In Each NFL Team's History
More From 600 ESPN El Paso