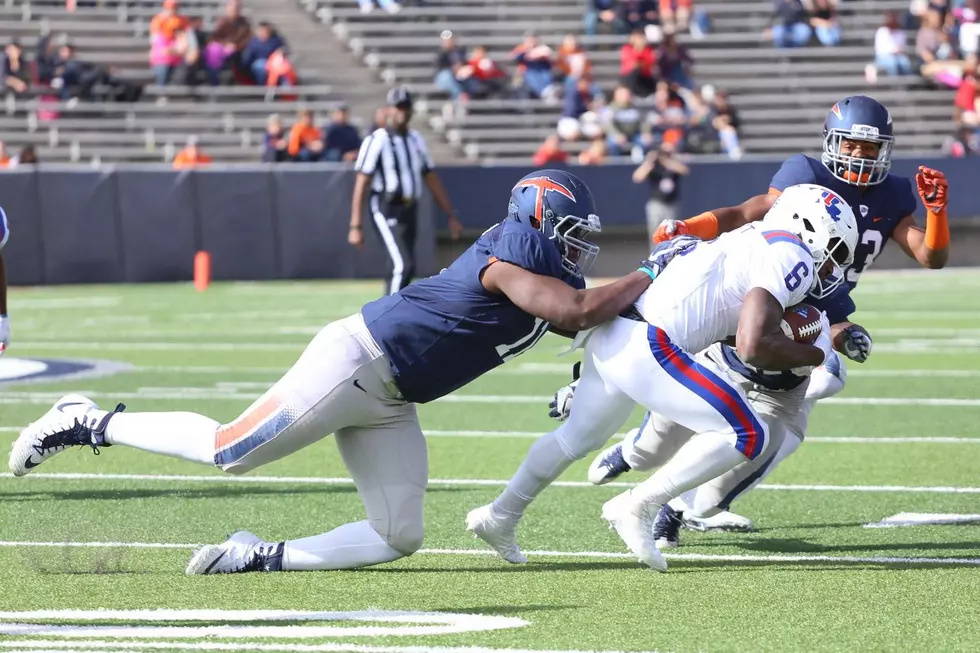 LA Tech Has Owned UTEP in Football Over the Years
Photo courtesy Gaby Velasquez
As the UTEP football team prepares for their biggest game of 2021 Saturday night, their opponents need no introduction. Louisiana Tech has been nearly unbeatable against the Miners over the years, and they have never lost to them as C-USA foes. In fact, LA Tech leads the all time series 14-2-1, and they currently hold an eight game win streak over the Miners. It has been 17 years since the last time UTEP defeated Louisiana Tech, during Mike Price's first season in El Paso. To make things even more interesting, the Miners have never beaten Skip Holtz as a head coach (East Carolina 2005-09, South Florida 2010-12, and La Tech 2013-present).
UTEP has been close before. Just last year, they surprised the Bulldogs in Ruston and were in position to pull off the upset until the offense went dry in the second half. UTEP lost that game 21-17.
All of that could change Saturday when the Miners get another crack at the Bulldogs. This will be the biggest challenge for head coach Dana Dimel since Boise State. However, LA Tech is 2-3 on the season, with close losses to Mississippi State, SMU, and North Carolina State. Their two wins came against Southeastern and North Texas, both close contests. It seems like every game the Bulldogs play will be a dog fight (pardon the pun), and this weekend should be no exception.
LA Tech's starting quarterback Austin Kendall was living in Dallas for five months and working in medical sales before he joined the Dogs. Prior to landing in Ruston, Kendall was playing at West Virginia and Oklahoma. The grad transfer has had some big passing games against Mississippi State and also SMU and he will be a great test for the UTEP defensive backfield. Smoke Harris is back and besides having one of the great names in college football, the sophomore is a dangerous weapon. Harris can beat you as a receiver as well as in the return game. Receivers Bub Means, Sam Emilus, and Tre Harris have also been steady targets all season along with running back Marcus Williams. The LA Tech offense will be a terrific challenge to the UTEP defense that is currently ranked first in C-USA and 16th in the nation.
On the defensive side of the ball, things definitely favor the Miners. LA Tech is giving up an average of 33.4 points per game, which ranks 11th overall in the league. They are also 12th in sacks, 9th in interceptions, 6th in run defense, and last in pass defense. The Bulldogs give up an average of 320 yards per game in the air. That will be a big factor Saturday night; can Gavin Hardison connect with his two favorite targets, Jacob Cowing and Justin Garrett, along with Rey Flores and Tyrin Smith? Last season, Hardison struggled against LA Tech's pass defense and he completed 18 of 38 passes for 206 yards, 1 touchdown, and 1 interception. The redshirt sophomore quarterback will need to be much better this weekend if the Miners are going to have a chance to beat the Bulldogs. UTEP also struggled to run the ball against LA Tech last season, with just 60 yards on 27 carries. Dana Dimel knows that his offensive game plan will need some big plays to give his team a chance for their six win of the season.
Action Shots From UTEP Football's 28-21 Win Over Old Dominion
The UTEP football team rallied in the fourth quarter to defeat ODU 28-21 at the Sun Bowl Saturday night to improve to 4-1 on the season.
More From 600 ESPN El Paso