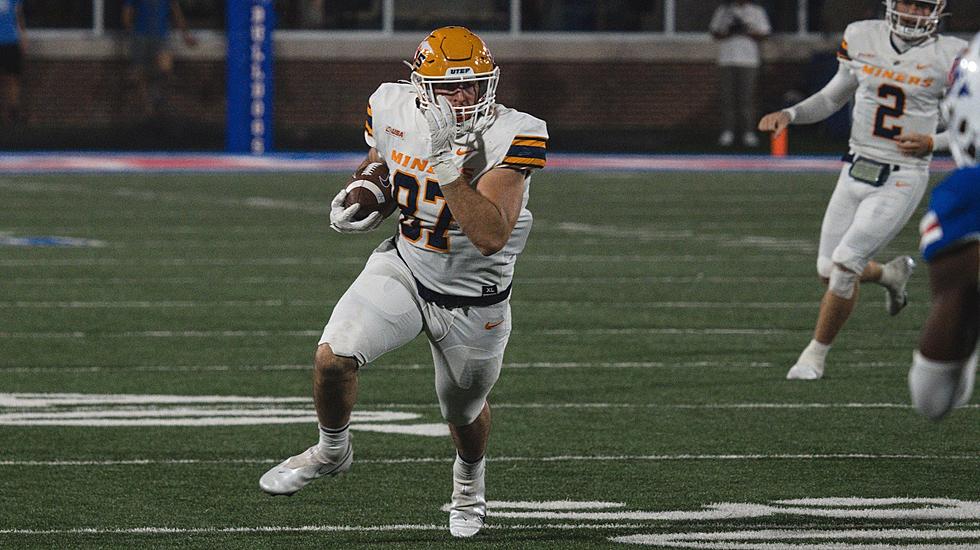 Five Players on Offense That Could Emerge in 2023 for UTEP Football
Photo courtesy of UTEP Athletics
Day two of UTEP football camp kicked off on a hot Friday morning as the Miners are less than a month away from their season opener at Jacksonville State to start the 2023 season.
Let's talk UTEP offense!
The usual offensive stars to watch have progressed nicely early into fall camp. Senior quarterback Gavin Hardison will have familiarity in the receiving corps with Tyrin Smith, Jeremiah Ballard and Kelly Akharaiyi returning in the mix. In this fall camp, the coaching staff hopes to find more options as the fourth, fifth and sixth targets in the receiving game.
"For me, we're going to have to figure out who's going to rise to the top and who's going to continue to make plays in practice," head coach Dana Dimel said. "Consistency on who is making those plays is an important thing to us right now."
Parkland alum and All CUSA running back Deion Hankins looks crisp at 235-pounds and could have a big year behind a veteran offensive line. JUCO back Mike Franklin and, if eligible, Washington transfer Aaron Dumas are top options for the running game behind Hankins. The line boasts returning starters in Andrew Meyer, Elijah Klein, Steven Hubbard and Zuri Henry.
5 Players to Watch: Uncovering rising offensive talent
Honorable mentions: RB Ezell Jolly, WR Jostein Clarke & TE Judah Ezinwa
True freshman running back Ezell Jolly (Ridge Point HS) appeared explosive out of the backfield in fall camp. The coaching staff has compared him to a young Ronald Awatt. He might not receive significant carries in 2023, but he's a name to follow for seasons to follow for UTEP.
Wide receiver Jostein Clarke is fighting for more reps in the receiving game. At 6-foot-3, he stands out physically. The Tyler JC transfer recorded four catches for 28 yards with a long catch of 13 yards in 2022.
Newcomer tight end Judah Ezinwa from Mt. SAC (JUCO) could earn playing time this year as a candidate for the backup tight end position. At 6-foot-3, 240 pounds, the sophomore moves well in the run-blocking game. Fellow newcomer tight end Marcus Vinson from Kilgore College (JUCO) is also vying for the backup tight end role on the squad.
5. FB/TE Julian Lopez | RS Junior (Chapin HS) 
The coaching staff has been joyous with the development of local product and fullback/tight end Julian Lopez. They think the Chapin alum can assume a Rey Flores-like role in the offense. For Lopez, that means playing a bit of fullback, off-set tight end and as an H-back when needed. He's only played in three games with the Miners, but in 2023 he will fill the James Tupou role.
"Julian Lopez has been practicing really, really well," said Dimel. "Really pleased with him. He can play fullback and tight end so we have versatility at the position."
4. WR Emari White | Junior (Sierra College) 
After a year learning the offense and developing among the receiving corps, Emari White has impressed coaches early into fall camp as a potential name to watch in the passing game. The 6-foot receiver from Sierra College caught 37 passes for 557 yards and six touchdowns in his lone JUCO season prior to joining the Miners. The Miners have been hoping for more receivers to emerge and White is trying to become a complimentary newcomer to the receiving game in 2023.
3. RT Aluma Nkele | RS Sophomore (Long Beach City College) 
First off, Aluma Nkele is really 6-foot-6. Secondly, he calls himself the best basketball player on the UTEP football team and I think we will need to verify that at some point.
Going into camp, Nkele looks to be the top option for backup tackle behind Zuri Henry and Steven Hubbard. His athleticism, speed and size jump out whenever you watch him on the line. Though he has some mishaps, Nkele can only get better by improving his technique and continuing to learn the offense.
"The coaching staff believes in me," said Nkele on what motivated him to turn the corner this offseason. "Coach Dimel has always believed in me since the start. I never had a lot of recruits coming out (of high school), so when someone believes in me, I have to work hard for them."
2. WR/PR Marcus Bellon | Junior (Santa Barbara CC) 
It's hard to consider an all-conference honorable mention as a "rising talent," but in 2023 Marcus Bellon can contribute to the Miners far more than just a special teams returner. Bellon continues to earn offensive reps in fall camp, further solidifying him as an option in the slot for the passing game.
Last year, he caught five passes for 83 yards and scored a receiving touchdown. Granted, he was named All CUSA for ranking fourth in punt return average (5.6) across the league, while adding a punt return for a touchdown.
"I've been doing pretty good with our offense and last year, I ran with our scout team and did well there," Bellon said. "I think I can make the big plays and make the long touchdowns that kill other teams."
1. TE Zach Fryar | RS Senior (NMMI) 
This is the year for Zach Fryar to get his opportunity at the tight end spot and carry the torch that last year's starter Trent Thompson held. Dimel called Fryar and Thompson two of the best run blocking tight ends he's ever coached. For Fryar, he played in nine games and made one start in 2022, with two catches for 20 yards.
Fryar has everything you want in a starting tight end due to his impactful play in the run game and hands/route-running abilities in the receiving game.
"I've worked really hard to get to this spot and I've been here since 2020," Fryar said. "I finally have my time to shine and that's really cool for me."
More From 600 ESPN El Paso