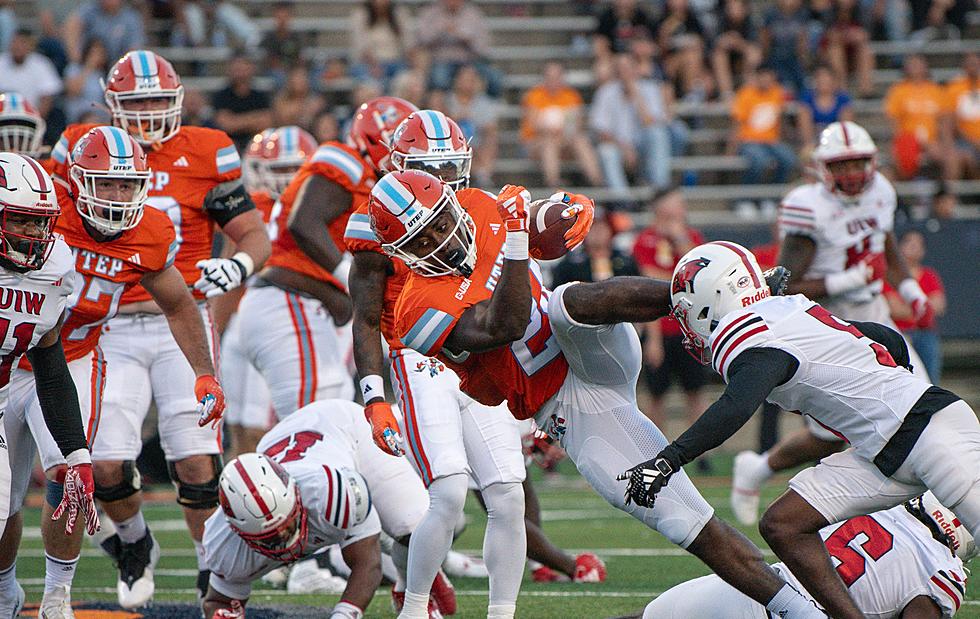 Five Final Things to Know Before UTEP Kicks Off at Northwestern
UTEP Athletics.
The UTEP football team (1-1) will travel to Northwestern (0-1) for a chance to make history, as they get ready for a Saturday 1:30 p.m. (MST) kickoff.
We will have the full radio coverage on KLAQ (95.5 FM) with Voice of the Miners Jon Teicher, Cole Freytag and Mando "The Monster" Medina calling the action. After the game, we will have MinerTalk, presented by the Oscar Arrieta Agency live on 600 ESPN El Paso ahead of Chihuahuas baseball (6:30 p.m.).
Here are five things to know before kickoff!
1. Bonus: Experience the MinerTalk Watch Party live at The District West
If you're looking for a place to watch the game, join our official MinerTalk Watch Party at The District West (3233 North Mesa). The District West will have 99 cent wings, drink specials all day and, of course, the game with prizes and raffles starting at 1 p.m. Our very own Jason Craig will be DJ'ing and the Miner Mafia fan support group will be on-site as well.
The game will be televised on the Big 10 Network. For those that have a TV subscription with Spectrum, they are encouraged to watch the game on the Fox Sports Go App. Those with Hulu Live TV, Direct TV and YouTube TV will be able to watch the Miner game via live streaming.
2. UTEP is 4-15 on the road over the last three seasons
While the Miners have been sharp at home with a 12-3 mark over the last three years, they have struggled mightily on the road. UTEP is 4-15 since the 2020 season on the road, something that head coach Dana Dimel is hoping to improve on this year.
The Miners last won a road game at Charlotte on Oct. 1, 2022 (41-35). Coincidentally, that was also the last time the team won consecutive games, having beaten Boise State the week before, 27-10.
"For a team to get on consecutive winning streaks, they have to play well on the road," Dimel said. "If you can do that.. and get some road victories, that can allow us to get on some of these winning streaks."
3. Northwestern is on a 12-game losing streak
Interim head coach David Braun took over in the offseason after longtime coach Pat Fitzgerald was fired in July in the wake of a hazing and abuse scandal that clouded the program.
In week one, the Wildcats fell 24-7 to Rutgers in their Big 10 opener. Now, the Wildcats will return for their home opener as they host the Miners on Saturday.
Quarterback Ben Bryant came into the season as a highly regarded transfer from Cincinnati. He struggled against Rutgers, going 20-of-36 through the air for 169 yards and a pair of interceptions. Backup quarterback Brendan Sullivan, who might get snaps against the Miners, was threw the team's only touchdown pass of the loss. Defensively, they are led by linebacker Bryce Gallagher, who racked up a whopping 19 tackles in their loss last week.
"They're a new team this year. They brought a lot of new talent. They look like a more talented team compared to last season. That's an honest assessment of them... They're a Big 10 football team that's got a lot of good football players and can play a high level."
4. Hardison is 10-4 when completing 60% or better of his passes
The UTEP running game was the story of last week's 28-14 win against Incarnate Word. They put up an impressive 329 rushing yards, led by a career performance from Deion Hankins (174 yards). Hankins already has 228 rushing yards and is averaging 5.8 yards per attempt.
But let's talk about the passing game.
In the win, UTEP quarterback Gavin Hardison was an efficient 10-of-13 through the air for 94 passing yards and a pair of touchdown passes. They didn't need a special game from him. At the same time, he played turnover-free football coming off a three turnover game in their loss at Jacksonville State (17-14).
Since Hardison took the starting job in 2020, UTEP is 10-4 overall when he completes 60% or more of his passes. They are also 5-0 when Hardison is a starter and attempts 17 or fewer passes. UTEP is 10-19 when he attempts 18-plus passes.
In the receiving game, Dimel pointed out a few players that need to step up among the wideouts. Currently, Marcus Bellon, Lucas Flores and Kyle McNamara are dealing with injuries, meaning the team needs to find other options to fill out their receiver rotation.
"Jeremiah Ballard has to step up and compliment (Tyrin Smith and Kelly Akharaiyi)," Dimel said. "Jostein Clarke helped us out and did some nice things (against UIW). Emari White would be the fifth guy in the rotation. He has so much speed and athleticism that it's time for him to show up.
5. It's been 56 years since a Power 5 win for UTEP
The Miners are riding a 36-game losing streak against Power 5 teams since they beat Ole Miss in the Sun Bowl (1967). Coincidentally, this was also the last time the Miners won a bowl game.
With everything going on at Northwestern over the offseason, this is a golden opportunity for the Miners. As Steve wrote earlier this week, UTEP might not get a better opportunity to beat a Power 5 team again this season.
UTEP last 5 games vs. Power 5 opponents

2022: (9) Oklahoma 45 - UTEP 13
2020: (14) Texas 59 - UTEP 3 
2019: Texas Tech 38 - UTEP 3
2018: Tennessee 24 - UTEP 0 
2017: (7) Oklahoma 56 - UTEP 0 
UTEP Squeezes Past NM State 20-13 in the Battle of I-10
In a game of two halves, the Miners won their first game of the 2022 season against NMSU, 20-13.
More From 600 ESPN El Paso