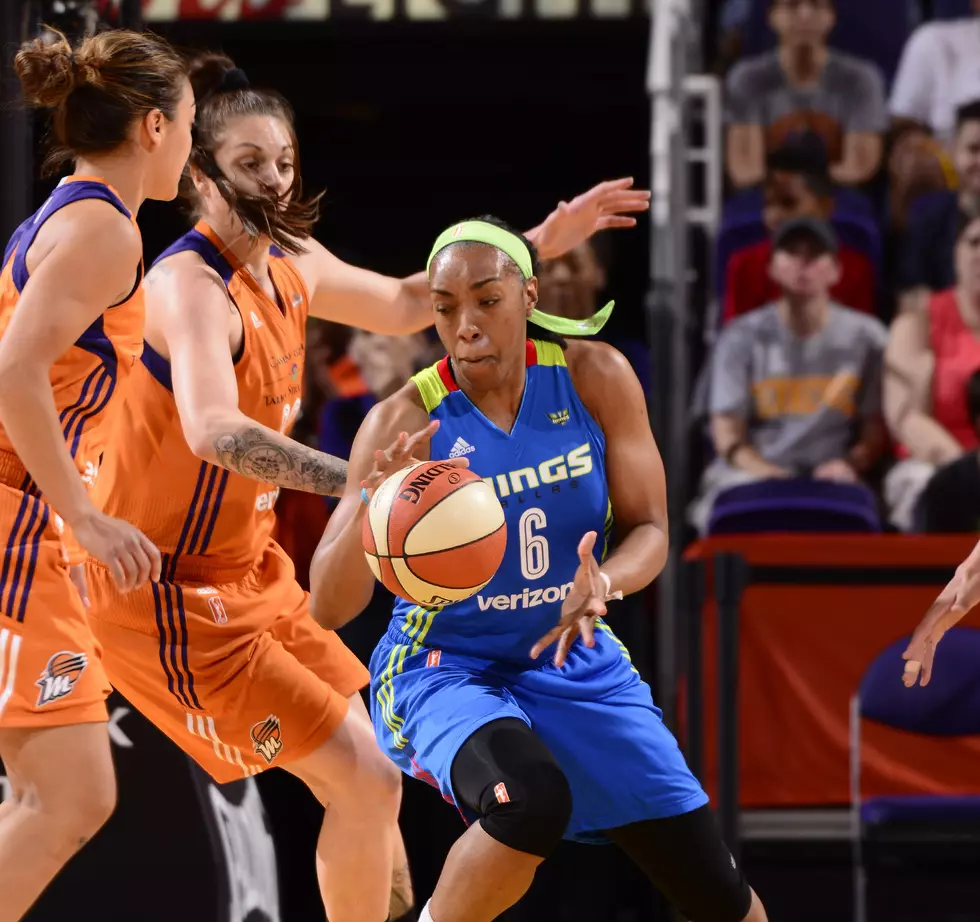 El Paso's Kayla Thornton Making Strong Defensive Impact in WNBA
NBAE/Getty Images
After the 2015 season with the Washington Mystics, UTEP and Irvin High School alumna Kayla Thornton was waived and without a job in the WNBA. She was cut from the San Antonio Stars training camp with a foot injury and didn't play all of the 2016 season. Bouncing back last year, she signed a deal with the Dallas Wings, where her career was given a second chance.
And today, overcoming all the odds, she's become a viable asset for the Wings.
When you watch Thornton grace the court, you get a fierce athlete that does all the extra stuff on the floor. Think of a modern day Dennis Rodman, or a more shooter-friendly version of Clint Capela to some extent, and you'll find the way she plays.
"I can just say that God works in mysterious ways," said Thornton, the starting forward for the Wings. "One door closes another opened. Dallas opened their arms to me. Now using opportunity to my fullest and thanking God every day."
Upon re-signing to a two-year deal last offseason, she's exploded onto the floor this season for the Wings, averaging 9.0 points, 4.3 rebounds, 2.0 assists and 1.1 steals per game.
Dallas is undergoing a five-game losing streak, sitting at 14-14, with four more games on the schedule. Even though playoff hopes for this season look out of reach, Thornton has high hopes for the future of her team.
"Strive to win championships and win playoff games," she said in regards to her goals. "Stay focused and be the player that's everywhere and willing to do anything."
The months of June and July, now pouring into August, have been streaky ones for Thornton. She hit her season high on July 14, scoring 18 points against Seattle. This week, she scored 16 against her former team in Washington.
But if you ask her about her scoring numbers, she might stop and explain what she values as her most important component of the game: defense.
"I don't look at points," said Kayla, who has 30 steals and 11 blocks this year. "They don't mean anything to me at the end of the day. Whatever I can do on defense to help the team, that's what I care about.
"I think locking down on defense, being more detailed," she added. "Challenging myself and locking down whoever is guarding me."
Her defense has paid off, having to defend Sparks' MVP center Candace Parker and Minnesota's All-WNBA small forward Maya Moore. She's a hustler, diving for the ball, scrapping for steals and spreads the floor defensively with her strength.
"She's one of my favorite teammates ever," Skylar Diggins-Smith told the Dallas Morning News. "She's a great personality; she's fun to be around. She never takes a play off."
Her efforts on defense are known throughout El Paso, as she still to this day
From the Irvin High School playing grounds, to the UTEP women's basketball ranks, Thornton holds her hometown every time she plays. She was the 2009-10 All-City girls high school basketball MVP in El Paso, and she is second all-time in career steals as a Miner with 217.  

"El Paso is where my heart is. I'll never forget home," she said. "Whenever I step on the court, I think about all the girls back home and leading by example and by faith and knowing where I'm at now, it's because of God. Nothing like home. Being at UTEP with coach Adams was amazing. I always cherish home."
More From 600 ESPN El Paso