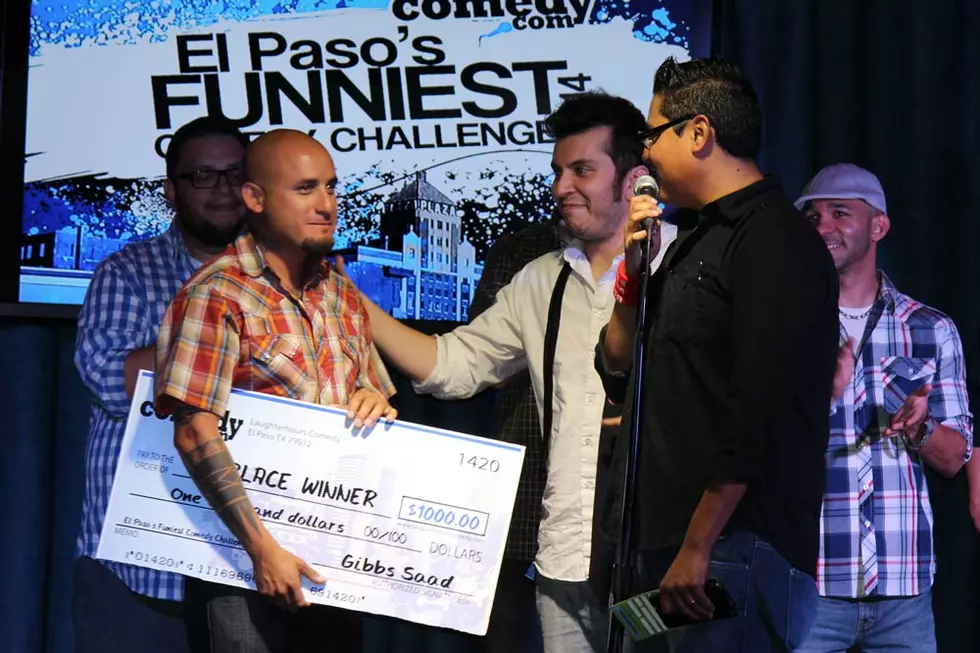 YOU Decide Who's the FUNNIEST Person In El Paso 2022
LaughterHoursComedy.com | Gibbs Saad Visual Artist
Laughterhours Comedy presents El Paso's Funniest Comedy Challenge 2022, where the winner will earn a $300 cash prize, future booking opportunities, and ALL the bragging rights!
Every year cities across the country hold contests to see who the funniest performer is that resides and possibly works in that city.
Enter your number to get our free mobile app
El Paso has been having this type of contest almost every year since 2013, and now it's time for the 2022 "funniest" in El Paso challenge where ANYONE can sign up.
It's the type of contest new comedians dream of winning because it comes with CASH, but most importantly it comes with potential future opportunities, which in the world of entertainment is HUGE.
The contest will be held at El Paso's Comic Strip Comedy Club on Sunday, Nov 06  at 7:30 pm.
The winner will be decided by BOTH a judge's vote AND an audience vote to ensure as much fairness as possible.
Tickets for the show are available for $15 at the door or pre-sale on the Comic Strip website at elpasocomicstrip.com for the presale price of $10.
The contest is open to all comedy performers from El Paso and the surrounding areas.
Performers who want to signup can do so by visiting online at laughterhourscomedy.com and filling out the registration form.
Registration is $30 and there are only 20 spots available.
PREVIOUS WINNERS OF EL PASO'S FUNNIEST COMEDY CHALLENGE 
---
2013 El Paso's Funniest WINNER: ADAM DOMINGUEZ
---
2014 El Paso's Funniest WINNER: IGGY SAMANIEGO
---
2015 El Paso's Funniest WINNER: GEORGE WHITE
---
2016 El Paso's Funniest WINNER: LEE GARAY
---
2017 El Paso's Funniest WINNER: ROGELIO AVILA
---
2018 El Paso's Funniest WINNER: ANTHONY A. BROWN
---
2019 El Paso's Funniest WINNER: JULIAN LUERA
---
2020 El Paso's Funniest WINNER: COVID-19
---
2021 El Paso's Funniest WINNER: DARIUS JACKSON
UP NEXT: See how much gasoline cost the year you started driving
More From 600 ESPN El Paso