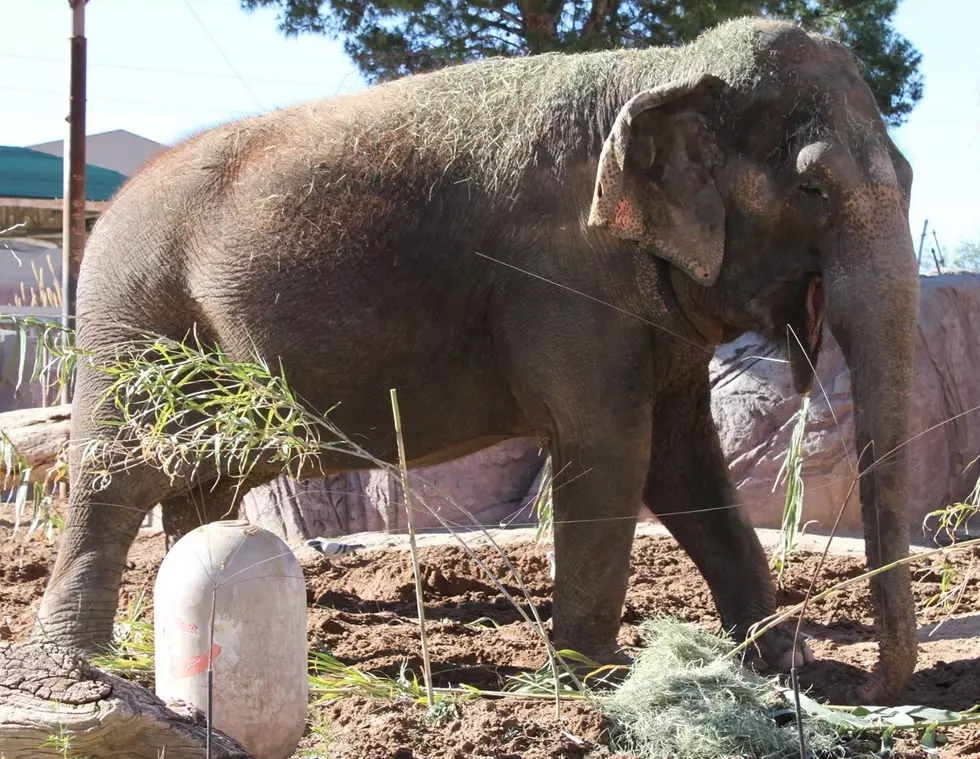 El Paso Zoo Elephant Savannah to Make 2021 Super Bowl Prediction
El Paso Zoo
Who's going to win the Super Bowl game on Sunday, Kansas City or Tampa Bay? Ele-phi-know.
But I'm not placing my bet, either, until after the El Paso Zoo's largest resident, Savannah, makes a Super Bowl prediction at 2 p.m. on Thursday, Feb. 4. The 2021 El Paso Zooper Bowl will be livestreamed on the El Paso Zoo Facebook Page.
This year, only one of the zoo's prognosticating pachyderms will be participating in the piñata prediction. (Say that 3 times real fast). El Paso Zoo Director Joe Montisano placed Juno on the injured reserved list so she can continue her recovery from the successful breast cancer surgery she had in November.
Savannah is the reigning Zooper Bowl champion, and at 2 p.m. Thursday, Feb. 4, she's going to emerge from her home to find two helmet-shaped piñatas filled with treats set out for her — this year one will have a Kansas City Chiefs logo on it, the other the Tampa Bay Buccaneers'.
Whichever she tears into for first will be her pick. Like the team she chose last year, Savannah is going for back-to-back championships.
"I think Savannah has a real talent for this, last year she picked the Chiefs correctly, but she does have some Elephant friends at the Tampa Zoo so that may be an influencer for her," said Zoo Director Montisano in a city press release. "Savannah is also one of the oldest elephants on the planet so she may have a soft spot for Tom Brady and the Tampa Bay Bucs. We will just have to wait and see who she picks."
UPDATE (2/5/21): Savannah came out of her home, strutted right up to the Chiefs piñata and knocked it down, then reached over with her truck and knocked over the Bucs piñata before turning her attention back to the Chiefs and tearing into it. 2021 prediction: KC.
History of the Juno/Savannah Rivalry
Per my own personal meticulously kept records, Savannah and Juno have each chosen the eventual winner 4 times since 2014.
Last year, Juno knocked the Kansas City papier-mâché helmet over and appeared to signal a Chiefs victory, but suddenly changed her mind and smashed the 49ers helmet instead. Savannah, on the other hand, was single-minded in her pick going straight for the Chiefs helmet and the win.
They year before they both chose the L.A. Rams helmet, but alas the Patriots beat the Rams 13-3 to win a record-tying sixth Super Bowl.
In 2018, Savannah chose the Patriots helmet and Juno chose the Eagles, who went on to win. They both went for New England in 2017, who come from way behind to stun Atlanta.
In 2016 they were unanimous in picking Denver, the eventual winner, and they agreed on Seattle in 2015 and 2014 with mixed results. The Seahawks lost to New England in 2015, and won versus Denver in 2014.
CHECK IT OUT: 100 sports records and the stories behind them
More From 600 ESPN El Paso