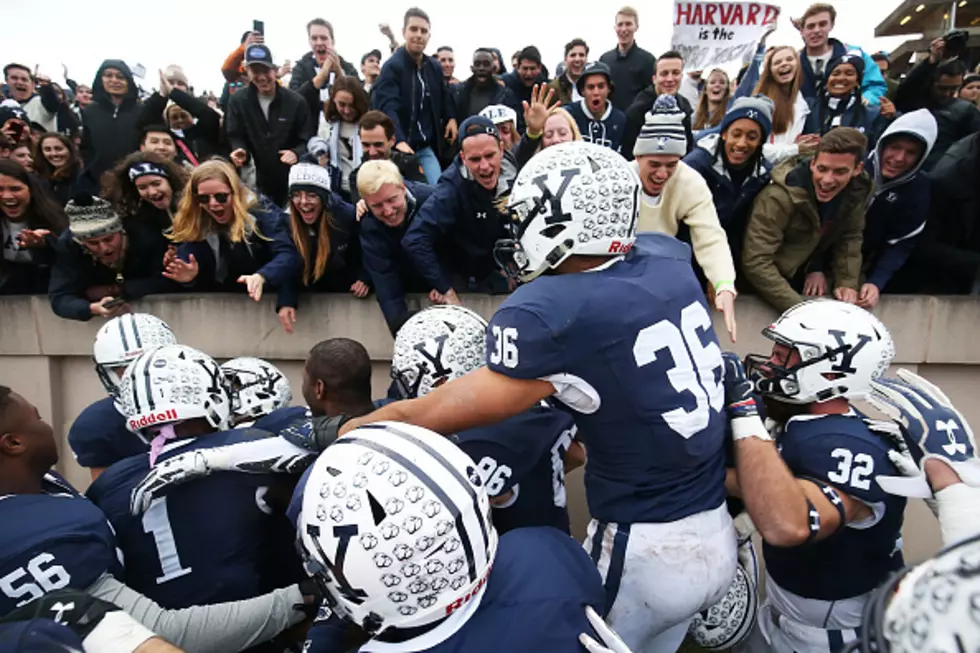 Could Ivy League Football in the Spring Be Football's Best Bet?
Getty Images
When the early stages of the coronavirus hit back in March, the Ivy League was the first conference to suspend its league basketball tournament. Now the conference is embarking on what could be a massive change for its football schedule.
The Ivy League will reveal its fall sports schedule on July 8, with many inside league circles predicting the conference will push football to the spring, Forbes reported on Wednesday. An Ivy League source told the website it is "98 percent, 99 percent likely."
The two options that are on the table for the Ivy League are to (1) postpone the fall season and schedule a seven-game, conference-only schedule in the spring, beginning in April and ending in May; and (2) opening the season late September with a seven-game conference-only schedule, first reported by TMG sports.
Since the Ivy League is a Division I school in the FCS ranks, they have the ability to make this change to their season and adapt their athletic schedule accordingly. This could be one proposal that could be totally free of all potential problems that could arise with COVID-19. If there is a vaccine created by the end of the year, a spring football season could be a perfect setup for college football.
The problem with the NCAA is the projected television revenue for the fall and the NFL Draft set in late April. College football could try to work with the NFL to postpone its draft skills combine and the draft itself in order to allow for a shortened college season. The NBA did something similar with its combine, lottery and draft, pushing back all draft events to September and October. Putting together a spring college football season would likely mean pushing back the entire NFL league calendar for 2021. If the NFL refused to compromise? Maybe we see a large number of draft-eligible players forgo the season to prepare for the draft.
As it stands for 2020, UTEP has a pair of important money-making games for this season: Texas Tech (Sept. 5 home opener) and Texas (Sept. 19). The Red Raiders home opener is the highlight of UTEP's home schedule this year and, in a normal year, could be the highest attended game, along with the Battle of I-10 (Sept. 23). Getting a $1.5 million payout for the Texas game is a must for UTEP. That game alone could pay for a majority of the coaches' salaries for a single season. If there is a spring season that is restricted to conference games only, the Miners could still bank on four games of ticket revenue instead of possibly having to restrict the number of fans able to attend the Sun Bowl in the fall.
More From 600 ESPN El Paso