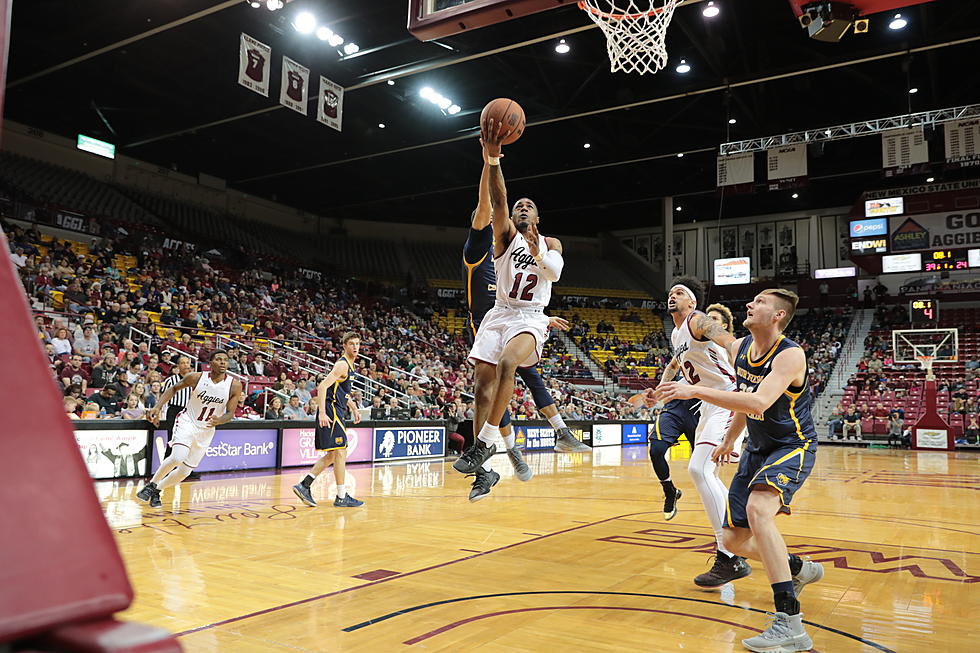 Burst Pipe Causes Damage to Parquet Court at NMSU's Pan Am Center
NMSU Athletics.
As a basketball fan, I have always loved a parquet floor. It probably stems from watching so many Boston Celtics games from the old Boston Garden, which is now TD Garden. New Mexico State also had a parquet surface from when the Pan American Center first opened in 1968. It was different than all the other courts in college basketball and it became a huge part of the Aggies basketball tradition.
Sometimes things happen beyond your control. Such is the case with the iconic parquet floor at the Pan Am Center. A steam pipe had burst this summer inside the arena which caused an excessive amount of humidity to the playing court. As a result, the floor warped and became uneven in certain spots. NMSU was forced to remove the parquet court and replace it with a temporary playing surface for men's and women's basketball and also volleyball.
The rental floor was installed over three days last week and it will be in use throughout the 2021-22 athletic season. Ironically the original court was replaced in 1986 due to flooding damage inside the arena. The warped parquet floor was actually the third playing surface that has been used inside the 53-year old arena. It had been installed before the 2011-12 season. Interestingly enough, the first ever parquet court was handcrafted in Italy and then shipped to Las Cruces in 1968.
I reached out to Mario Moccia today and I asked him if he planned to offer the damaged court to fans. While the insurance aspect of this is still ongoing, the damaged floor will be in storage until the claim gets resolved.
LOOK: Here are the 10 US golf destinations with the most courses per capita
Discover where you can find the best access in the country for your pick of courses, the unique terrain that lends itself to world-class golf, and what makes select clubs noteworthy.
More From 600 ESPN El Paso