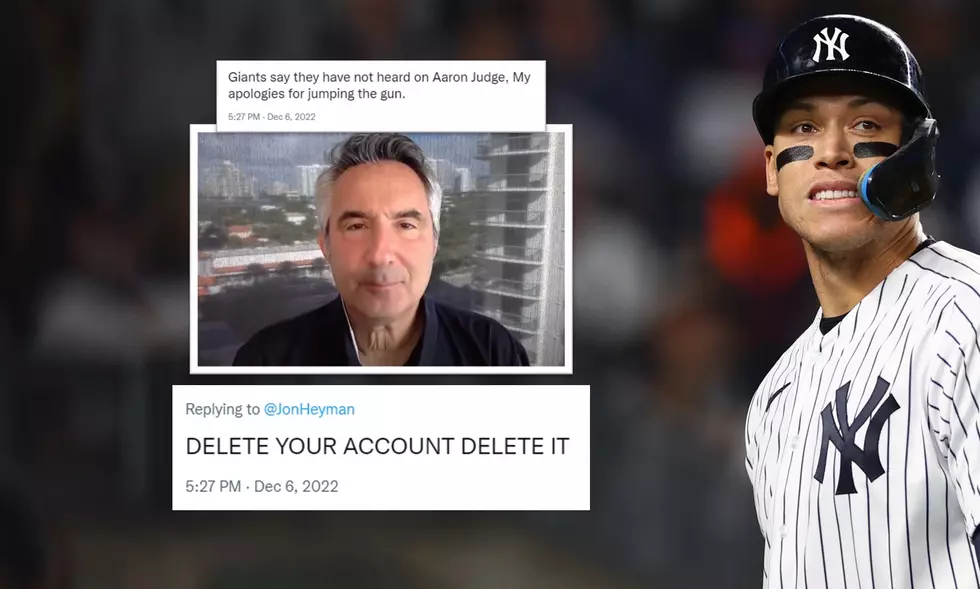 'Arson Judge': New York Fans React to Reporter's Embarrassing Twitter Blunder
Getty Images / YouTube (MLB Network) / Twitter
When all was said and done on Wednesday, Aaron Judge was back with the New York Yankees, and fans in The Bronx were able to breathe a sigh of relief.
Before that time, however, it was anything but smooth sailing, and one baseball reporter made it even worse. What happened on Tuesday night will go down as one of the worst failures of journalism on social media that we've seen in a long time, and we're here to make sure it's not forgotten anytime soon.
---
The Story of Jon Heyman, 'Arson Judge' and a Major League Mistake
During Tuesday's episode of The Drive with Charlie and Dan, we began to hear rumblings of a resolution to the Aaron Judge contract situation. More specifically, a report surfaced that Aaron Judge was about to finalize a deal with the San Francisco Giants.
Fans in New York began to panic, with the reality that Judge would no longer be a Yankee, fully beginning to set in.
Upon closer inspection, however, it appeared that some of the details of the report were a big askew. Here's what the initial report said:
Oops! It appears as though Jon Heyman may have rushed to report this news first. We all got a brief chuckle from the "Arson Judge" blunder, and moved on with our evenings once the tweet was deleted.
Then, he revised the tweet, and re-sent it with the correct spelling. Now, it really seemed as though the information was correct:
At this point, Yankees' fans were sent into a full panic. Heyman messed up once, but there's no way he would mess up twice. Right?
Wrong!
He jumped the gun on the report! It wasn't just any report, either. This report defined the future of the New York Yankees, the San Francisco Giants, the AL East, the NL West, and most of Major League Baseball. 
Jon Heyman rushed to break the news first, and ended up being completely wrong. Naturally, fans were quick to call him out:
As my co-host Charlie Voelker remarked in his story on Judge's signing with New York, Heyman was just another overzealous media personality that felt it was more important to be first rather than waiting to be correct. Every bit of criticism that was sent his way was deserved, and fans did not hold back in the slightest.
That said, all of the chaos that happened because of this Tuesday, made news about him signing in New York even sweeter for fans on Wednesday morning. So, if nothing else, maybe that's a small silver lining.
Staying or Leaving? We Decide the Fate of These Ten NY Yankees' Free Agents
MLB Free Agency is here, and with all of the decisions the NY Yankees have to make, we're here to make a few for them. These players are staying, or leaving.
Smile! 25 Celebs You Didn't Know Were at NY Yankees' Games
Yankee Stadium is packed with thousands of screaming fans for every New York Yankees' home game, and every now and then, a big celebrity will cheer them on, too.
More From 600 ESPN El Paso