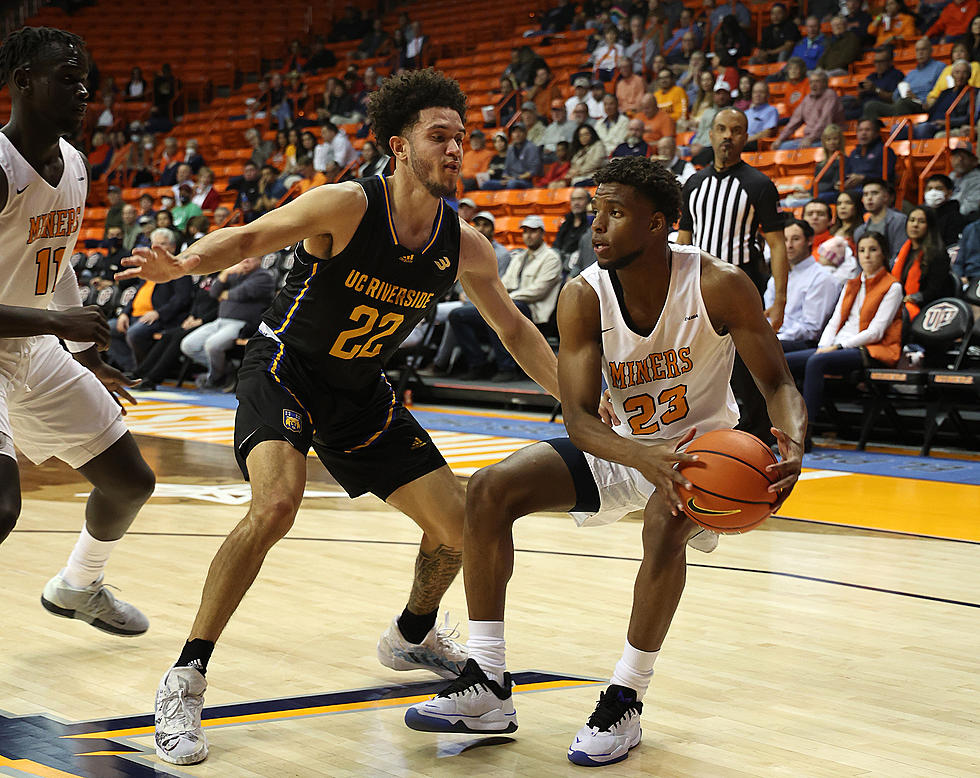 Without Souley Boum, UTEP Has To Find More Answers on Offense
Ruben R Ramirez
The UTEP men's basketball team is trying to bounce back from a loss to UC Riverside on Monday. They host Florida A&M later tonight at the Don Haskins Center and they will once again be without the services of guards Souley Boum and Christian Agnew. Both players remain out due to COVID-19 protocols.
The Miners scored just 40 points against the Highlanders and as a team they shot 26-percent from the field, including just one three point basket in 24 total tries. Despite playing another strong game on the defensive side of the ball, it was one of those rare nights when UTEP could get nothing going offensively. Riverside played a lot of zone defense against the Miners and essentially dared Joe Golding's team to beat them from the outside. The plan worked to perfection and UTEP was left searching for answers.
It remains to be seen how much zone Florida A&M will play against the Miners tonight. However, UTEP has to show that Monday was just an off night offensively and not a trend that will plague this team all season long. In fact, they were 37% from beyond the 3-point arc prior to Monday night. If you take away all of the misses from downtown, the Miners shot 42% from inside the arc.
In order for UTEP to be successful offensively without Boum and Agnew, Jamal Bieniemy will need some help. Keonte Kennedy was just 2-13, including an 0-7 stretch from 3-point land. Jorell Saterfield is another 3-point threat for Miners, but he was 0-3 from downtown. He did make a pair of field goals from inside the arc. Tydus Verhoeven attempted just six shots, but he is not the kind of offensive force down in the paint that UTEP needs.
So, what can Coach Golding do different? Maybe we will see his players attacking the basket more tonight. Bieniemy and Kennedy have both already shown that they can drive to the basket and draw contact or get an easy look. Despite playing 32 minutes against Riverside, Emmanuel White took only two shots. He needs to be more aggressive and look to score. The same goes for Jamari Sibley, who was 2-5 Monday night in 27 minutes of action. Sibley plays more like a guard than a low-post scorer, but his lack of game experience makes it more difficult for him to find his comfort zone on offense. The same could be said for Saterfield and Bonke Maring, who are transitioning from junior college ball to Division I. Alfred Hollins has the most experience of all the newcomers, but he was never a scorer at Oregon State and is now being asked to help shoulder the load from the departure of Bryson Williams.
The biggest thing to remember is that the UTEP regular season is just five games old. When Boum and Agnew both return from COVID, the team will be back to full strength. Boum is their offensive leader and someone that is able to create his own shot and score in bunches. Without him and Agnew's energy off the bench, the Miners are still looking for answers offensively. Hopefully they have a much better performance tonight and can go into the Thanksgiving break on a high note.
30 famous people you might not know were college athletes
Stacker
dug deep to find 30 celebrities who were previously college athletes. There are musicians, politicians, actors, writers, and reality TV stars. For some, an athletic career was a real, promising possibility that ultimately faded away due to injury or an alternate calling. Others scrapped their way onto a team and simply played for fun and the love of the sport. Read on to find out if your favorite actor, singer, or politician once sported a university jersey.
More From 600 ESPN El Paso