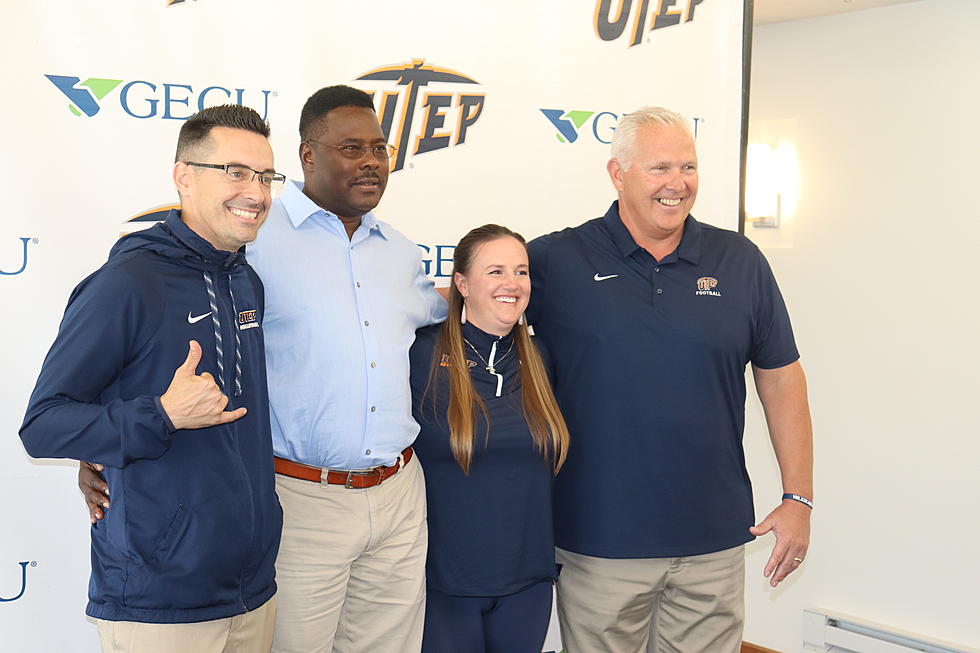 UTEP Fall Media Day: Hear from Football, Volleyball, Cross Country and Soccer
Adrian Broaddus
UTEP officials and head coaches of four fall sports met with the media on Thursday afternoon at the brand new Sky Lounge in the Sun Bowl to address their respective upcoming seasons.
Among the representatives were soccer head coach Kathryn Balogun, cross country coach Paul Ereng, football coach Dana Dimel and volleyball coach Ben Wallis.
Director of Athletics Jim Senter got things started on Thursday by discussing topics across college sports largely centered around the COVID-19 pandemic and its impact on the athletic department. He called this his "most excited year" since he was hired in the winter of 2018. One of the topics that Senter addressed was the vaccine rate at UTEP and how they "still have some work to do."
"It's a very personal choice," said Senter, while stressing education for their student-athletes on the benefit of the vaccine. "I prefer to see 100 percent vaccination. That's my goal but I don't think we'll get there. I don't think our country will get there.
Cross country head coach Paul Ereng addressed the media today following one of his former runners in Emmanuel Korir winning the gold medal in the 800m race at the Tokyo Olympics. The cross country squad will start the season on Friday, Sept. 3 at the New Mexico Invitational.
Between becoming a mother in the spring and coaching a soccer team, it's been an extremely busy last six months for head coach Kathryn Balogun. The squad will return 23 members from last year and has six newcomers that should play a role this year. The women's soccer squad kicks off the season on Tuesday, Aug. 10 against Colorado College in an exhibition game.
Ben Wallis has helped revitalize the volleyball program since he was hired two seasons ago. In year three, Wallis has high expectations for his squad—to compete for a conference title. They begin their campaign on Saturday, Aug. 21 versus Grand Canyon in an exhibition game. Their first regular-season game is set for Friday, Aug. 27 against UC Irvine.
To close out the press conference, football coach Dana Dimel spoke to the media about his team and how excited he is to get back on the field with the Miners. Echoing Senter, Dimel said that the team is trying to get more members vaccinated before the season starts. The Miners didn't play a single home conference game last year due to the pandemic and needless to say, UTEP was hit hard due to COVID-19. The Miners kick off their season against I-10 rivals NM State on Saturday, Aug. 28.
El Paso High Ghost Girl & 14 Other Undeniably Creepy Listener Submitted Ghost Pics
More From 600 ESPN El Paso