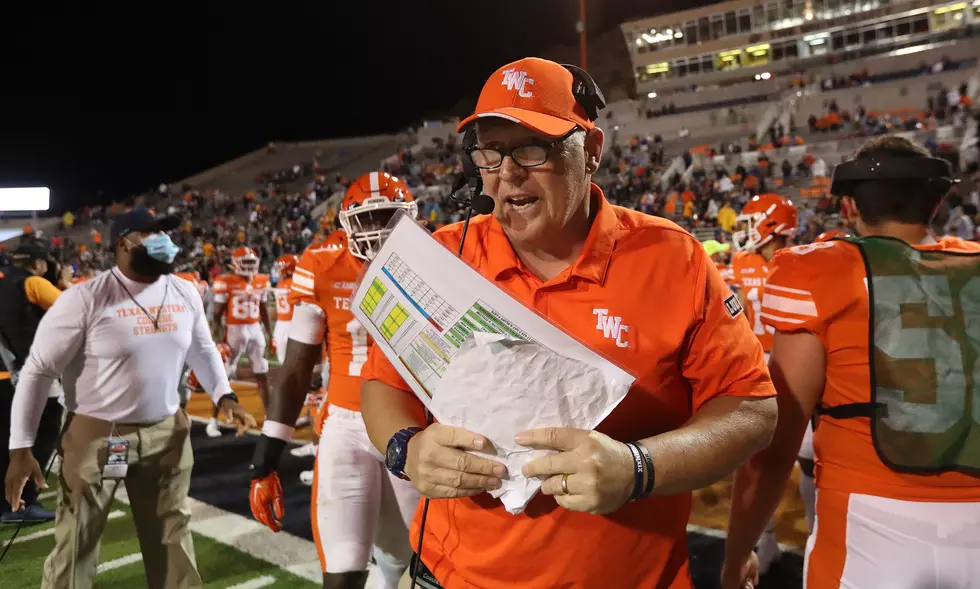 The Challenge of Local Media Covering UTEP Football in 2022
Ruben R Ramirez/UTEP Athletics.
In 10 days, the UTEP football team will open up its regular season at home against North Texas. That game is expected to be a sellout. Everyone in El Paso who follows the Miners understands the importance of the home opener against the Mean Green. Especially head coach Dana Dimel.
Unlike his first four seasons at UTEP, 2022 is a huge year for the development of his program. Expectations have never been higher for the Miners since he arrived in 2018. His team is the most talented group of football players that have been assembled at UTEP since Mike Price first arrived at the Sun Bowl more than 18 years ago. Coach Dimel has always had a very relaxed policy when it comes to local media covering his program. Practices are open to both the public and members of the media and he has always been accessible for interviews and has allowed his players to speak to local television, newspaper, and radio stations. That policy changed earlier today when Coach Dimel made the decision to close UTEP football practice to everyone until further notice.
There is a backstory that led to Coach Dimel's decision to change his longstanding policy. After practice on Monday, Coach Dimel made it a point to alert members of the local media that he was not going to comment on any injured players or his team's two-deep roster. Furthermore, he made it a point that he did not want the media to discuss his two deep with anyone. Yesterday, Bret Bloomquist, who has covered the Miners for the last 15 years at the El Paso Times, tweeted out (since deleted) a pair of two-deep related observations during practice.
These tweets did not sit well with Coach Dimel, who is yet to release a 2-deep prior to the North Texas game and he has kept his player rotations under wraps. Normally, UTEP does not release their two-deep until their game notes arrive, usually on the Monday of each week. However, Bloomquist's tweets which addressed some position battles, led Dimel to his decision to close his practices until further notice.
Bloomquist is a veteran writer who is reporting on social media what he was observing at practice. However, if he was warned by UTEP's head coach not to make any of his practice observations public but he did so anyway the very next day, he completely disregarded what he was asked to do. Two-deeps are not mandated by college football and many Power 5 programs refuse to release them at all. It is more of a chess game in college and it is harder for opposing teams to game plan without their opponent's two-deep. Many college football coaches use Twitter daily to get any information they can find regarding their opposition. If something gets leaked out, it could effect the way a team prepares for their opponent.
To help illustrate this, the North Texas Football program tweeted out three photos from practice yesterday and they went so far as to blur out the numbers of some players on the offensive line.
It gets even crazier when it comes to player injuries and college football is completely different from the pros. Unlike the NFL, college teams do not have to make any injury report public prior to each game. Many college teams choose not to ever disclose player injuries to the media, and instead, everyone speculates on their availability for game days. For example, last year, nobody knew until kickoff if Fresno State was going to start Jake Haener at quarterback against the Miners in the New Mexico Bowl, since he had withdrawn from the transfer portal just weeks before the bowl game.
Although Coach Dimel has always allowed fans and media to observe his practices at UTEP, many college coaches have a much stricter policy when it comes to their daily workouts. At NMSU, head coach Jerry Kill allows media to watch practice but they can only film stretching. They are also not allowed to tweet anything they see at practice until they leave the campus. Coach Kill and players are only available to talk to the media on Tuesdays and Wednesdays during fall camp. Most college football teams that come to El Paso to play in the Tony The Tiger Sun Bowl have the same policies.
Personally, I understand both sides. Bloomquist is treating his UTEP football beat the same way he has for the last 15 years. I also believe that Bret never suspected that his deleted tweets would cause any harm to the Miners football program. However, if Coach Dimel asked him not to mention specific players at practice working out with the starters and Bret does it anyway, he is risking his working relationship with Coach Dimel. It also jeopardizes the trust factor that the head coach built up with the local media. The UTEP Miners realize what is at stake on August 27th and they do not want to give any help to North Texas when it comes to their game day preparation. So, the next 10 days will be a mystery until both teams kick off at the Sun Bowl.
UTEP vs. NMSU Battle of I-10 Gallery Recap
These photos were taken Saturday, August 28th, 2021 when UTEP defeated NMSU 30-3 in the annual Battle of I-10 at Aggie Memorial Stadium.
More From 600 ESPN El Paso