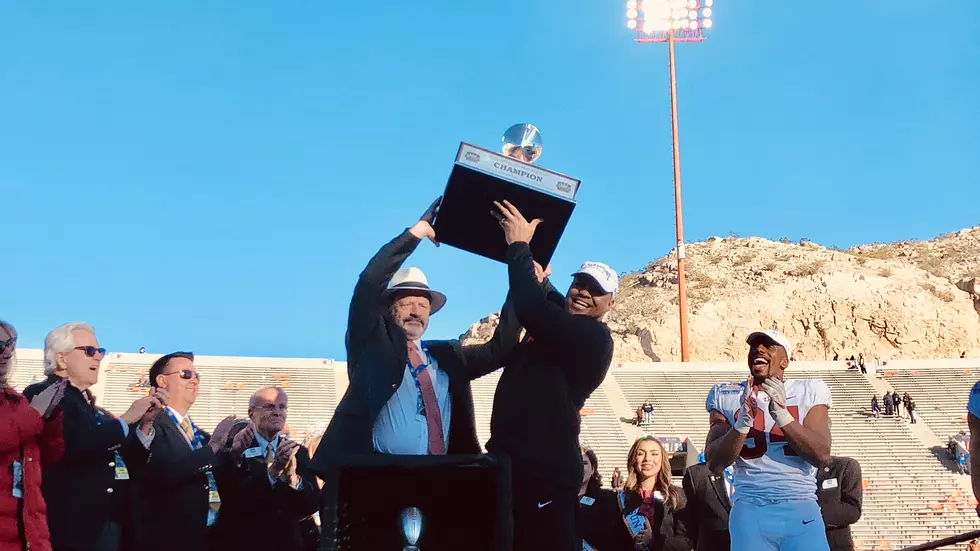 Stanford 14, Pitt 13: Stanford Steals Sun Bowl From Pitt's Cold, Dead Hands
Adrian Broaddus
Pitt made their case as to why they should be crowned Sun Bowl winners on Monday afternoon by holding the Stanford offense and putting up sustainable drives on offense for the majority of the game.
The Panthers tasted victory momentarily, holding a 13-7 lead going into the fourth quarter before Stanford (9-4) would snatch the low-scoring game from their hands, eventually stealing the 14-13 victory in the 85th annual Hyundai Sun Bowl.
And, Pitt (7-7) and head coach Pat Narduzzi did everything they needed to do in order to win.
They out-gained Stanford 344-208. Senior running back Darrin Hall finished with a game-high 131 rushing yards, while sophomore quarterback Kenny Pickett threw for 136 passing yards on 11-for-29 through the air. They even held Stanford's offense to converting just 1-of-10 on third down plays.
"It's not about yards, but it's about points," said Stanford head coach David Shaw after his second Sun Bowl victory in three years.
"My mom refers to this game as the 'game that the ball bounced funny,'" Shaw continued. "Sometimes the ball bounces in your way, sometimes it doesn't. Thankfully that it went for us."
The go-ahead touchdown for the Cardinal came off a quarterback fumble where the ball bounced into the end zone and into senior running back Cameron Scarlett's hands.
"They got lucky, that's what I'm gonna call it," said Pitt defensive end Rashad Weaver. "They caught a ball that was a fumble. They didn't do anything on that play."
For four quarters, the game operated as mysteriously as it concluded.
The first quarter looked similar to what the Panthers experienced in their 2008 Sun Bowl loss to Oregon State (3-0)—no scoring, teams trading punts and defense out-shining the offense. With a scoreless first quarter, it marked the first time the Sun Bowl was scoreless after the first quarter since the 2012 Sun Bowl (Georgia Tech-USC).
Pitt opened up the scoring with a 29-yard field goal from Alex Kessman, which broke their five-quarter scoring drought in the Sun Bowl dating back to 2008. But on the touchdown drive, the Panthers lost their starting running back Qadree Ollison to an injury. He entered the game with 1,256 rushing yards on the year and had five carries for 23 yards before being sidelined.
"It's hard, we [Ollison] feed off each other during the game," said Hall, who also had over 1,000 yards rushing coming into this game. "He's upset he had to end his career like that."
Stanford struggled in generating any offense in the first half until their sixth drive of the game, where they drove the ball 64 yards downfield, including a 29-yard pass from quarterback K.J. Costello to receiver JJ Arcega-Whiteside. The drive was capped off by a one-yard rushing touchdown by running back Cameron Scarlett.
However, Pitt would close out the half with a 75-yard touchdown drive on nine plays. Running back Darrin Hall, who avenged Ollison off his injury, ended the drive with a six-yard rushing touchdown. Hall finished the half with 10 carries for 93 yards.
Stanford could not generate much offense in the first half. They were out-gained 114 yards to one yard in the first quarter and finished with 85 total yards of offense. Costello finished the half completing 4-of-12 for 44 passing yards. They also finished the half 0-for-5 on third down conversions.
Pitt's quarterback Kenny Pickett helped the rush-heavy Panthers produce some passing yards in the first half, finishing with 71 yards on 7-of-15 passing plays and chipped in with 18 yards on the ground. They accumulated 155 yards on the ground and 226 total yards of offense.
Coming out of the half, both team's offenses were slowed early on. The third quarter featured six combined punts from both teams and limited yardage. Pitt drove the ball 46 yards on six plays midway into the third quarter to kick a 28-yard field goal by Kessman.
Stanford, who had been 0-for-8 on third down conversions, not only converted their first third down of the day, but also scored on their opening drive of the fourth quarter. Costello connected with Arcega-Whiteside for a 49-yard passing play that put the Cardinal on the Pitt 3. Scarlett picked up a fumble on second-and-goal for a touchdown, which gave Stanford the 14-13 go-ahead lead.
Scarlett, who played in place of an injured Bryce Love, finished the day with 94 rushing yards on 22 touches, including a pair of touchdowns and was named Sun Bowl MVP two years after Love was named Sun Bowl MVP.
"Especially playing behind Bryce all season, thankful for the opportunity," Scarlett said.
The Cardinal defense held Pitt on back-to-back drives and held on for the 14-13 victory.
"Our defense gave up yards, but not touchdowns," Shaw said. "That's the difference of the ball game."
More From 600 ESPN El Paso