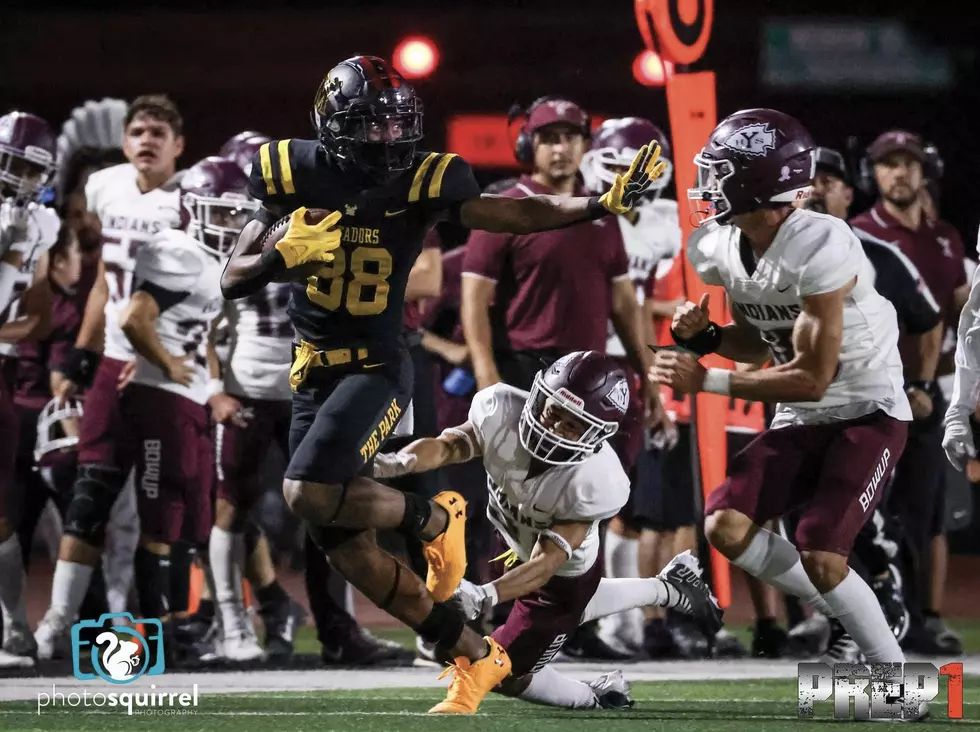 Standings & Full Schedule for Football Friday Night Week Seven
Photo Courtesy of Photo Squirrel / Prep 1
Football Friday Night is back for another week with our show officially kicking off as regularly planned for the 2022 season. On Friday, Mark Miller and Paul Mackinnon will take you through a full slate of games across El Paso starting at 7.
See scores in real time by seeing our scoreboard powered by Scorestream, or by visiting our 600 ESPN El Paso Twitter page.
District standings 
District 1-6A       Dist    Overall 
Eastlake           4-0        5-1
Pebble Hills      3-1        5-1
Franklin             3-1       4-2
Eastwood         2-1        3-2
Montwood        2-1        2-3
Americas          2-2        2-4
El Dorado         0-3        2-3
Socorro            0-3        0-5
Coronado         1-5        0-4
District 1-5A DI
Del Valle           1-0        5-1
Parkland           1-0        4-2
Bel Air              1-0        6-0
Hanks               0-1        2-4
Ysleta               0-1        1-4
Horizon             0-1        0-6
District 1-5A DII
Canutillo           0-0        3-2
Andress            0-0        1-4
Chapin             0-0        1-4
Burges              0-0        2-3
Jefferson          0-0        3-2
El Paso            0-0        3-2
District 1-4A DI  
Riverside           0-0        5-1
Austin               0-0        2-4
Bowie               0-0        2-4
San Elizario       0-0        2-4
Irvin                  0-0        1-4
Last night's matchup: Eastlake continues its quest for dominance in swift win, 48-20
Led by their dominant defense, the Eastlake Falcons have been one of the best teams in El Paso through the 2022 season. Last night, they improved on their unbeaten record by handling Montwood, 48-20. 
What's made the Falcons such a good team is their ability to stop opponents on defense. They are led by senior star linebacker Hector Hinojos (17 tackles per game). Offensively, they struggle at times but ultimately do enough to move the ball and score points. They have a stud running back in Jeremiah Escamilla and use their senior wideout Isai Perea. Next up, they have a tough contest against one of 6A's best in Franklin next week. 
Meanwhile, the Rams fall to 2-3 overall, 2-1 in district play. Following their upset win against Franklin last week, the Rams still have playoff hopes in a tough district. Next week they will face Pebble Hills in another key district matchup. 
6A in flux after wild week
Franklin losing to Montwood last week was enough drama to throw a wrench into 6A district play. But Pebble Hills losing to Americas last week made things even wilder. The nine-team district still has playoff spots up for grabs. 
Eastlake is the prohibitive favorite. If things break right, Franklin and Pebble Hills can still claim a district title. Then, teams like Eastwood, Montwood and Americas are each vying for a playoff spot. 
We might get more clarity on Friday when Americas clashes with Eastwood in what has become a rivalry between schools. Americas is riding momentum following their win against Pebble Hills. Junior quarterback Mark Moore III leads the squad with 522 passing yards, 636 rushing yards and eight total touchdowns. Eastwood boasts an air raid offense, led by wide receiver Curtis Murillo (589 receiving yards, seven touchdowns). Last week in their win against Coronado, the Troopers threw backup Darian Diaz at quarterback to give them a spark. Starting quarterback Evan Minjarez still leads them with 1,305 passing yards, 15 touchdowns and nine interceptions. 
Game of the week: Parkland at Del Valle
In what could be the district 1-5A DI district championship deciding game, Parkland will square off against Del Valle in a highly anticipated matchup. Both teams are very well-coached and come into this game with a lot of hype around them.
Besides their lone loss to Pebble Hills, Del Valle has been perfect this year. They have a dominant 38-7 win against Canutillo under their belt. It all leads to what should be an excellent matchup against Parkland. Quarterback Jesse Ramos has been their mainstay, throwing for 1,339 yards with 18 passing touchdowns and 138 rushing yards. 
Parkland was able to shrug off some early-season struggles and has now rounded into mid-season form. They are led by senior running back Isaiah Beasley, who totals 956 rushing yards and six touchdowns. Texas Tech commit and wideout DJ Crest leads them in the passing game with 378 receiving yards and five touchdowns. 
UTEP Squeezes Past NM State 20-13 in the Battle of I-10
In a game of two halves, the Miners won their first game of the 2022 season against NMSU, 20-13.
More From 600 ESPN El Paso