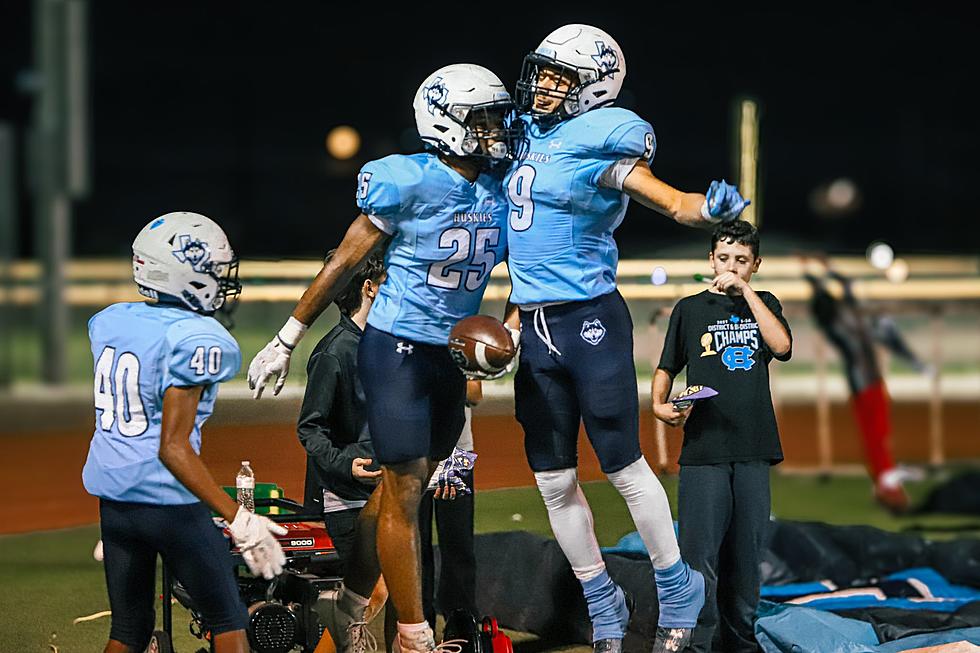 Football Friday Night: Bi-District Playoff Round Kicks Off Friday
Photo by UTEP Zay
The finale of Football Friday Night is here with our bi-district round on 600 ESPN El Paso!
Beau Bagley and Paul MacKinnon will take our listeners through the playoffs starting with our pregame show at 5 on 600 ESPN El Paso.
Here are storylines to watch for the bi-district playoff round:
Riverside hangs on Thursday night 
Riverside 49 - Big Spring 20
Andrews 41 - Austin 7
Brownwood 56 - San Elizario 0
Midland Legacy 64 - Montwood 19
Lubbock Cooper 67 - Parkland 7
Abilene High 84 - Hanks 14
Abilene Wylie 55 - Andress 7
West Plains 41 - Clint 14
Hawley 63 - Anthony 18
In a come-from-behind effort, Riverside took home a bi-district title in their 49-20 win versus Big Spring. This is the second time in three seasons the Rangers claim a bi-district trophy under head coach Gary Recoder.
El Paso area schools went 1-8 on Thursday as Riverside claimed the only victory by a local school from the first night of the Texas State playoffs.
915 Tours Game of the week: Frenship at Eastwood  
Touting the title as the best team in the 915, Eastwood enters their bi-district matchup on Friday against Frenship with nine consecutive wins, including a perfect (8-0) record in district 1-6A. With a win on Friday, the Troopers would have successfully claimed three consecutive bi-district titles.
They will face a Frenship (8-2, 3-2) team that is capable of scoring a lot of points on Friday. Quarterback Hudson Hutcheson is an All-State player that has thrown for 3,678 yards this season with 38 passing touchdowns and just six interceptions.
Friday night at Eastwood High will be an absolute shoot out.
Prediction: Eastwood 56 - Frenship 55 
Cooper vs. Chapin: Can the Huskies pull off a bi-district win? 
Can history repeat itself at Austin High School tonight in the Class 5A Division I playoffs tonight? The last magical home playoff night two seasons ago featured Chapin pulling out a bi-district win against Amarillo Caprock. On Friday, they'll host Abilene Cooper in a bi-district showdown.
Chapin (7-3, 4-1) won five of its final six games to close out the season. Led by sophomore ATH Daveon Singleton (63.7 rushing yards per game, 16 total TDS) is their do-it-all guy. He's able to take over games and he's shown he can win games almost by himself.
Abilene Cooper (4-6, 3-2) won three of their last four games and averaged 227.5 rushing yards per game as a team in those games. Junior tailback Daniel Bray (1,000 rushing yards, 16 TDs) leads them on offense.
Prediction: Chapin 35 - Cooper 31  
Can anyone earn a gold ball out of 5A-1? 
Del Valle (9-1, 5-0) is seeking their first bi-district trophy since 2020, when they beat Lubbock Monterrey in a 44-43 win, led by past quarterback Andres Gutierrez. Despite also winning nine games in 2022, they fell in a home loss in the bi-district round to Abilene High, 42-14.
But could this be the year for Rudy Contreras and the Conquistadores against Amarillo Tascosa (4-6, 3-3)? Sophomore sensation Jake Fette (1,943 passing, 23 touchdowns & 2 INT) has been the city's most productive passer not named Evan Minjarez. He will be without a top skill player in junior Shelton Fuller. Fellow wideout Matt Lopez is questionable going into tonight. If Del Valle comes through on Friday, they will need running back Juan Archuleta and Jonathan Estrada.
Tascosa runs a triple-option out of the flexbone formation on offense. They've rushed for 200 or more rushing yards in six of their 10 games this year, including 300 or more in two of their last three games. Despite averaging 71 passing yards per game and using the run heavily, they will bait the defense and turn to the pass on key plays, as they average one passing touchdown per game.
Bel Air hasn't finished second in their district since 1991. This also marked the first back-to-back winning seasons (2022 & 2023) for the Highlanders since 1985-86 under legendary coach Bob Savage. They have a tough Amarillo squad on Friday that is sure to give them fits.
Prediction: Del Valle 27 - Tascosa 24; Amarillo 49 - Bel Air 21 
More From 600 ESPN El Paso