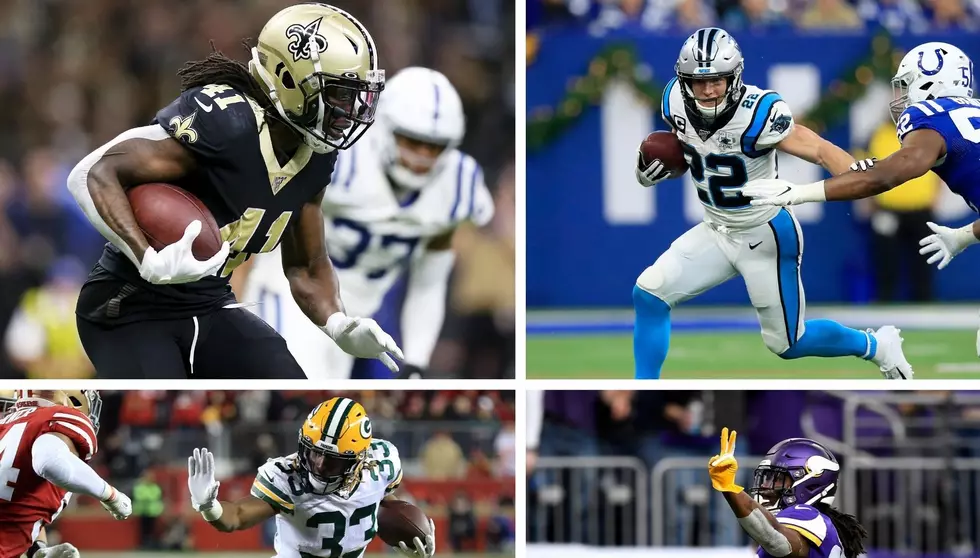 Reevaluating the 2017 NFL Running Back Draft Class
Getty Images
Christian McCaffrey, Leonard Fournette, Dalvin Cook, Aaron Jones and Marlon Mack are just five members of the studly 2017 NFL running back draft class.
Simply put, this draft class is taking over the league at the tailback position.
With Fournette being taken as high as No. 4 overall in the draft and guys like Austin Ekler going undrafted, this selection makes up 12 starting tailback jobs across the league. The majority of players in this class are going into the final year of their rookie deal.
While McCaffrey became the highest-paid running back in the NFL this offseason, guys like Cook are holding out for an extension. Jones, coming off a league-high 16 rushing touchdown, wants to be a "lifelong Packer," but a player like Fournette continues to be in trade conversations. This group of tailbacks each has its own story entering year four of their respective careers.
Let's evaluate each career thus far and try to figure out who is worthy of an extension moving forward.
Player 
Career Rush
Career TDs
Draft selection
Salary
2019 Season
Leonard Fournette (JAX)

2,631

17

Rd 1, 4th

4-year, $27.15M

1,152 rush, 

3 TDs

Christian McCaffrey (CAR)

2,920

24

Rd 1, 8th

4-year, $64M 

1,387 rush, 

15 TDs

Dalvin Cook (MINN)

2,104

17

Rd 2, 41

4-year, $6.35M

1,135 rush, 

13 TDs

Joe Mixon (CIN)

2,931

17

Rd 2, 48

4-year, $5.45M

1,137 rush, 

5 TDs

Alvin Kamara (NO)

2,408

27

Rd 3, 67

4-year, $3.85M

797 rush, 

5 TDs

Kareem Hunt (CLE)

2,390

17

Rd 3, 86

1-year, $3.25M

179 rush

2 TDs

James Conner (PIT)

1,581

16

Rd 3, 105

4-year, $3.16M

464 rush,

4 TDs

Player 
Career Rush
Career TDs
Draft
Salary
2019 Season
Tarik Cohen (CHI)

1,027

5

Rd 4th, 119

4-year, $3.03M

213 rush, 

3 TDs

Wayne Gallman (NYG)

762

3

Rd 4th, 140

4-year, $2.82M

110 rush,

2 TDs

Marlon Mack (IND)

2,357

20

Rd 4th, 143

4-year, $2.82M

1,091 rush, 

8 TDs

Aaron Jones (GB)

2,260

28

Rd 5th, 182

4-year, $2.6M

1084 rush, 

16 TDs

Chris Carson (SEA)

2,589

16

Rd 7th, 249

4-year, 3.26M

1,230 rush, 

7 TDs

Matt Breida (SF)

1,902

6

UDFA

1-year, $3.26M

623 rush, 

1 TDs

Austin Ekler (LAC)

1,371

8 

UDFA

4-year, 24.5M

557 rush, 

3 TDs

Corey Clement (PHI)

580

6

UDFA

1 year, $825K

No Stats
Unbeknown to most, Joe Mixon (2,931 career yards) is the most productive back out of this draft class. He is overshadowed at times for how bad his team is and the excitement over the Bengals' new quarterback Joe Burrow. Mixon would be a fine pass-catching back to compliment Burrow.
Jones leads the way in total career rushing touchdowns (28) after being taken in the fifth round. It's pretty eye-opening to see the dropoff in salary compensation based off the round in which tailbacks were selected too. The difference between Mixon and Alvin Kamara, who were drafted in the second and third round respectively, is nearly $2 million in salary.
Guys like Kareem Hunt, Corey Clement and Matt Breida are all on one-year prove-it deals. They will need to produce in order to get some sort of extension. Had Hunt not been involved in a horrible domestic violence incident, he may have retained his spot with the Chiefs and not had a poor rushing season like last year (179 yards, two touchdowns).
On the flip-side, Cook (1,135 yards, 13 touchdowns) is coming off a strong campaign and feels the need to hold out. Marlon Mack, Chris Carson, Fournette, Mixon and Jones each put together 1,000+ yard rushing seasons last year and will all look to get paid next year.
The only other back to get extended out of this class was Ekler (4-years, $24.5 million).
The top five (in order) that were drafted in this class include (1) Fournette; (2) McCaffrey; (3) Cook; (4) Mixon; (5) Kamara. I don't think the teams got it necessarily wrong either.
My personal top five if you were to redraft this class would be (1) McCaffrey; (2) Cook; (3) Jones; (4) Kamara; and (5) Fournette. Mack or James Conner could easily crack that list with strong seasons this year.
The 2017 running back class is really fascinating to monitor moving forward, especially comparing El Paso's own Showtyme, coming off his best season yet. And even though he's a fifth-round selection, he stands strong with the best backs out of this class.
More From 600 ESPN El Paso