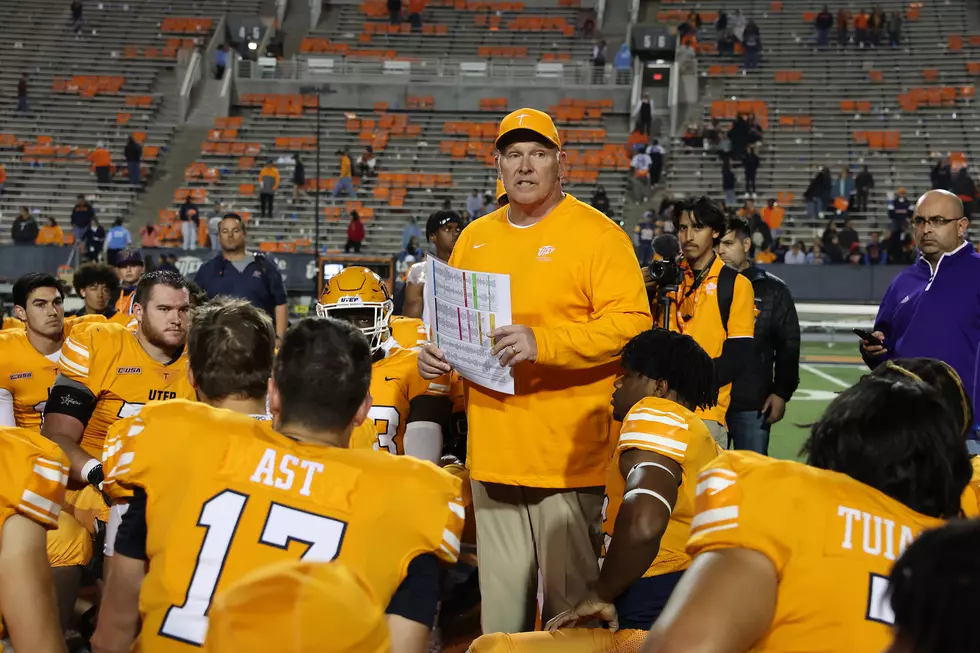 North Texas Season Opener is Biggest Game of Dana Dimel Era
Ruben R Ramirez
All indications point toward a sellout crowd tomorrow night when the Miners kick off their 2022 season at the Sun Bowl against North Texas. As of 4:30 p.m. yesterday afternoon, just over 2,100 tickets remained for the opener. To put this into perspective, the last time UTEP sold out a home football game was back in 2008 when Mack Brown and the Texas Longhorns came to El Paso.
When 45,000-plus fans fill up the Sun Bowl tomorrow night, all eyes will be on Dana Dimel and his UTEP football team. The Miners are coming off of a seven-win season last year and a trip to the New Mexico Bowl. Expectations are high for 2022 since UTEP is returning nine starters on offense and seven on defense. This team is full of experience and they want a shot at a conference title in late November.
For Coach Dimel, his program is exactly where he said it would be when he was hired as UTEP's head coach in December of 2017. He stressed patience and a five-year plan for the Miners and he has delivered on that promise. That is why UTEP Director of Athletics Jim Senter awarded him with a two-year extension after the New Mexico Bowl.
North Texas represents an obstacle that coach Dimel has not been able to overcome since he arrived at UTEP. The Mean Green has won the last five meetings between the two teams, although the Miners nearly knocked off UNT in Denton last November. Interestingly enough, North Texas has not played UTEP in El Paso since 2018. The last time the Miners won against the Mean Green back in 2016 by a score of 52-24, Aaron Jones rushed for 301 yards. Four months later, the Packers selected him in the 5th round of the NFL Draft.
The biggest reason why North Texas is the biggest game of Dana Dimel's career at UTEP is because of attendance. The Miners have struggled to put butts in the seats since he arrived in El Paso. They did manage to get 31,658 fans to watch last season's showcase against UTSA, but the Roadrunners dominated UTEP early and they never looked back. Two weeks later, the Miners drew just 10,097 fans for their final home game against Rice.
This time around, a packed Sun Bowl will get their first look at a team that many experts feel will be near the top of the Conference USA standings in 2022. A win over North Texas will go a long way to ensuring that UTEP will have big crowds for their next two home games against New Mexico State and Boise State. For Senter, football attendance is the lifeblood to his athletic department's success. It can help fund many projects within his department and well as help finance his Olympic sports. Dimel knows that everyone at UTEP is relying on his team to play well and win tomorrow night. The game is worth millions of dollars to the Miners off the field. Although the head coach is feeling the pressure of his season opener, he must make sure that his team is loose and ready to play when they kick off at 7 p.m.
Troy Aikman In El Paso
More From 600 ESPN El Paso