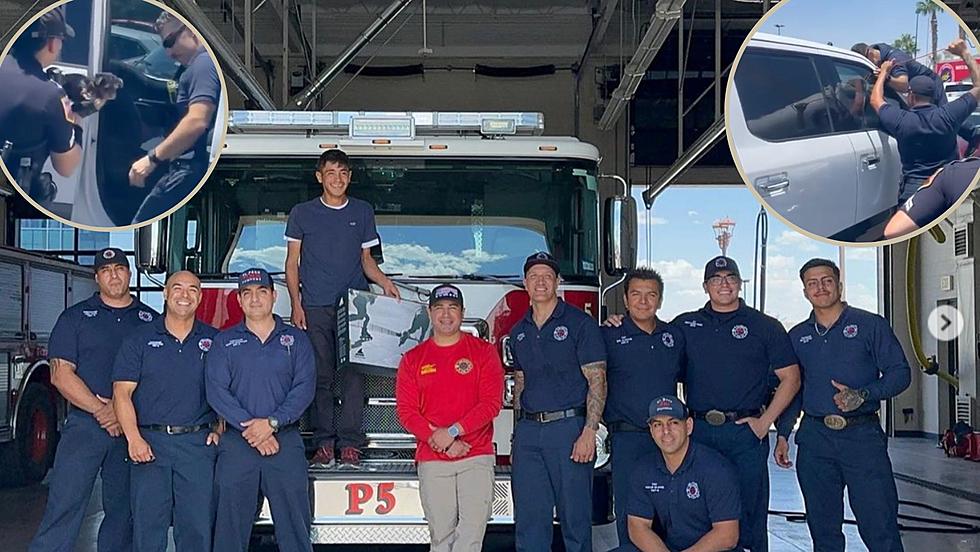 These Heartwarming Stories Prove That El Paso's Fire Department Goes Beyond the Call of Duty
Courtesy: Fit Fam El Paso/El Paso Fire Department
El Paso Firefighters are not letting the heat stop them from going above and beyond their job duties!
This past week as I was scrolling through Instagram I came across two separate stories that involved El Paso Firefighters saving the day when it came to humans AND pets.
El Paso Firefighters Bring Joy to a Young Boy After he loses his Rollerblades in house fire:
Ricky the "Redd Rollerblader" is a familiar face and name to many people who live in west El Paso because Ricky is known to always be seen rollerblading up and down Redd Road.
Recently, a devastating fire swept through his family's home and Ricky's rollerblades would be burned in the fire, meaning his favorite hobby would have to be put on hold for the time being.
Firefighters from Station 5 wanted to make sure that this tragic fire wouldn't stop Ricky from continuing doing what he loved doing, rollerblading, so they decided to head to Dick's Sporting Goods to buy Ricky a brand new set of rollerblades.
The crew invited Ricky and his family over to the station for a tour and at the end, they surprised him with his gift!
A photo was shared on the El Paso Fire Department's social media pages and many locals applauded the fire fighters for going above and beyond their job duties:
El Paso Firefighters Save a Puppy's Life from a Sweltering Hot Car:
It's not secret that it's extremely hot outside! Even though every year during Summer we deal with the heat, some pet owners seem to forget that temperatures inside a hot vehicle can be a lot hotter than the actual outdoor temperature.
El Paso Fire crews have had to save numerous pets from being trapped inside of a hot vehicle and one of those moments was caught on video.
Fire fighters are seen breaking the window of a truck that was parked outside of Fox Plaza. In the video you see the crew slowly bringing out what looked like a tiny puppy from the truck and hand it over to an El Paso Police officer who was helping EPFD with the rescue.
The fire crews swift response and compassionate actions saved the life of an innocent creature and exemplified their commitment to protecting and serving the community in every possible way.
These heartwarming stories remind us of the importance of kindness, compassion, and the huge impact that small acts of goodwill can have on the lives of those in need.
Way to go, El Paso Fire!
EP Fire Random Act of Kindness
More From 600 ESPN El Paso