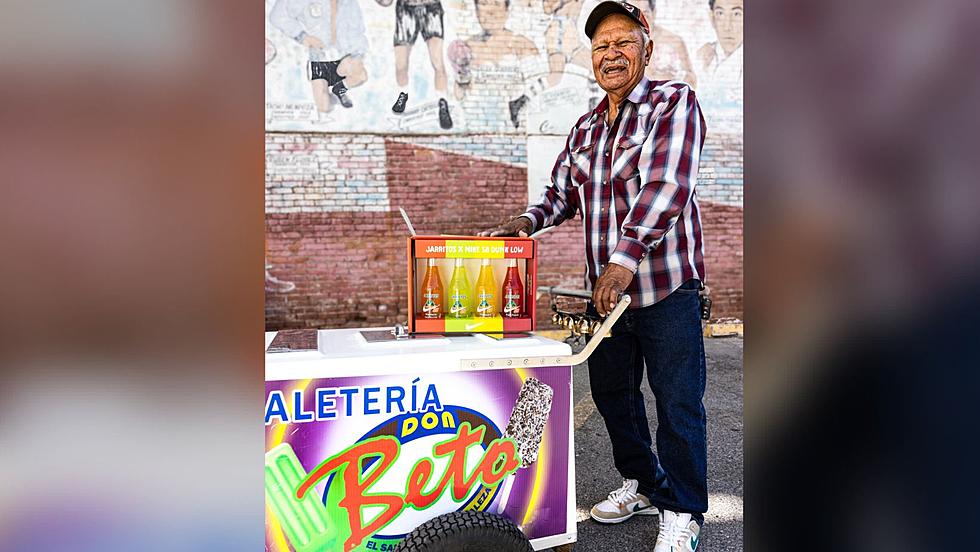 El Paso's Favorite Paletero Man, Don Beto, Shines Bright in Nike and Jarritos Ad
Courtesy: Jarritos
Jarritos and Nike SB have joined forces for a partnership that celebrates its impact on the skate community and the new ad is showing some love to El Paso.
If you're not familiar with Jarritos they're those delicious fruit-flavored sodas from Mexico that you can find at local markets.
According to Jarritos officials, the drink has become the beverage of choice for the skateboarding community in the U.S. so the company chose to release an apparel collection to honor the connection.
"For decades we have seen how the skateboarding community has warmly embraced Jarritos," said Eric Delamare, Director of Marketing for Jarritos. "This collaboration celebrates that bond and brings consumers on a new journey with us. It allows us to reach more consumers who are seeking authentic products with a rich history and deeply rooted culture."
El Paso's Favorite Palatero, Don Beto:
In addition to the Nike gear, Jarritos also released a limited series of bottles featuring a co-branded label on five flavors: Mandarin, Pineapple, Fruit-Punch, Lime and Mexican Cola. The collectible bottles will be placed in unique commemorative packs sent to skateboard shops and promotional partners to enjoy.
If you head to Jarritos Instagram you can't help but notice a familiar face and mural in one of their ads.
A photo shared by the business features a man with an ice cream cart in front of a mural that is well known to El Pasoans.
The man in the photo is a local paletero, Don Beto. He stands proudly in front of the downtown mural that features a man in a cowboy hat flexing.
Don Beto is rocking Nike SB sneakers and is showing off the limited Jarrito bottles.
The photo was shared on FitFam's Instagram page and locals were happy to see El Paso being represented and even more happy to see their favorite Paletero as one of the faces for the partnership.
"This! This is it! These are the people that deserve collaborations and attention."

 
"This brightened up my morning. Thank you ☀️ Y gracias Don Beto, por su buena vibra y por ser luchón y darnos tanta alegría por tanto tiempo."

 
Jarritos x Nike SB: Don Beto
More From 600 ESPN El Paso