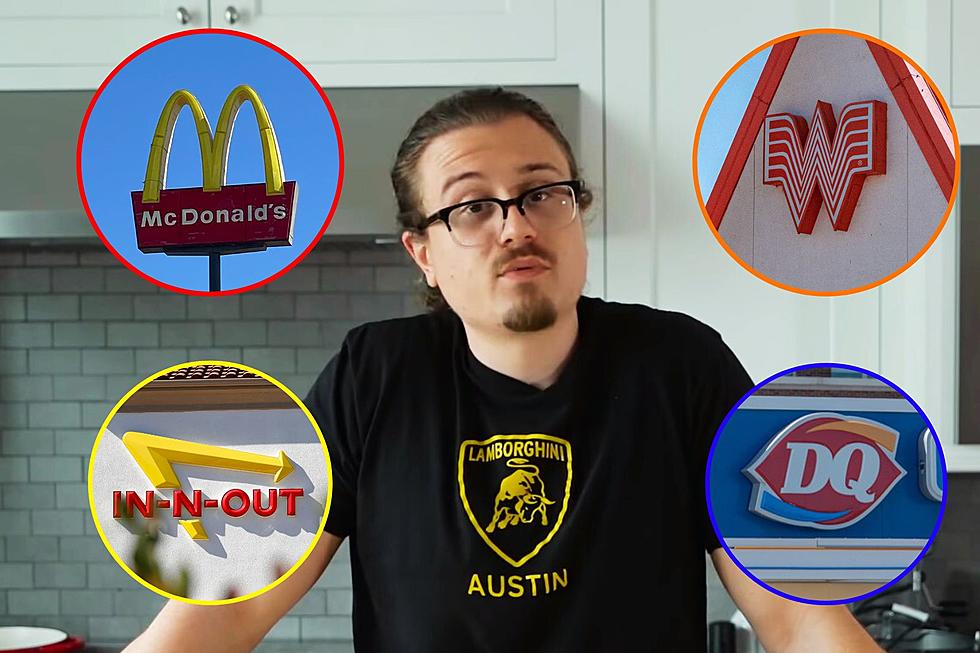 Popular Texas Chef Joshua Weissman Picks The Best & Worst Burger Places
Joshua Weissman via YouTube/Daniel Paulus/Getty Images/Nick Cooper - TSM Duluth/Michael J. Rivera, Townsquare Media/Canva
We all have our favorite fast food places; the spots we love to go when we need a quick bite to eat. The options are certainly endless to choose from. The famous chef on YouTube, Joshua Weissman, is no stranger to eating at fast food places. The chef born in LA (who now lives in Austin, Texas) has made some amazing recipes by trying out burgers & other dishes to create his own masterpieces.
Lately he decided to try to find the best fast food burgers & he found some good ones and...not so good ones. One Texas favorite was...not so good according to Josh.
DISCLAIMER: The opinions of Joshua Weissman do not reflect the opinions of Townsquare Media & myself.
Where did Joshua Weissman go to find the best fast food burger?
On his video titled "I Tried Every Fast Food Burger in America", he went to a total of 18 different restaurants in 3 states: California, New York & back to his home state of Texas. Some of the big names he tried were McDonald's, Burger King, Jack in the Box, Sonic, In-N-Out, White Castle, Wendy's, Steak & Shake, Culver's, Five Guys, Jollibee, Habit Burger, Steak Shake, Carl's Jr., Rally's, Arby's & two Texas favorites: Dairy Queen & Whataburger.
Of the places that he ranked poorly, his worst 3 places were: Arby's, Dairy Queen & White Castle at the bottom.
Meanwhile at the top of the chart, his top 3 were: Shake Shack, In-N-Out Burger & Steak & Shake taking the top spot. Afterwards he would take what he liked from all 3 & made his own "combo" burger.
Surprisingly he ranked Whataburger near the bottom, at #11. He even said he wasn't wild about how they make their burgers, but after having one of their burgers, he actually said it wasn't as bad as he thought.
You can see his entire video down below.
This wouldn't be the first time he included Whataburger on his channel; he tried the patty melt & even made his own version of the famous sandwich.
If Joshua Weissman ever visits El Paso, I can think of some burgers he needs to try
While those places are definitely fine establishments, I think Joshua can expand on his palette by trying some local places in El Paso. Places that come to mind are:
We certainly love watching Joshua come up with some creative recipes & ideas; we look forward to seeing if Josh will decide to come to El Paso for more food ideas.
LOOK: The 21 most popular ice cream flavors in America
Gallery Credit: Stacker
22 Of El Pasoans Favorite Comfort Food Restaurants
When it comes to comfort food in the Borderland, El Pasoans know best!
Gallery Credit: Google Maps/ Joanna Barba
WOAH: 99 Signs You Were a Teenager in the '90s
Grab your Hypercolor T-Shirt and Bonnie Bell Lip Smackers because we're traveling in time to the most radical decade of them all. Only real '90s teens will remember these iconic pop culture moments--see how many you recall!
Gallery Credit: Meg Dowdy