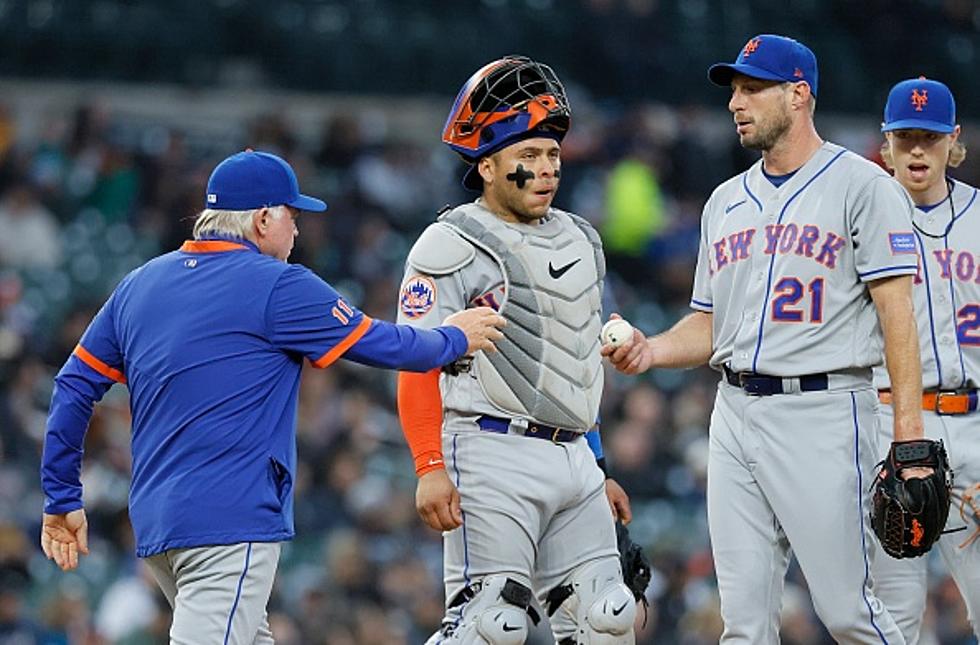 How The New York Mets Fix MLB's "Worst Team Money Can Buy"
Getty Images
It is no secret that the New York Mets are struggling. After a little more than into the season, owner Steve Cohen is watching his $358 million team sit 6 games behind the Atlanta Braves in the National League East.
This is the team that general manager Billy Eppler put together for his second year at the helm of the Amazin's. Was this team poised to compete with the Atlanta Braves in 2023? Eppler says yes. Well, think about this. According to friend of The Drive with Charlie & Dan, Buster Olney of ESPN, since June 1st of last year, Atlanta's record is 15 games better than the Mets. That's not competing. That's called a 'dusting.'
So, instead of panicking, let's help Eppler get this ship in the right direction. First, the Mets have a (-1) run differential. For the most expensive team in baseball and the roster that they have, this is unacceptable. Some of the blame here is on the shoulders of Buck Showalter. He needs to take charge, or this team will be chalked up to another one of Buck's failures. The easy thing, that never really gets done with the Mets, is shaking up the line-up. Just because Lindor is making $300 million doesn't mean he owns a top-3 spot in the batting order with a paltry .212 batting average. Move him down. Let him figure it out. The same goes for Starling Marte.
Next, let the kids play. Don't sit rookie 3rd baseman Brett Baty, in favor of the completely struggling, and maybe washed-up Eduardo Escobar, ever, unless Baty is hurt. The same goes for rookie catcher, Francisco Alverez. In addition, the Mets have some players blowing-it-up at Triple-A Syracuse. Mark Vientos and Ronny Mauricio should be called up and two pretty popular current Mets should be sent packing.
Vientos is a solid hitter from the right side of the plate. He is limited in the field because he primarily plays first base. Mark Vientos is a better option than Eduardo Escobar or Tommy Pham to pair with left-handed hitter Daniel Vogelbach (for now) at the designated hitter position. More contact in more situations should equate to more runs over time. The first Met sent packing is Eduardo Escobar. Sorry Escobar fans. His spot is too valuable. It would be fine to replace Tommy Pham in Escobar's place but Pham has be decent. Escobar has not. Next up is Mauricio.
This next move is a no brainer. Ronny Mauricio is a shortstop and has been working out at second base. Mauricio is a switch-hitter and is a way better option at this point than Luis Guillorme. Mauricio can play second. McNeil can go to left or right, depending on who is struggling more, Mark Cahna or Starling Marte. Guaranteed one of them is in midst of a slump. Plus it makes your outfield depth better. In addition the combination of Lindor and Mauricio could be special in the middle infield. Pitchers love that. It is time to say goodbye to "the beard" Luis Guillorme.
In the long run, unless Vientos takes hold of the DH position, the Mets have to find an upgrade over Daniel Vogelbach. One dimensional players on your bench are extremely costly, unless they produce at the plate. Vogelbach is a light hitting left-handed player with limited skills in the field or on the base paths. Escobar would be a way better left-handed (he's a switch hitter) option than Vogelbach but the veteran infielder has been slumping for most of his Mets career, except last September.
With the debut of Justin Verlander in the Mets rotation on Thursday, that will bolster the pitching staff and should settle the team down a bit. Billy Eppler counted on four pitchers over the age of 35 to anchor his rotation. One month into the season, all four have missed multiple starts. Billy Eppler traded THREE pitching prospects AND JD Davis for Darin Ruf, who is now teammates with Davis after being released by the Mets after 2 miserable months on their roster. Sorry folks, Billy Eppler is a major reason this team stinks. If Steve Cohen and the Mets want to compete with the Braves, someone else should be making the decisions and laying out a roadmap, not Eppler. See the Los Angelas Angels, if you want to see what a Billy Eppler roadmap looks like down the road, plenty of expensive stars, no championships.
Can't Miss Top 10 Country Shows Coming to Upstate New York in 2023
The summer country concert season is shaping up in Upstate New York. Check out the top 10 country shows coming to various venues across the state. They include casinos, fairs, amphitheaters, baseball stadiums, and arenas. You may have to drive a little way to see your favorite artists but you know it will be totally worth it. Don't miss these top 10 country shows coming to Upstate New York this summer.
Let's Go Camping! Check Out These Updated Upstate NY Campgrounds
It's camping season in Upstate New York. If you plan on going camping, there are many campgrounds across the state that are being upgraded with makeovers and improvements. for the 2023 season. These include actual campsites, swimming pools, campgrounds, and the addition of EV chargers according to
newyorkupstate.com
. Check out to see if the campground you go to is making improvements this season.
The Capital Region's 30 Best Outdoor Restaurants
When it comes to having an outdoor cocktail or meal in the 518, these are the best of the best to enjoy the great outdoors this spring and summer.
More From 600 ESPN El Paso