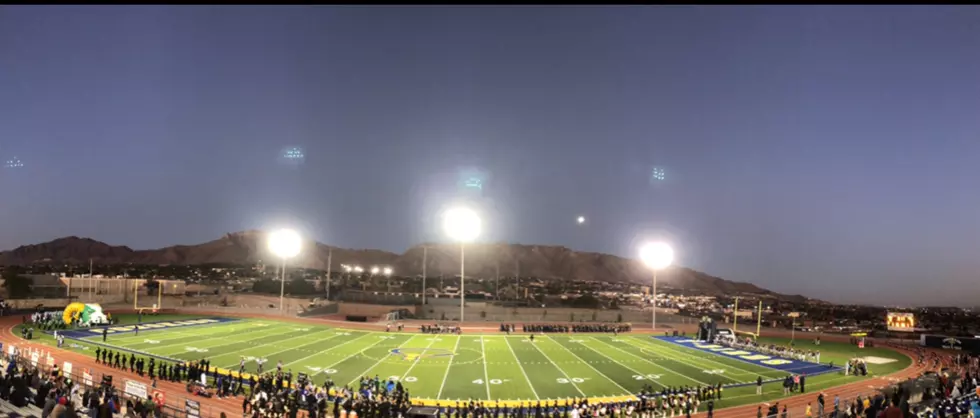 High School Playoffs Scores, Schedule and Five Things to Watch for the Bi-District Round
Adrian Broaddus
Playoffs are here for teams across the city of El Paso and the action will heat up in a big way this weekend for local teams.
Here are the matchups for this bi-district round:
Frenship (7-3) at Americas (9-1) Steve Escajeda and Joe Rodriguez 
Lubbock Coronado (6-4) at Eastwood (5-5) Adrian Broaddus and Isaiah Ramirez 
Bowie (5-4) at Parkland (10-0) Brandon Cohn and Jeremy Carranco 
Ysleta (6-4) at Burges (8-2) Beau Bagley and Jaime Chavez 
Franklin (8-2) at Permian (6-4)
Pebble Hills (5-5) at Tascosa (7-3)
Del Valle (5-5) at Abilene Cooper (9-1)
Lake View (3-7) at Clint (6-3)
Tornillo (1-9) at Bushland (10-0)
(Sat.) Monterey (5-5) at Eastlake (6-4) Sat, 1 pm, SAC
Here are final scores from Thursday in the bi-district round:
Midland Lee 65 - Montwood 32
Amarillo 44 - Chapin 7
Hanks 34 - Austin 14
Canutillo 27 - Andress 9
Seminole 35 - Fabens 7
Mountain View 42 - Big Spring 36
Andrews 63 - San Elizario 14
Coahoma 69 - Anthony 7
Five Points for Football Friday Night
Last night: Canutillo 27 - Andress 9 by Danny Lopez
.The Canutillo Eagles faced off against the Andress Golden Eagles on Thursday night in a bi-district playoff matchup. It was clear and evident that Canutillo was the better team throughout most of the night.
Out the gate in the first half, Canutillo came out and threw an early haymaker as the offense for Canutillo went 70 yards and scored on the first possession. Canutillo had complete control of the game and it would show on the scoreboard with a final of 27-9.
The Andress Eagles could not get anything going on offense. Their starting quarterback in senior Jeremiah Tosky was injured for this contest. Therefore, the team went to sophomore Jerimaih Cooper as their quarterback. Cooper finished the night 6-of-11 for 26 yards and one interception. Andress senior running back Keandre Jones only rushed for 53 yards on 13 attempts.
Canutillo was aggressive in the first half, as they went for a fake punt that set up the offense for a score. Offensively, Canutillo had no problem going down the field throughout the game. Junior Joaquin Carrasco paved the way as he would score on a 30-yard wheel route catch for a touchdown following the fake punt. He finished the night rushing for 138 yards on 19 attempts, averaging 7.26 yards per carry.
The Canutillo Eagles will advance in the 5A-Division 2 playoff bracket. For the Andress Eagles, their season comes to a bitter end not being able to keep this game close at all. Canutillo was just the better team all around and Andress just looked overwhelmed and could not keep up. Canutillo will play the winner of Northpark and Randall next week.
Matchup of the night: Franklin (8-2) at Permian (6-4)
Franklin beat Permian earlier this season (49-28) and after the Panthers pulled off the unthinkable upset over Midland Lee last week, the Cougars will be pinned in a favorable rematch. However, this is a far different team than the Cougars faced in September.
Permian quarterback Easton Hernandez has grown into his own and his skill player Malachi Medlock is one of his favorites to use out of the backfield. Franklin's injury-plagued offense will need a big night from their quarterback Danny Walther.
In-town game of the night: Frenship (7-3) at Americas (9-1) or Lubbock Coronado (6-4) at Eastwood (5-5)
Two interesting in-town games will be played tonight in 6A and 5A action, respectively. Americas will host Frenship, who is a tough force in 2-6A. They ride their stellar gunslinger Donovan Smith, who is committed to play for Texas Tech collegiately. On the other side, Americas boasts a stifling defense led by edge rusher Dylan Kemp and a strong offensive game with running back Aaron Dumas.
Eastwood finished in second place of Super 5A (5-5, 4-1), despite the devastating season-ending injury to their star quarterback Christian Casteneda. The Troopers plugged sophomore Andrew Martinez at the quarterback spot, as he finished with 1,021 passing yards and 12 touchdown passes through six games. Eastwood can still put up a solid offensive gameplan but can they keep up defensively?
Lubbock Coronado (6-4, 4-2) finished their season on a three-game win streak and they are led by their junior quarterback Sawyer Robertson's 330 passing yards per game. Robertson has put up 3,304 passing yards, 37 touchdown passes with a 65 percent completion percentage.
Hot storyline: Which El Paso team advances against out of towners? 
Aside from the in-town bi-district matchups, where an El Paso team advances no matter the winner, I can't wait to see which team out of El Paso can burst out and make a nice run. Coming off a dominant 2019 season, the obvious choice is Americas early on. Barring some stellar offensive production, maybe Franklin and Eastwood are on the bubble as well.
We won't really see the fangs of El Paso teams until next week.
Look ahead: How favorable is Parkland's playoff bracket? 
Not much has been talked about the lone undefeated El Paso team in Parkland (10-0), especially after they utterly demolished a Canutillo team (41-7) last week to capture the district title. This team can really play. Quarterback Gabe Herrera has taken his play to another level and although the argument that they have had an easier schedule than others could be debated, they have stormed through their schedule with ease.
Parkland—assuming they handle Bowie—will face the winner of North Side (5-5) and Wichita Falls (3-7) next week. The toughest team in their Region I bracket is Rider (6-4) who they could meet in the third round.
Last year's Parkland team underperformed and was a second-round exit. This year's bunch is fun, has a ton of skill players and could absolutely have a favorable draw in the coming weeks for the playoffs.
More From 600 ESPN El Paso