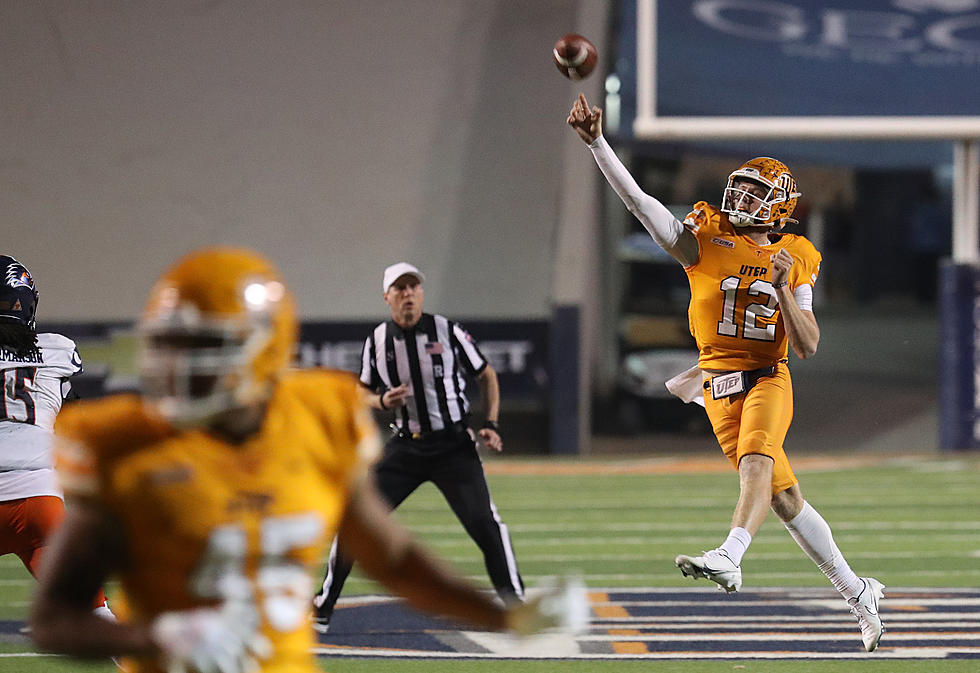 Gavin Hardison Will Wear #2 Next Season to Honor Luke Laufenberg
Ruben R Ramirez
UTEP football head coach Dana Dimel stopped by the 600 ESPN El Paso Lube 'n Go Studios last Thursday to talk about his 2022 Signing Class. During the conversation, I asked him if he knew which player would wear #2 next season.
The #2 was originally going to be worn by Jacob Cowing, but the receiver opted to go into the transfer portal shortly after UTEP's New Mexico Bowl loss to Fresno State. It had been worn the previous two seasons by receiver Justin Garrett, who graduated and declared for the NFL Draft. Hardison told 600 ESPN that he is excited about wearing Luke's number next season.
"For me, wearing #2 means a lot for me and I hope to represent Luke in the best way I can on and off the field," Hardison said. "I didn't know Luke personally but every story that I've heard about Luke has been nothing but great things. When I think of Luke I think of selfless, work ethic, leader, great teammate, love for others, and countless other great qualities! I want to make sure that I represent wearing his number to the best of my ability!"
Laufenberg originally walked on at Texas A&M in 2016 but he left the program for a scholarship opportunity at Mesa Community College. Shortly after his first season at MCC, he was diagnosed with Burkitt's Lymphoma. He underwent intense chemotherapy and lost nearly 100 pounds over eight months. However, in May of 2018, he was declared cancer free and then he signed with UTEP in January, 2019 as a redshirt sophomore. He went through the first part of Spring practice with the Miners, but he was experiencing back pain just two days before the Spring Game. Shortly afterwards, Luke learned that his cancer had returned. On August 22nd, 2019, just 15 months after he had been declared cancer free, Laufenberg passed away at just 21 years of age. His father, Babe spoke to the UTEP quarterback earlier this week.
"Had a nice conversation with Gavin and told him I am thrilled that a QB will be wearing Luke's number 2 this year," Laufenberg told 600 ESPN El Paso. "Couldn't have been more proud of the way Justin Garrett represented himself, the football team, and Luke's memory these last two years. Justin was tough, selfless, and a team first guy. I know that Gavin will carry on that same tradition in the best possible way. Gavin expressed how humbled he was to be wearing the number and said he is going to do everything possible to #LiveLikeLuke."
The Laufenberg name will always be linked to UTEP football. When Babe reached out to some of the biggest names in Dallas to help him raise money for a smoothie station at UTEP's Larry K. Durham Center in his son's name, the response was overwhelming. "Former Cowboys' quarterbacks Roger Staubach, Troy Aikman, Jason Garrett and Tony Romo have all made substantial contributions to the, "Luke Laufenberg Fight Nutrition Station," Babe Laufenberg added. "Now we have a QB wearing the number 2. Very cool."
UTEP Spring practice will start on March 2nd and UTEP's NFL Pro Day will be held on March 9th.
All The Big Moments From UTEP Football's Win Over Bethune-Cookman
The UTEP Football team defeated Bethune-Cookman 38-28 last Saturday night to start the 2021 college football season with a 2-0 record for the first time in 16 years.
More From 600 ESPN El Paso