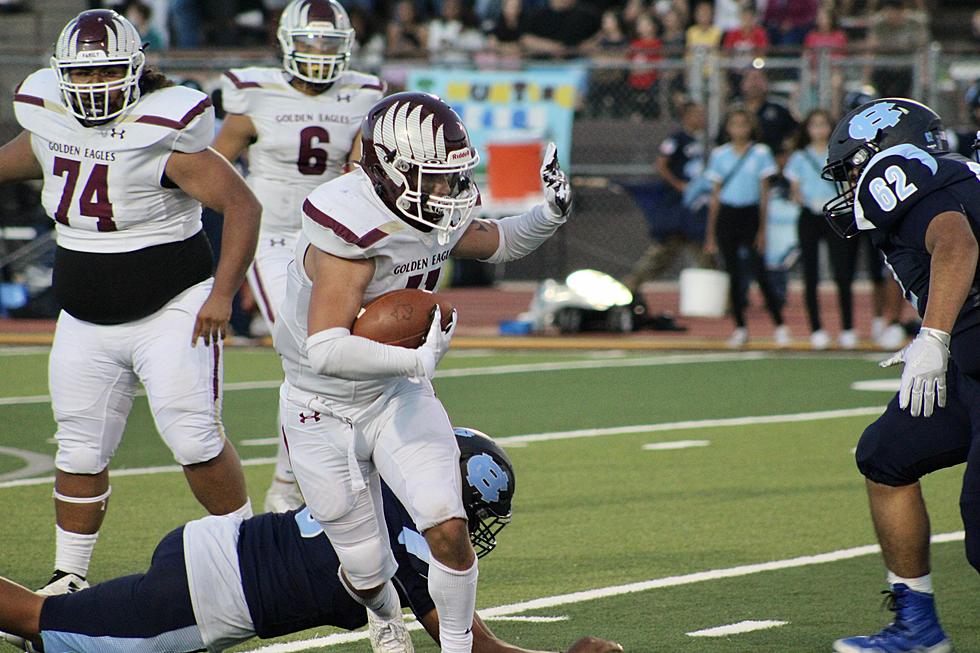 Football Friday Night is Back: Five Points Before Season Kickoff
Adrian Broaddus
High school football is finally back!
Fans can return back to the stands after a pandemic-shortened 2020 football season, as week one features a batch of exciting games in the Sun City.
Follow 600 ESPN El Paso all evening for live scoring updates of all the scheduled games. Listen in to our alternate stream—600 ESPN 2—to listen to the first edition of Football Friday Night, hosted by Beau Bagley and Paul MacKinnon. All of the photos following the game are provided by Prep 1.
Here are five points before kickoff:
Andress Powers Past Chapin 42-13
Thursday Night recap by Alex Nicholas 
Andress 41 - Chapin 13
Irvin 49 - Hanks 27
Bel Air 21 - Socorro 6
Andress used a physical run game, and an even more physical effort on defense to dominate Northeast rival Chapin Thursday night at Austin High School.
Eagles' first-year starting quarterback Elias Duncan ran for three scores on 76 rushing yards, and the junior went 6-for-7 passing for 74 yards giving head coach Chris Taylor his first career win at Andress in his head coaching debut.
The Eagles ran for 269 yards in the game, averaging 7.5 yards per carry and scored all their touchdowns on the ground. Malachi Do ran for 77 yards on 12 carries and scored the Eagles first touchdown of the 2021 season.
Chapin jumped out to a 6-0 lead on a 36-yard touchdown pass from Mason Standerfer to Zeke Pastran which capped a 10-play 82-yard drive with 9:18 left in the opening quarter.
But from then on, it was all Andress.
Andress scored 28 unanswered points the rest of the first half, taking a 28-6 lead into the halftime break.
Chapin put another scoring drive together in the second half on a highlight reel 15-yard scramble from Standerfer on a 4th and goal which trimmed the lead to 28-13 with 3:34 left in the third quarter to make things interesting, but Andress had an answer for every Chapin counter.
After a long return on the ensuing kickoff by Andress' Malachi Do, Duncan would put things away with an 8-yard run for a touchdown, and later add a 40-yard run to officially seal the deal.
Iowa State commit and Andress athlete Jeremiah Cooper totaled 134 all-purpose yards on just 10 total touches and picked off Standerfer late in the fourth quarter.
Andress linebacker Damian Espinoza racked up 2.0 sacks in the second half, while the Eagles defense limited Chapin to 3.2 yards per play on the evening.
Andress will face Parkland next week, Chapin travels to Coronado for week two.
1-6A sees challenging out of town matchups in week one
Franklin at Rio Rancho Cleveland
Pebble Hills at Permian 
Montwood at Midland 
A trio of 1-6A teams will play some challenging games in week one outside El Paso.
A new-look Franklin team will travel to New Mexico to face Rio Rancho Cleveland on Friday. Cougar coach Daren Walker is away from the team on a leave of absence, while interim head coach Leigh McWhorter has been gearing up for the season with the squad. They return talent across their roster—quarterback Cameron Byrd, defensive back Joshua Massaquoi, ATH Shay Smith and edge rusher Cooper Parkinson. They will be without their standout running back/linebacker Steven Powers, who is dealing with a preseason injury. Last time these two teams played, Franklin raced away with a 36-13 win (2019).
Determined to get back into the playoffs, Pebble Hills will face a Permian team that boasts a stout defense and will flash a young, yet hungry offense. Their key player will be all-state defensive back Kayden Baze. Spartans head coach Mark Torres never shies away from tougher competition in non-conference play. Last year, Pebble Hills was a young team last year due to COVID-19 opt-outs. They will bank on the experience younger players got last year to carry them this year.
Montwood, eager to make a district title run, begins their season against Midland High on Friday. The Bulldogs will introduce a new head coach in Thad Fortune, who could face growing pains in year one. The squad lost a lot of players to graduation last year and this year's Midland squad will be young. On the other side, Rams head coach Ariel Famaligi has high expectations for his group that returns offensive talent, led by wideout Yamil Oaxaca, quarterback Kevin Melendez, ATH Diego Oaxaca, Defensively, they only return three starters from last season.
Game of the week: Burges vs. Canutillo 
What a thriller for week one. We have the city's top running backs going head-to-head. Two district title hopefuls in their respective districts meet for a non-district matchup.
On one side, Burges is coming off back-to-back district championships for the first time since the 70s. In all transparency, both years of winning the title Burges shared the championship. Nonetheless, they were able to get through a 2020 season on a positive note, especially with Missouri commit Tavorus Jones leading the way at the running back spot. Head coach James Routledge's son Andrew will be the signal-caller for the Mustangs. They also return key defensive players in defensive end Sean Street and linebacker Estevan Flores.
Canutillo returns a heap of starters back to the mix this year. The Eagles have a solid offensive line that could translate to more successes for their tailback LJ Martin. This could be a special year for Martin, a starter on this team since he was a freshman. Quarterback Devin Granados also returns this year to the squad and will pace a balanced attack for the offense. While the team is usually strongest on defense, this year's unit only returns four starters from 2020.
Don't sleep on: Parkland at Eastwood 
Here's another great non-district matchup between two district title contenders in their respective districts.
Parkland is fresh off its third consecutive district title. Head coach Eric Frontz has built a northeast power in Parkland, which seems to supplement graduates with more talent year after year. This team brings back six starters on both sides of the ball. Offensively, they are led by offensive lineman Tyrone McDuffie, wide receiver DeMarion Crest and running back Isiah Beasley. Defensively is the strong point for this group. Linebacker Michael Kiesel, who won El Paso Defensive MVP honors in 2020, will anchor their defense, along with all-district defensive end Jacob Montalvo.
It's Eastwood's second season back in 1-6A and the Troopers made their presence felt last year. Head coach Julio Lopez is primed for this year's squad that returns seven starters on offense and four on defense. Quarterback Andrew Martinez will guide their offense with a batch of weapons around him—wide receivers Curtis Murillo and Michael Caldera and running back Luca Gandara.
Look ahead: Andress vs. Parkland
Circle this game as the highlight for next week. The northeast rivalry will be renewed in week two and both teams have some promising talent. Andress was able to pound it on the ground on Thursday against Chapin, while Iowa State commit Cooper was virtually unstoppable. The Matadors have a tough test in week one against the Troopers, but if they are able to get past them, it makes this game that much more enticing.
LOOK: Here are the 10 US golf destinations with the most courses per capita
Discover where you can find the best access in the country for your pick of courses, the unique terrain that lends itself to world-class golf, and what makes select clubs noteworthy.
More From 600 ESPN El Paso