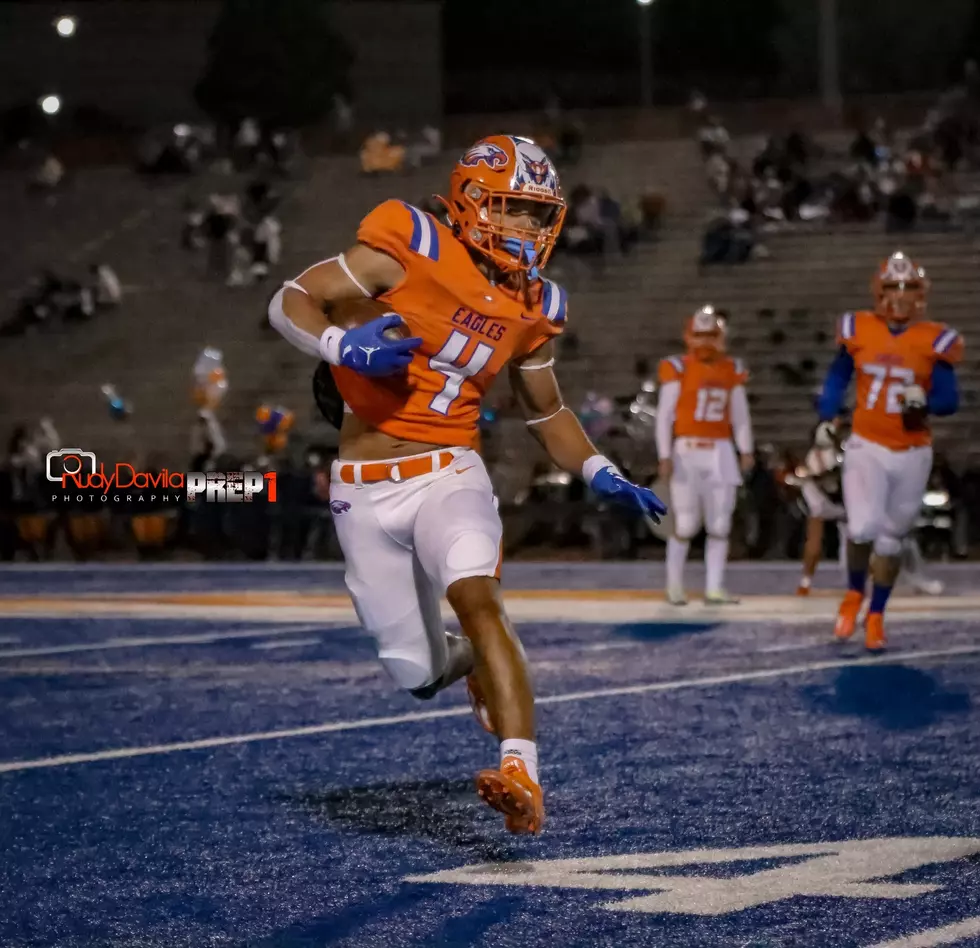 Football Friday Night High School Bi-District Playoff Scores and Previews
Photo courtesy of Prep 1
Football Friday Night is here for the bi-district playoff round! Tune in starting at 6 p.m. with Beau Bagley and Paul MacKinnon providing live scoring updates and getting real-time reports from our team across town.
See scores in real time by seeing our scoreboard powered by Scorestream, or by visiting our 600 ESPN El Paso Twitter page.
Last Night's Playoff Scores: 
Abilene High 42 - Del Valle 14
Canutillo 28 - Amarillo Palo Duro 0
Midland Legacy 46 - Franklin 21
Big Spring 38 - Riverside 35
Abilene Cooper 49 - Andress 20
Andrews 34 - Austin 14
Wylie 54 - El Paso 14
Brownwood 63 - Irvin 0
Seminole 78 - Mountain View 13
Tonight's Playoff Slate 
Odessa Permian at Pebble Hills (4 PM) - Jaime Chavez
San Angelo Central at Eastwood - Steve Escajeda & Adrian Broaddus
Amarillo at Parkland - Jeremy Carranco & Brandon Cohn 
Las Cruces Centennial vs. Rio Rancho - Bill Coon 
Eastlake at Frenship
Bel Air at Lubbock Cooper
Ysleta at Amarillo Tascosa
Chapin at Rider
Bowie at Lubbock Estacado
 Here are five things for the playoffs:
Last night: Canutillo handles Amarillo Palo Duro using rushing attack 
What an impressive bi-district round for the tough Canutillo Eagles on Thursday night. In front of their home crowd, the Eagles soared over Palo Duro in a swift 28-0 beatdown. Credit the defense for the Eagles, which has to be seen as a dominant unit across the Class 5A Division II ranks.
As Paul MacKinnon reported on Thursday, the Eagles defense helped create a pair of turnovers, one of which came in the the second half to prevent a score. The Eagles went up 14-0 at the half and never trailed in the contest, as running back LJ Martin piled up over 200 rushing yards on the ground and a pair of touchdowns in the win.
Canutillo will now face the winner of Arlington Heights or Frisco Independence.
Losses piled up on Thursday for EP-area teams In what turned out to be a rough outing for El Paso-area teams on Thursday, many teams saw their season come to a finish in the bi-district round.The district 5A-1 champions in Del Valle struggled mightily against Abilene High last night, in which the visiting Eagles went up 42-0 by the end of the third quarter. Abilene High running back Antoine Rashaw totaled 113 rushing yards and added three total touchdowns in the win, while the Eagles went with the dual quarterback system between a freshman in Breyden Henry and Dylan Slack.For a squad like Riverside, their Class 4A playoff run ended abruptly in their loss to Big Spring, 38-35. The Rangers went up 17-0 by halftime and folded in the second half. They took a slight 35-30 lead with under five minutes left, but Big Spring closed out the game with a game-winning touchdown.

No other El Paso team really stood a chance against their respective opponent on Thursday, which saw various lopsided scores. Though Andress made it look a bit closer against Abilene Cooper in the third quarter, the Eagles' out of town foes were able to run away with it, winning 49-20.

Game of the week: Eastwood vs. San Angelo Central 
What a finish to the season the Troopers (8-2) had, earning a share of the 1-6A district title and earning an opportunity to host a playoff game. Historically, coach Julio Lopez has put together an air raid offense. The identity of this year's Trooper offense is based off the run, while their defense might also be their strong point. This program also won a pair of playoff contests in their first season in 6A last year.
The Troopers have several options that can run the ball. Quarterback Evan Minjarez (2,205 passing yards, 801 rushing yards) is a master at the quarterback zone read. Running backs Max Mancilla (583 rushing yards) and Jake Chenausky (385 rushing yards) have been reliable options for the offense.
San Angelo Central (5-5) shows off a balanced attack on offense, led by dual-threat quarterback Tyler Hill (1,932 passing yards, 1,093 rushing). They lost three straight games to the top teams in their district -- Permian, Legacy and Frenship -- to close out the season. They are also 4-0 on the season when they rush for over 300 yards.
Prediction: Eastwood 56 - SA Central 55 
Can Parkland survive and advance? 
Amarillo High (5-5) is coming to northeast El Paso to face off against the Matadors in a matchup to decide the bi-district title out of the Class 5A Division I ranks. Amarillo is coming off a tight 35-24 win against Lubbock Monterey last week. They are known for their tough defense. Offensively, they are led by quarterback Mason Graham (1,869 passing yards).
The Matadors (7-3) will enter Friday night's contest on a three-game win streak. Led by running back Isaiah Beasley (1,699 rushing yards), Parkland will need to try and put up points to try and outlast Amarillo High. Defensively, the Matadors have standouts like Andre Johnson (2 interceptions) and Iy'Cariaous Lewis (2 sacks).
Prediction: Amarillo High 30 - Parkland 28 
6A Showdown: MOJO vs. Pebble Hills 
In a matchup that features a pair of 9-1 teams, Pebble Hills will host the mighty Odessa Permian on Friday night.
The Spartans, who were 1-6A champions and the best team in the city this year, are tough enough to hang in with the best teams out there. Pebble Hills has a top-5 defense in the city, which features hard-hitters like linebacker Robert Deal (65 tackles). They will rely on their defense to slow down a balanced Permian offense. If the Spartans come out victorious, they will need junior quarterback Gael Ochoa (1,440 passing yards, 416 rushing) to have a stellar performance.
Permian traditionally runs an old school wing-t offense. However, this season they have mixed in the passing game admirably. Quarterback Rodney Hall (1,167 passing yards, 583 rushing yards) and running back Justice Lara (865 rushing yards) lead their offense.
Prediction: Pebble Hills 38 - Permian 35 
UTEP Squeezes Past NM State 20-13 in the Battle of I-10
In a game of two halves, the Miners won their first game of the 2022 season against NMSU, 20-13.
More From 600 ESPN El Paso