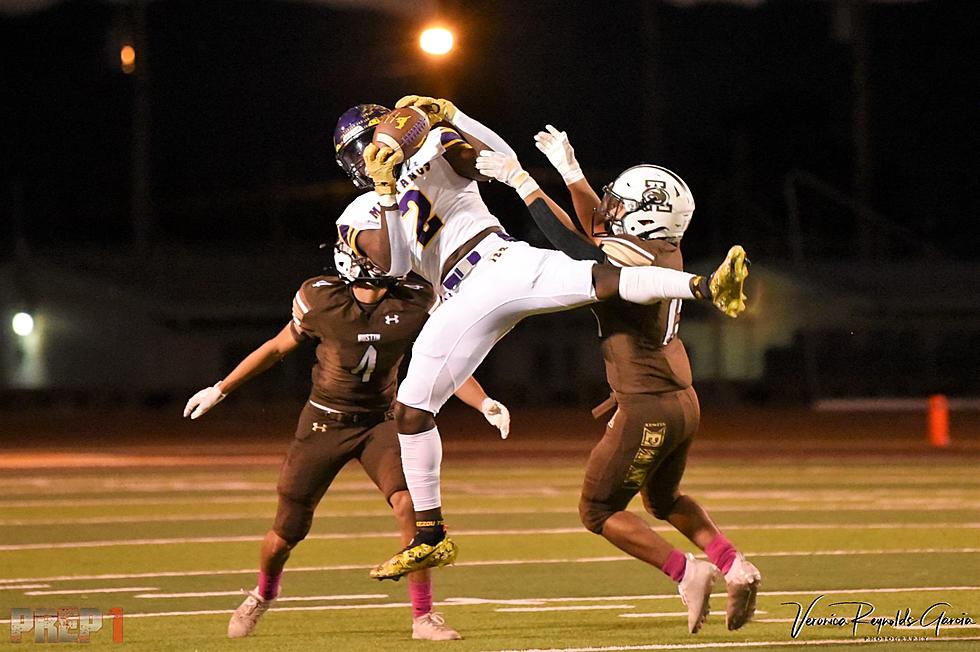 Football Friday Night: Five Points Ahead of Week 8
Veronica Reynolds Garcia | Prep 1
It's all coming down to the final four weeks of district play and playoff spots are on the line across the city of El Paso. While Super 5A takes a bye week before district play, the rest of the city is heating up in action. 
Follow 600 ESPN El Paso all evening for live scoring updates of all the scheduled games. Listen in on 600 ESPN El Paso to listen to the latest edition of Football Friday Night starting at 7 p.m., hosted by Beau Bagley and Paul MacKinnon. All of the photos following the game are provided by Prep 1. 

Standings in El Paso 
* Denotes district play
* Denotes district play
* Denotes district play
* Denotes district play
Eastwood (3-3, 1-2) at Eastlake (5-1, 2-1) 4 pm
Andress (6-1, 3-0) at Burges (4-3, 2-1) Jaime Chavez
Canutillo (6-1, 1-0) at Ysleta (4-3, 1-0) Joe Rodriguez
Pebble Hills (3-3, 2-1) at Coronado (1-5, 1-2) Adrian Broaddus
Mountain View (3-3) at Clint (3-4, 1-0) Joey Penisi
Horizon (2-4, 0-1) at Parkland (1-5, 0-1) Steve Escajeda
Austin (3-3, 1-1) at Irvin (2-5, 0-3) Jeremy Carranco
Bowie (1-6, 1-2) at El Paso (2-4, 1-1) Ray Adauto
Fabens (1-6, 0-1) at Riverside (6-1, 1-0) JD Sursley
Franklin (4-2, 3-0) at Socorro (1-5, 0-3) Alex Nicholas
Here are Five Points before kickoff 
Thursday Night Rundown 
Americas 28 - Montwood 20 
The streak of entertaining Thursday night games at the SAC continued last night between Americas and Montwood. Entering the game, Americas was riding some momentum, while Montwood is coming off an emotional loss to Eastwood from last week (33-27). 
The Trailblazers took command to start this game and they held a 21-0 lead. The Rams marched back in the second half, outscoring Americas 22-7 the rest of the way thanks to a couple of touchdown passes by quarterback Kevin Melendez. Unfortunately for the Rams, Americas was able to run out the clock and hold onto their 28-22 win. Sophomore quarterback Mark Moore led the way with 214 passing yards, 145 rushing yards and one touchdown.
Suddenly Americas has reeled off three straight wins. They've turned from a potential spoiler team into a true playoff contender. They have a tough three-game stretch against Pebble Hills, Franklin and Eastwood. They will need to win at least one of those games, preferably next week against Pebble Hills, in order to stamp their playoff spot. For Montwood, they have now dropped to 1-3 in district play and will likely have to play spoiler for the rest of the season.
Game of the Week: Andress (6-1, 3-0) at Burges (4-3, 2-1)
Last week's game of the week didn't live up to the hype. There's a world in which this week doesn't live up to the excitement either.
Since losing to Franklin on Sept. 10, Andress has won three straight games and they have outscored opponents 134-78. Junior quarterback Elias Duncan (951 passing yards, 7 TDs, 2 INTs) has a chance to eclipse 1,000 yards on the season tonight. The rushing game has 140 yards or more in every game except against Austin (98 yards). And senior standout/Iowa State commit Jeremiah Cooper is all over the place—598 all-purpose yards, 6 total TDs, 7.0 tackles per game and three interceptions.
Burges could've come into this week on a four-game losing streak. However, Austin upset the Mustangs last week with a dominating 27-14 win. In last week's loss, our own Jaime Chavez reported that running back Tavorus Jones was out all week due to an illness. He averages almost 120 yards on the ground. The hope for Burges is that last week was a total fluke. However, if there's a bit of a hangover from last week's loss, the Mustangs could find them having to come from behind in this game.
Prediction: Andress 34 - Burges 17
Don't Sleep On: Eastwood (3-3, 1-2) at Eastlake (5-1, 2-1
Another big game tonight that could have playoff implications is Eastwood at Eastlake. This feels like a must-win for both teams too. 
The Falcons dropped their first game of the season last week to Franklin, who rolled in with a 46-22 win. We'll talk about Franklin later. Meanwhile, the Falcons are left to pick up from last week and they will face a feisty Eastwood squad that doesn't want to miss out on the playoffs. Eastlake ATH Elijah Uribe is leading them in all areas of their offense as the team is still shuffling with an injury to quarterback Sebastian Rendon. Uribe averages 147 yards per game and he has 11 total touchdowns.
With their backs against the wall against Montwood, the Troopers were able to pull off a much-needed victory last Thursday (33-27). Credit the defense for making key stops in that Rams win. The week prior, they gave up 55 points to Franklin in a shootout loss. So, which Eastwood defense will we see tonight? One thing consistent about this squad is their stud quarterback Andrew Martinez, who has now passed the 2,000-yard mark this year (2,019 passing, 418 rushing yards, 14 TDs, 7 INTs).
Prediction: Eastwood 38 - Eastlake 37 
Franklin is the new king of the town 
Welcome to the top of the hill, Franklin High School. They have snatched the crown from Eastlake as the city's best overall team and they continue to ride a four-game win streak. Last week's key win against Eastlake (46-22) set them up in the driver's seat to potentially win the district title.
Watching quarterback Cameron Byrd mature and lead this group has been special to watch. Byrd has 1,613 passing yards this year with 18 touchdowns and just two interceptions, along with 460 rushing yards. Running back Miles McWhorter is also a difference-maker—791 rushing yards and 11 touchdowns.
Beyond Socorro this week, the Cougars will face Coronado, Americas and Pebble Hills to close out the year. There's a strong case that Franklin doesn't lose another game this year in El Paso, and even if they lose, it might not matter. They might have 6A locked up already, barring any disasters or unexpected losses.
Prediction: Franklin 55 - Socorro 7
The hunt for playoff contention is alive and real 
There are several games on Friday that have major playoff implications. 
Canutillo (6-1), who has been a force lately and has also won five straight, faces a Ysleta squad that can pack a punch on any given night. The Indians have split their last four games (2-2), dropping two games to El Dorado and El Paso, while topping Jefferson and Hanks. 
Horizon-Parkland could end up being a game for a playoff spot in the district. Parkland is 1-6 but they are tough on both sides of the ball, recently falling to Canutillo (28-14). Meanwhile, Horizon (2-4) has been competitive even in its losses. They've dropped three of their last four games by less than 10 points in each game.
Austin (3-3) will have an opportunity to boost their playoff hopes against a struggling Irvin squad. Bowie (1-6) and El Paso High (2-4) will square off to try and keep their respective playoff hopes alive.
Clint (3-4) vs. Mountain View (3-3) is a great game out of the 4A ranks. The Lions are coming off a 22-6 win against Fabens, while the Lobos have dropped two straight against Canutillo (57-0) and Pecos (58-41).
Predictions: Canutillo 30 - Ysleta 23; Parkland 47 - Horizon 41; Austin 55 - Irvin 13; Bowie 24 - EPHS 23; Clint 20 - Mountain View 13
ALSO: Former Minnesota Twins All-Star's Home for Sale - Complete With Brewery
More From 600 ESPN El Paso