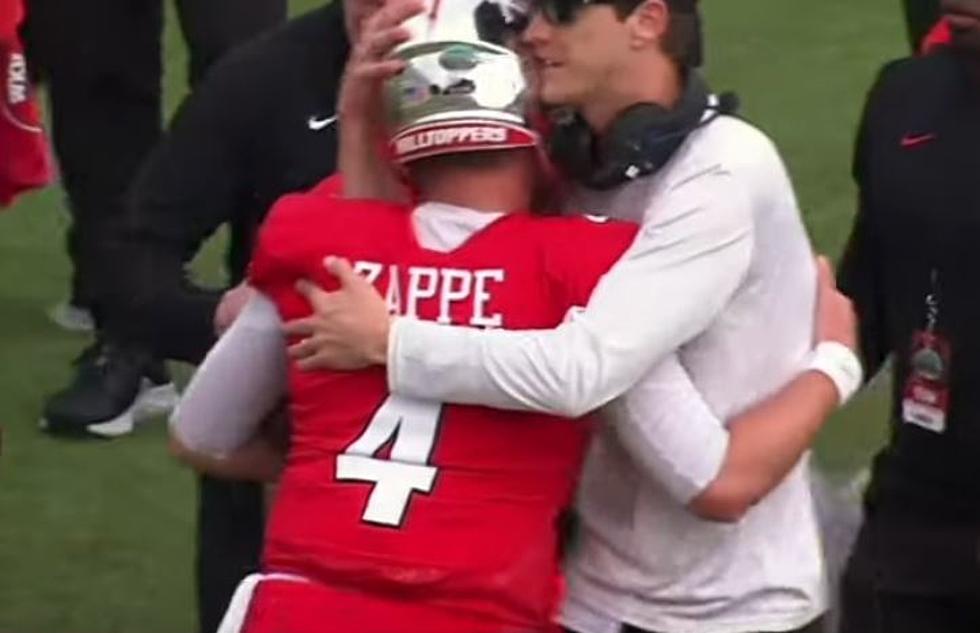 East Titan Graduate Bailey Zappe Breaks 2 NCAA Records
PSC Highlights Youtube
East Titan Graduate Bailey Zappe has just broken two NCCA records during today's Western Kentuck's victory over Appalachian State in the Boca Raton Bowl. He is currently trending on all of the big network sports sites. Way to Go, Bailey!
NEW NCAA PASSING RECORD:

Zappe is now the all-time FBS passing yards and touchdowns leader for a single season. Zappe set the passing yards record during the first half of the 2021 RoofClaim.com Boca Raton Bowl. The previous record was held by Texans Tech's B.J. Symons, who threw for 5,833 yards in 2003.  Zappe holds the new single-season record with 5,997 yards!
NEW NCAA PASSING RECORD:
Zappe also broke the record for touchdown passes in a season of 60 recently set by LSU quarterback Joe Burrow during the Tigers' 2019 national championship season. Zappe's surpassed Joe's record by 2 touchdowns. The new record is now 62 touchdowns in a season.  Not bad for a Victoria boy!  Will we add him to the list of successful pro athletes from Victoria? See the list below.
Today's final stat line was insane: 33-47 for 422 yards and 6 touchdowns with no interceptions! TODAY'S FINAL SCORE Western Kentucky 59 Appalachian State 38.

---
---
FLASHES OF BRILLIANCE AT EAST:
If you look at his final two years at East, you felt that Bailey was going to take it to next level on the college level.  His Junior year threw for 3241 yards with 42 touchdowns and only 7 interceptions with a QB rating of 129.2.  He also lit the stat sheet up during his Senior passing for 3,770 yards with another impressive QB rating of 119.7.
VICTORIA ATHLETES TURNED PRO:
Victoria High School Graduate, Ronnie Gant went on to be part of the most electrifying Braves teams of all time. St. Joseph Graduate Doug Drabek pitched for the Pittsburgh Pirates where he received the highest honor a Major League Pitcher could receive. Joe Beaver, also a graduate of STJ, went on to win a PRCA World Championship. Stroman High School graduate Jerheme Urban played in the NFL for the Seahawks, Arizona Cardinals, and Kansas City Cheifs. Scroll down to read more about the accomplishments of these Victoria-born professional athletes.
RONNIE GANT'S BACK TO BACK 30/30 YEARS:
Victoria High School graduate, Ronnie Gant, and company started the Atlanta Braves dynasty of the 90s. Ronnie Gant was not only part of an explosive offense. He also had one of the deadliest pitching rotations on the planet on his side in Glavine, Maddux, Smoltz, and Avery among others.
1990 was Gants breakout year as he hit 32 home runs and stole 33 bases landing him in the 30/30 club for the first of 2 consecutive seasons. He also had a batting average of .303 this year. He hit 32 home runs and stole 34 bases the very next season. He was known for power and speed and a smooth swing. He made it to two World Series with the Braves and one NLDS. He missed the 1994 season due to an injury. After that, he went to play with other MLB teams. But for me, he will always be that Victoria Stingaree that played for the Atlanta Braves.
DOUG DRABEK WINS THE CY YOUNG AWARD
This 1980 graduate of St. Joesph High School pitched in the Major Leagues from 1986-1998 with the Yankees, Pirates, Astros, White Sox, and Orioles Like Gant, Doug Drabek's breakout year was in 1990 with the Pittsburgh Pirates. He won the Cy Young Award with a 22-6 record, 2.76 ERA. He also pitched 9 complete games this year. Doug Drabek's brilliant pitching continued through the 90s as he made the top 5 in Cy Young voting in 1992 with the Pirates and 1994 with the Houston Astros. He also made the National League All-Star Team with the Astros in 1994. GO BIG BLUE!
JOE BEAVER BECOMES A WORLD CHAMPION
Here is another success story from the St. Joseph Flyer(1984). Joe Beaver became a member of the Professional Rodeo Cowboy's Association (PRCA) in 1985, the same year he won his first World Championship. The resume for this Flyer is absolutely amazing with 8 titles won. He was also World Champion All-Around Cowboy 1995-1996,2000. Career Earnings: $2,864,172.00. Joe Beaver held the PRCA all-time career earnings leader with $2,656,736 (through 2006). He was inducted Inducted into the ProRodeo Hall of Fame in 2002. Once a Flyer always a Flyer!
JERHEME URBAN MAKES THE NATIONAL FOOTBALL LEAGUE
How about some love for Stroman High School. Stroman Raider graduate Jerheme Urban had his sights on the NFL. After graduating from Stroman, he took his talents to Trinity University where he worked on his craft and found himself on the Seattle Seahawks. He was signed as an undrafted free agent by the Seahawks after the 2003 NFL Draft. He was also a wide receiver for the Cardinals, and Cheif's. He scored 4 touchdowns for the Cardinal in 2004 with 34 receptions. It's awesome to have Victoria represented in the NFL, specifically a Stroman Raider.
CHECK IT OUT: 100 sports records and the stories behind them
More From 600 ESPN El Paso